Defending champions Chennai Super Kings were defeated by Lucknow Super Giants in the high-scoring match of the Indian Premier League (IPL) 2022 played at Brabourne stadium in Mumbai. After the match, LSG mentor Gautam Gambhir and former CSK captain MS Dhoni shared a conversation, and the video of the same has gone viral on the …
---
Defending champions Chennai Super Kings were defeated by Lucknow Super Giants in the high-scoring match of the Indian Premier League (IPL) 2022 played at Brabourne stadium in Mumbai. After the match, LSG mentor Gautam Gambhir and former CSK captain MS Dhoni shared a conversation, and the video of the same has gone viral on the internet.
Two of the biggest cricketing stalwarts of the Indian cricket team — MS Dhoni and Gautam Gambhir have played numerous match-winning performances for team India, including the iconic T20 World Cup 2011 partnership, however, there have always been rumors regarding a rift between the two players.
On several occasions in the past, Gautam Gambhir has openly criticized MS Dhoni regarding several issues, which has led to many believing in a rift between the two stalwarts of Indian cricket, however, moments like these rubbish all such rumors.
The incident took place after Lucknow Super Giants managed to defeat defending champions Chennai Super Kings in game number 7 of IPL 2022. In the viral video, it can be seen that LSG mentor Gautam Gambhir came to Dhoni when the latter was standing with Avesh Khan. Both the players had a long conversation after the match.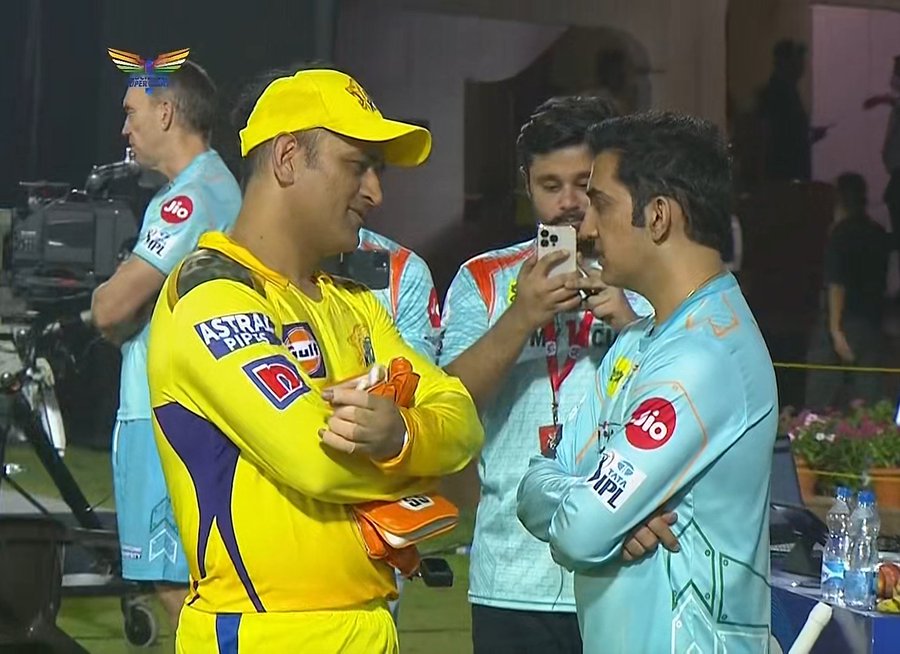 The images and videos of Gambhir and Dhoni's meet-up shattered the internet and in no time social media was flooded with amazing reactions from the fans to it. Fans just can't stop hailing the camaraderie between the former Indian players.
Meanwhile, after the game, Gautam Gambhir took to his social media and shared a heart-winning post that has broken the internet. In his Instagram post, Gambhir shared a picture of them both and called Dhoni 'skipper'. He wrote:
"It was nice catching up skipper".
Here, check out the post: