Kuldeep Yadav bagged his second Man of the Match award of the season in four matches and played a significant part in the Delhi Capitals' second win of IPL 2022. Rishabh Pant's side defeated Shreyas Iyer's Kolkata Knight Riders at the Brabourne with the chinaman bagging a four-wicket haul as KKR failed short of DC's …
---
Kuldeep Yadav bagged his second Man of the Match award of the season in four matches and played a significant part in the Delhi Capitals' second win of IPL 2022. Rishabh Pant's side defeated Shreyas Iyer's Kolkata Knight Riders at the Brabourne with the chinaman bagging a four-wicket haul as KKR failed short of DC's 215 by 44 runs.
Kuldeep's four-fer included the important wicket of Shreyas Iyer followed by those of Cummins, Narine, and Umesh in one over.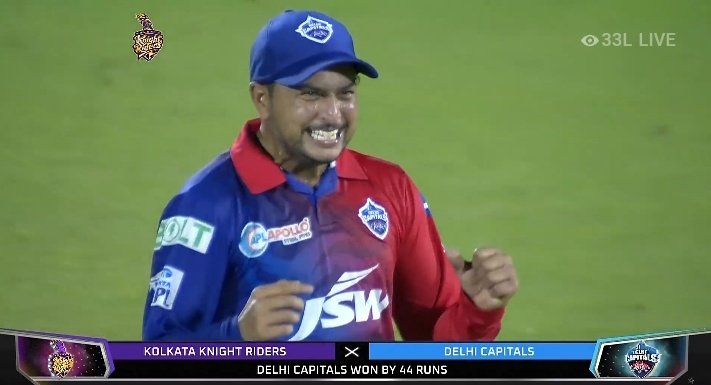 At 117/3, with Shreyas Iyer scoring a fluent fifty, the game hung in balance – before Kuldeep dismissed KKR's captain. After being plundered down for a six by Shreyas, Kuldeep dragged back his length, foreseeing Iyer's skip down the track and had the KKR skipper perplexed with a googly and stumped out.
He said that out of the four he enjoyed Shreyas's wicket the most because he was batting superbly and DC needed that scalp to gain an upper hand.
"Shreyas was batting well and I wanted to make him guess. It was a very big wicket. I thought his wicket was personally very important. He was the main batsman for the team," Kuldeep said.
Kuldeep Yadav now has 10 wickets in 4 matches; he took 4 scalps in the entire 2019 season when he featured in 8 games for KKR as his form began to dwindle. In the IPL 2020, Kuldeep Yadav played 5 matches and manage to nip out just a solitary wicket while he didn't get to play in a single game last season.
Now, though, the chinaman recently made his return to India's T20I side and with such terrific performances in the IPL, he could once again be a regular in the national team.
Explaining the improvements he's made in terms of his lengths and speeds, Kuldeep said: "I am not trying too much. I am just focussing on my rhythm ever since I came back into the Indian team. The lengths were really good in all my wickets against both Shreyas and Cummins. The team is really backing me a lot. Rishabh has been very calm and has been guiding me from behind the stumps. I am enjoying a lot. It is important to pause and think what you are bowling."