Delhi Capitals' skipper Rishabh Pant was happy with the Man of the Match award-worthy performance of Kuldeep Yadav in the 44-run win over Kolkata Knight Riders, Kuldeep's previous IPL franchise. Kuldeep's four wicket-haul helped DC restrict KKR to 171 in their chase of 216. This was DC's second win in four matches this season, and …
---
Delhi Capitals' skipper Rishabh Pant was happy with the Man of the Match award-worthy performance of Kuldeep Yadav in the 44-run win over Kolkata Knight Riders, Kuldeep's previous IPL franchise.
Kuldeep's four wicket-haul helped DC restrict KKR to 171 in their chase of 216. This was DC's second win in four matches this season, and in both games, Kuldeep was named the Man of the Match.
The chinaman had been going through tough times in the past two-three years as since 2019 he's been left out of the Indian team and also lost place in KKR's side, so much that in IPL 2020 he featured in only 5 matches, and none last season while he also got injured in the UAE leg last year.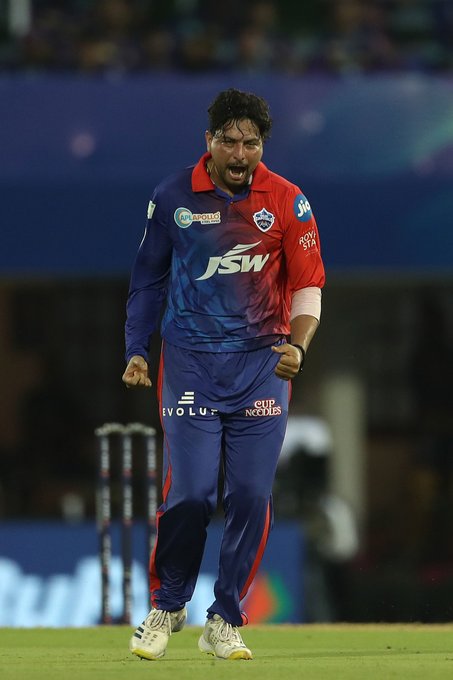 Rishabh Pant, now, took a cheeky dig at KKR, saying that Kuldeep had been working hard but didn't get chances at other franchise; at Capitals, though, Pant and Ponting started the wrist-spinner from the first game and reaped the rewards.
"Kuldeep has been working for one year but hasn't been getting chances. We are backing him here fully," Pant said after the win vs KKR.
Kuldeep also returned the favour to Pant, thanking the DC skipper and the management for putting their faith and confidence in him while he had been struggling at the higher level before the IPL.
"The team is really backing me a lot. Rishabh has been very calm and has been guiding me from behind the stumps. I am enjoying a lot. It is important to pause and think what you are bowling," Kuldeep said.
Kuldeep's first wicket of the game was that of Shreyas Iyer. At 117/3, with Iyer scoring a fluent fifty, the game hung in balance – before Kuldeep Yadav dismissed KKR's captain.
After being plundered down for a six, Kuldeep dragged back his length, foreseeing Iyer's skip down the track and had the KKR skipper stumped out with a googly. He said that out of the four – Cummins, Narine, and Umesh being the other three- he enjoyed Shreyas's wicket the most because he was batting superbly and DC needed that scalp to gain an upper hand.
"Shreyas was batting well and I wanted to make him guess. It was a very big wicket. I thought his wicket was personally very important. He was the main batsman for the team," he added.