The "senseless" killing of "innocent" kids in Gaza by Israel pains the heart of former India all-rounder Irfan Pathan.
The 2007 T20 World Cup winner requested the United Nations to step into the matter and prevent the deaths of children in Gaza while the "world remains silent".
Everyday pictures and videos of people being bombed and killed in Gaza by the Israeli government surface on social media. The kids being killed is something that has deeply hurt Irfan Pathan, who took to Twitter to plead with the United Nations to interfere and resolve the matter and especially put an end to the violence between the two regions.
The Israel-Hamas conflict is going into a war-like situation where thousands have already been killed on both sides.
Irfan Pathan urges world leaders to step in and stop the violence in the Israel-Hamas conflict
Irfan Pathan tagged the United Nations in his tweet and used the hashtags: #StopTheViolence and #GazaChildren.
Irfan Pathan tweeted: "Every day, innocent kids aged 0-10 in Gaza are losing lives and the world remains silent. As a sportsman, I can only speak out, but it's high time for world leaders to unite and put an end to this senseless killing.@UN #StopTheViolence #GazaChildren
Here, check out Pathan's tweet: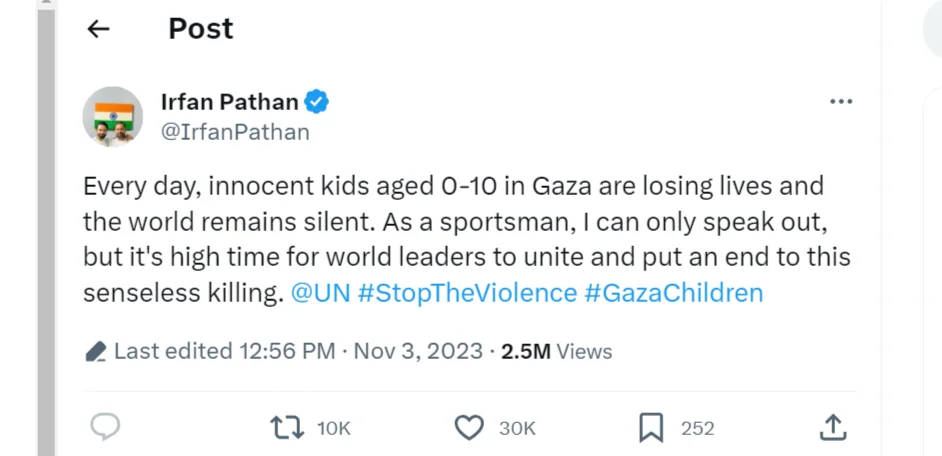 In latest reports, the US Secretary of State, Antony Blinken, has urged Israel on Friday to minimise the damage to civilians in Gaza, and "and ensure they receive humanitarian aid, while underscoring the country's right to defend itself."
The Israeli army troops have been encircling the Gaza City with their focus being to crush the enclave's ruling Hamas militants. It has been alleged that it were the Hamas militants who had initially launched a viloent attack on the Israeli communities that started the war in the first place. Lebanon's Hezbollah militant group has also joined in the attacks at their border.