England's star pacer James Anderson was left teary-eyed while talking about the retirement of his teammate Stuart Broad. The 37-year-old left the cricketing world in shock when he announced his retirement from the game at the end of Day 3 in the 5th Ashes 2023 Test match.
Yes, Broad will draw curtains on a prolific career that saw him become only the second fast bowler in Test history to take 600 or more wickets. It has to be noted that the decision wasn't taken long ago as Broad made the big announcement on Friday evening.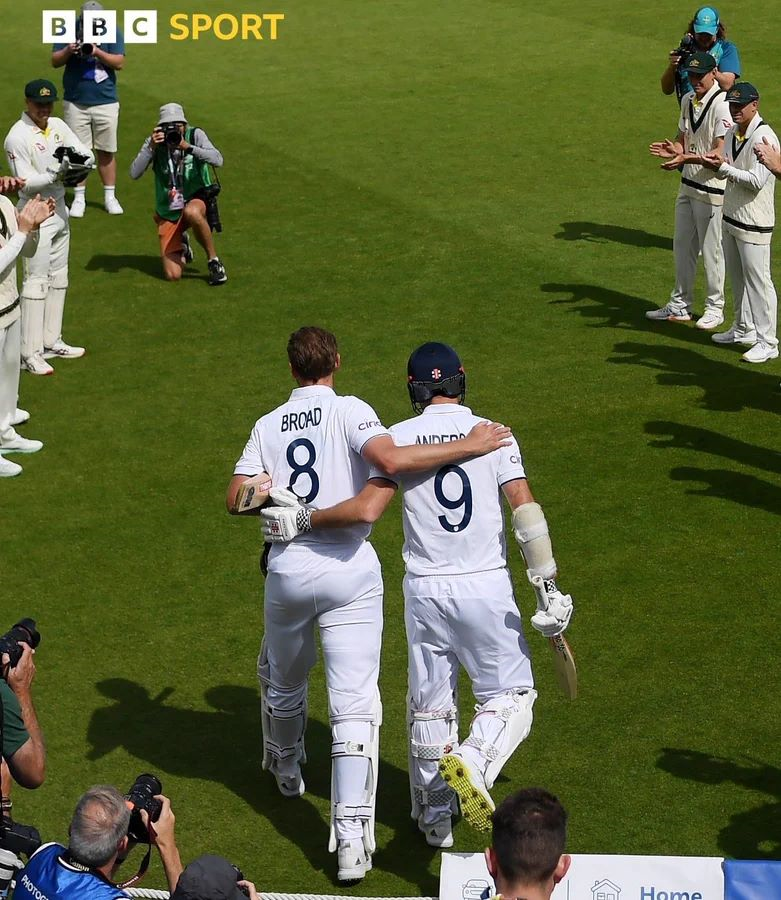 James Anderson Got Emotional While Talking About Stuart Broad's Retirement
Stuart Broad, who is hailed as the modern-day fast-bowling legend, formed a highly successful bowling partnership with James Anderson. Together the pair has taken close to 1300 wickets for England.
Having played together for such a long time, it was expected that the moment was going to be an emotional one for Anderson. When Anderson was asked to talk about Broad's retirement, he said:
"Yes, absolutely I am going to miss him. He is my best mate and he has been brilliant to be there for me all the time," said James Anderson before choking up on his words.
The video of emotional James Anderson has been going viral on the internet. Watch it here:
Anderson getting emotional on the news of retirement of Broad 🥺❤#Ashes2023 #ENGAUS pic.twitter.com/ZLzfRCeU5a

— Dhaval Patel (@CricCrazy0) July 29, 2023
Anderson's Reaction To Broad's Retirement
Earlier, Broad revealed James Anderson's reaction to his retirement. Speaking on the BBC's Test Match Special, Broad said:
"He (Anderson) just said 'are you joking?'. We then had a hug. I went to see Stokes and Baz [Brendon McCullum] last night and said thanks for all you have done for me,"
He added: "It is always hard. When I spoke to Jimmy I got a bit emotional. But ultimately we have a game to win here. We can do the reminiscing afterwards if we get the job done,"
Stuart Broad has played 167 Test matches, 121 ODIs, and 56 T20 Internationals, taking 845 wickets. Broad made his Test debut against Sri Lanka in 2007. In his column for the Daily Mail, Broad said it was vital for him that his last game is against Australia in the Ashes, which he considers the pinnacle of Test cricket. He said:
"Ashes cricket has brought out the best in me, I love the energy of the battle against Australia, the crowd involvement, I'm proud to have 150 Test wickets against them and ultimately these are the memories I will hold with me for the rest of my life,"
He added: "I look around and I have played so much cricket with so many players in this team. I love this team to bits and so even though I was at peace with telling Brendon McCullum and Stokes on Friday night, it was still difficult telling some of the rest of the lads on Saturday during pre-play warm ups,"