Top 10 Ugliest Fights In The History Of Cricket
Cricket is known as a gentleman's game, however, it has not always been gently. While we have always seen the cricketers joking around and enjoying themselves on the field, but we have also witnessed some of the ugliest fights taking place on the field. Here, in this article, we bring you a list of some …
---
Cricket is known as a gentleman's game, however, it has not always been gently. While we have always seen the cricketers joking around and enjoying themselves on the field, but we have also witnessed some of the ugliest fights taking place on the field. Here, in this article, we bring you a list of some ugliest fights that took place on the cricket field.
Here, check out the 10 most ugliest fights that took place on the cricket field:
1. Andrew Symonds v Harbhajan Singh, 2008:
In 2008, during the Sydney Test, Australian cricketer Andrew Symonds and India's spin wizard, Harbhajan Singh were indulged in an ugly spat, following which the former alleged that Singh called him a 'monkey', a racial slur.
Subsequently, Bhajji was handed a three-match ban, but team India threatened that they would pull out of the tour if the ban was not uplifted. After judge John Hansen heard abuses from both ends, he dropped the charges on Bhajji citing lack of evidence.
2. Shane Warne vs Marlon Samuels:
One of the biggest fights witnessed on the cricket ground. Shane Warne and Marlon Samuels were indulged in an ugly fight during a BBL game between Melbourne Stars and Melbourne Renegades.
During stars innings, on one of the deliveries, while David Hussey was trying to attempt a second run, Marlon Samuels jokingly tried to grab Hussey's shirt, while knowing that there wasn't a second run there. However, this didn't go down well with Shane Warne.
Later, in the second innings, when Samuels was at the crease, Shane Warne started hurling a barrage of abuses at Samuels, some of which were heard on the player mic that he was wearing. Things turned uglier when in the next over, after fielding the ball, Shane Warne threw the ball straight at Samuels, albeit slowly, but deliberately. Samuels, who had enough of this by now, threw his bat wildly in the air. Umpires gathered together to calm things down between both the players.
In the next over, Warne brought legendary Lasith Malinga and he bowled a ripping bouncer, which smashed into the grill of Samuel's helmet. Samuels was immediately given retired hurt as there was blood dripping all over his mouth.
3. Harbhajan Singh vs Sreesanth:
Harbhajan Singh and Sreesanth, two of the most flamboyant players of the Indian cricket team, were up against each other during a match between Mumbai Indians and Kings XI Punjab, that was won by the Kings. Reportedly, it was claimed that after the match, Sreesanth went to Harbhajan Singh and told him 'Well played' in a teasing manner, to which Harbhajan got offended and it infuriated him.
Sreesanth was seen crying on TV and later it was revealed that Harbhajan had slapped him on his face for the comments he made. Both the cricketers refused to comment about the ugly fight. Harbhajan Singh was eventually banned from playing the rest of the season.
4. Kieron Pollard and Mitchell Starc:
In 2014, Mumbai Indians' star player Pollard was involved in a rather ugly altercation with RCB's Mitchell Starc. He had had a few words for Pollard when the latter was struggling to perform with the bat. Pollard then nonchalantly brushed Starc away with a dismissive wave of his hand.
However, the incident didn't end there. On the very next delivery, Pollard withdrew from his stance just as Starc was in his delivery stride but Starc went on with the delivery and appeared to target Pollard who had walked away toward the leg umpire.
Following this, Pollard waved his bat at Starc and almost threw it at him, before it was slipped from his hands. This was followed by a heated argument involving the two, the umpires and RCB skipper, Virat Kohli.
5. Ishant Sharma and Kamran Akmal:
Pakistan wicketkeeper Kamran Akmal and pacer Ishant Sharma were fined after an ugly spat happened in the first T20 international at Bangalore. During the game, both the cricketers got into the argument when the latter was declared not out after he was caught off a no-ball by Ishant Sharma and was beaten on the next ball. Soon both the players were seen exchanging a few angry words.
6. Virat Kohli vs Gautam Gambhir: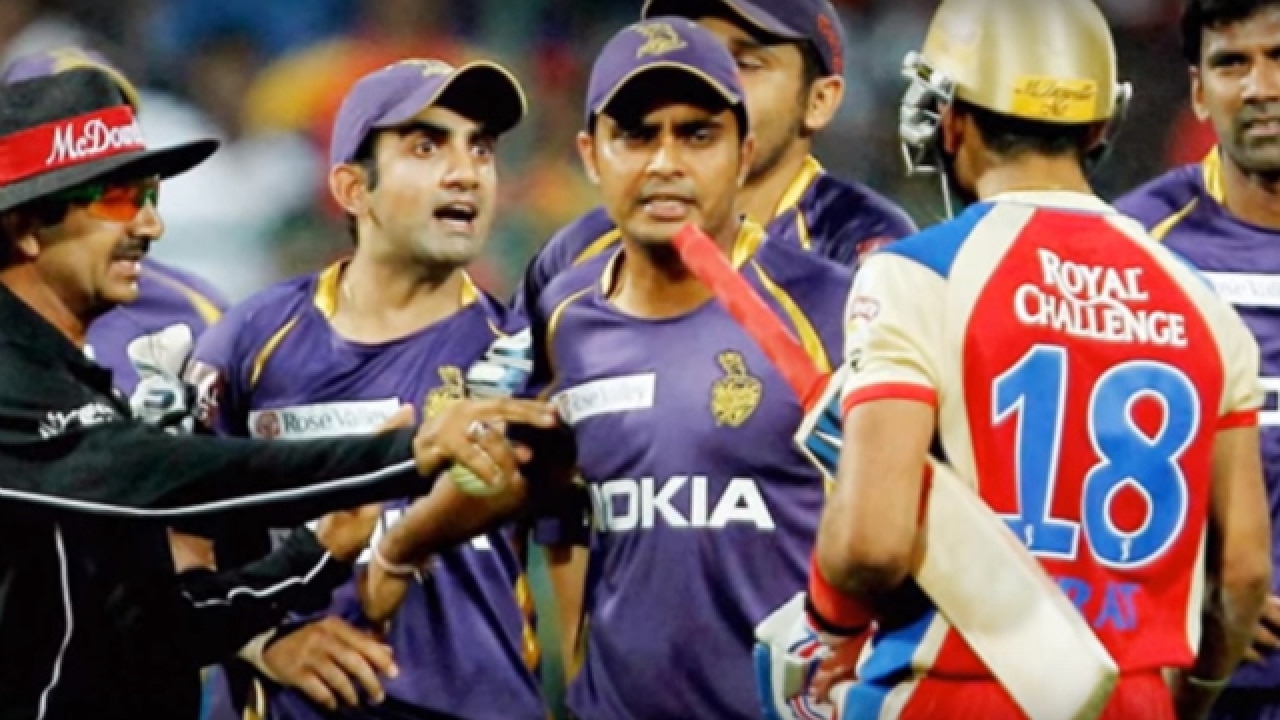 Indian World Cup heroes Gautam Gambhir and Virat Kohli, once had a go at each other during an IPL game between RCB and KKR in 2013. Virat was batting amazingly well and had smashed a couple of sixes in the ninth over. In the next over, he came down the track and smashed a delivery straight into the hands of sweeper cover.
Dejected by this, Kohli was walking back to the pavilion, when he saw Gambhir celebrating wildly for his dismissal and also heard something which he didn't like. Virat instantly started walking towards Gambhir and both of them were seen exchanging a few words before the senior Pro, Rajat Bhatia got in the way and separated the two.
7. Gautam Gambhir And Shahid Afridi:
Gambhir and Afridi once got into a heated argument. It happened during a game between India and Pakistan in Kanpur in 2007, when Afridi deliberately got in Gambhir's way, when he was taking the run. Later, both of them were seen exchanging some heated words and abuses. As a result, players and umpires had to intervene to stop their fight.
8. Bermuda Cricket Team's fight:
This one has to be one of the most ugliest fights ever, following which Bermuda cricketer Jason Anderson was slapped with a life time ban for inciting the brawl during a club match.
Well, it all started after Anderson, who was representing Cleveland County Cricket Club, launched a brutal assault on batsman George O'Brien, who was representing Willow Cuts Cricket Club while wicket-keeping during the Champion of Champions final at the St David's Cricket Club Ground. In no time, the fight turned ugly and the players were seen wrestling each other to the ground. Infact, James was even seen kicking the batsman.
9. Shakib Al Hasan vs The Umpire:
During a domestic match between Mohammedan Sporting Club and Abahani Limited, Shakib Al Hasan was seen having furious altercations with the umpire after a few of his appeals were turned down by him. After one of his delivery, Shakib was seen running towards the umpire waving his hands all over the place and kicked the stumps in frustration.
10. Inzamam-ul-Haq vs Fan:
Yes, you read that right. Inzamam-ul-Haq once got into a heated argument with a fan. This incident happened in 1997 during the 2nd ODI of the series at Toronto Cricket when an Indian fan kept teasing him with the word 'aloo' and asking him to stand straight because of his body weight. Though, Inzi let go of it for a while, but he soon lost his cool and was seen running towards the fan with his bat but was stopped by the security personnel. It would've been a permanent black spot on Inzi's career if he had injured the fan and he could have been suspended for his act.
Also Read: List Of Highest Paid Australian Cricketers