Former England captain Michael Vaughan tore into former Pakistan batsman Mohammed Hafeez for labeling Virat Kohli as "selfish" following the Indian batsman's century against South Africa.
Virat Kohli equaled Sachin Tendulkar's 49 ODI centuries record in Kolkata with his knock of 101* in 121 balls on a tough pitch at the Eden Gardens. Although Kohli batted at a slower-than-expected rate in the last phase of his innings – he scored his last 26 runs in 26 balls – he held the innings and took the total to over 320, which was way above par on that surface. It showed later as South Africa got bowled out for only 83 runs.
Mohammed Hafeez was one of those who didn't agree with the template of Virat Kohli's batting and called him "selfish".
Hafeez said: "I saw a sense of selfishness in Virat Kohli's batting and this happened for the third time in this World Cup. In the 49th over, he was looking to take a single to reach his own hundred and he didn't put the team first. Rohit Sharma could have played selfish cricket too, but he didn't because he is playing for Team India and not for himself."
Michael Vaughan schools Hafeez on remark on Virat Kohli
The 2005 Ashes-winning skipper, Michael Vaughan, called out the "utter nonsense" that Hafeez was speaking. Vaughan pointed out to Hafeez that Virat Kohli was the only anchor batsman remaining at that point, and Kohli holding his end allowed the likes of Suryakumar Yadav and Ravindra Jadeja to attack the Protea bowlers.
"Come on @MHafeez22 !!! India have hammered 8 teams playing great cricket .. @imVkohli now has 49 tons and his last was an anchor role innings on a tricky pitch .. His team won by over 200 !!!! This is utter nonsense .. #CWC2023 #India #Pakistan," Vaughan tweeted.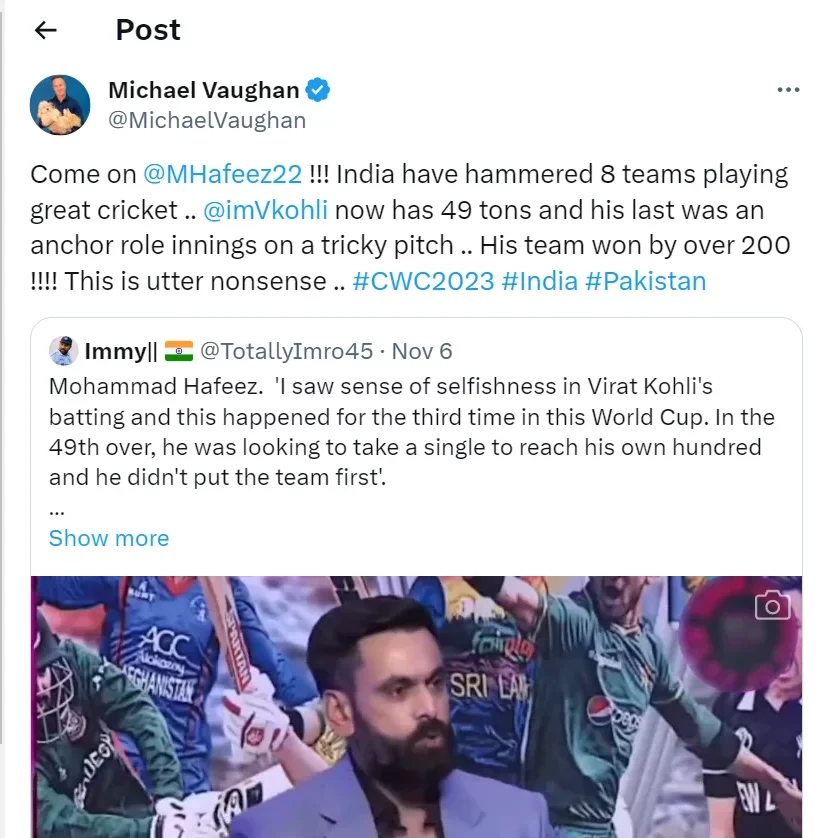 Virat Kohli is now the second-highest run-scorer in the tournament with 543 runs, just 7 runs behind Quinton de Kock. But Kohli's average of 108 dwarfs that of De Kock's 68, which is still terrific.
All of India, and Sachin Tendulkar himself, have wished Kohli to reach the 50th ODI ton milestone in the knockouts. India's remaining group-stage game is against the Netherlands on Sunday in Bangalore.