Former Indian head coach Ravi Shastri and bowling coach Bharat Arun deserve all the credit for shaping the Indian cricket team into the formidable fast-bowling army they are today. The transformation Shastri and Arun brought alongwith the skipper Virat Kohli in the Indian Test cricket will be remembered for ages. Today, the pace trio of …
---
Former Indian head coach Ravi Shastri and bowling coach Bharat Arun deserve all the credit for shaping the Indian cricket team into the formidable fast-bowling army they are today. The transformation Shastri and Arun brought alongwith the skipper Virat Kohli in the Indian Test cricket will be remembered for ages.
Today, the pace trio of Jasprit Bumrah, Mohammed Shami, and Mohammed Siraj are dominating the cricket world with their lethal bowling attack, especially in overseas conditions. Talking about the experience, while Mohammed Siraj is the youngest of the three, Mohammed Shami is the most capped bowler.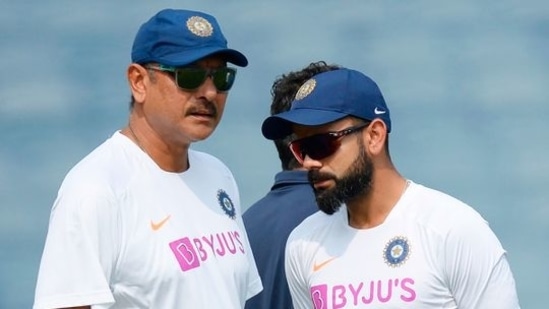 While all three players have become a crucial part of the Indian bowling attack, Jasprit is the one that has risen quickest among the three. Jasprit Bumrah, who made his Test debut in 2018 in South Africa, has already picked 100 Test wickets, out of which only 4 came in India. It won't be wrong to say that Bumrah is the heart of Indian bowling.
Recently, speaking on 'The Ravi Shastri' Show on Star Sports, former Indian head coach Ravi Shastri recalled how he and captain Virat Kohli carefully planned Jasprit Bumrah's debut in the 2018 Test series in South Africa. Shastri revealed how he was adamant about not making Bumrah play his first Test match in India as he wanted to 'unleash' Bumrah in SA. He revealed:
"He knew. I made Bharat Arun call him up and let him know that be ready. You might just get a call up. I spoke to Virat, spoke to the selectors. I said not in India… don't even bring him into the 15 in India. Unleash him straight in South Africa. And coming to Cape Town,"
Talking about Jasprit Bumrah's debut, he made a solid start to his career by claiming seven wickets in the first two matches. However, it was in the third match in Johannesburg when he unleashed himself and led the bowling attack from the front. He grabbed a five-wicket haul to help team India a memorable win. Ever since then, there have been no turning backs for the sensational pacer.