On Sunday, former Pakistan fast bowler Shoaib Akhtar announced the news of his new upcoming biopic: 'RAWALPINDI EXPRESS – Running against the odds'. Shoaib Akhtar's Two Word Reply Win Hearts One of the fastest and deadliest bowlers ever, and a highly controversial one too, Akhtar unveiled the motion poster of his biopic, uploading it on …
---
On Sunday, former Pakistan fast bowler Shoaib Akhtar announced the news of his new upcoming biopic: 'RAWALPINDI EXPRESS – Running against the odds'.
Shoaib Akhtar's Two Word Reply Win Hearts
One of the fastest and deadliest bowlers ever, and a highly controversial one too, Akhtar unveiled the motion poster of his biopic, uploading it on his social media channels.
'Beginning of this beautiful journey. Announcing the launch of my story, my life, my Biopic, "RAWALPINDI EXPRESS – Running against the odds,"' Shoaib Akhtar captioned his post.
'You're in for a ride you've never taken before. First foreign film about a Pakistani Sportsman. Controversially yours, Shoaib Akhtar.'
Along with this launch, Akhtar also hosted a Q&A session with his fans on Twitter.
Q & A for half an hour about this & a lot more. Use the hashtag #RawalpindiExpressTheFilm and you may get lucky with a response. pic.twitter.com/xasTnvvfNH

— Shoaib Akhtar (@shoaib100mph) July 24, 2022
He answered various types of questions ranging from his professional career to his personal life. One among the questions was regarding superstar Indian batsman Virat Kohli.
"One word for Virat Kohli #Rawalpindiexpressthefilm," asked one fan on Twitter.
Akhtar, who holds the world record of bowling the fastest ever delivery in international cricket which clocked at 161.3 kph, promptly replied with two words though – but those two words were enough to reflect his views on the ongoing form of Kohli: "Legend already," Akhtar replied.
Here, check out the former speedster's remark on Kohli that the Indian fans have loved:
Legend already

— Shoaib Akhtar (@shoaib100mph) July 24, 2022
Virat Kohli has been horribly out of form
Earlier this month, Kohli ended a disastrous tour of England where he managed scores of 11, 20, 1, 11, 16 and 17 across the three formats. And add to it his century drought since November 2019, this got former India legend Kapil Dev to make a bold statement on Kohli's place in the eleven, which got a reaction from Shoaib Akhtar.
India's 1983 World Cup-winning captain, Kapil Dev, had asserted that Kohli is not indispensable for the team anymore and that if the batsman continues to fail with the bat, he should be dropped.
Reacting to this, Akhtar, who has always championed Kohli, said that he respects Dev's opinion, but disagrees with it, pointing out Kohli's record of 70 international hundreds.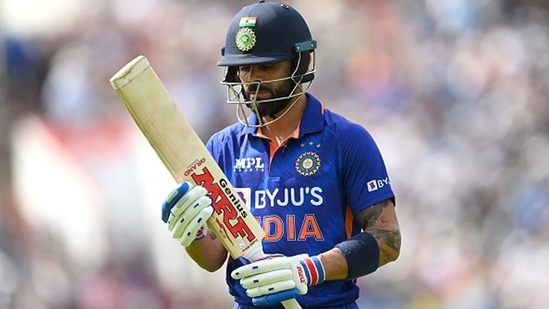 "Kapil Dev is my senior and he has an opinion and it is fine to have an opinion. If Kapil Dev says, you still understand as he is a great cricketer. He has the right to air his opinion," Akhtar said on his YouTube channel.
"But, as a Pakistani, why am I supporting Kohli? Well, he has 70 hundreds. Woh 70 sau khaala ke ghar mein ya candy crush khelte huye nahi banein hain. (Those 70 tons were not scored in his aunt's backyard or while playing Candy Crush)."
"How did you even imagine in your wildest dreams that Kohli can be dropped from Indian team? Virat Kohli is finished? Ok, fair enough. Virat Kohli should be dropped? Agreed. Now when I hear these things, I laugh and tell people, 'Virat has been the greatest batter in the world in the last 10 years.'"