Opinion
5 Batsmen Who Have Scored Most Runs In T20Is In Winning Causes
Just like limited overs cricket revolutionized cricket, so has the T20 format. The game has become more exciting, and the shortest format of the game has become the most lucrative one. Many batsmen have had their stock risen incredibly due to the format. Today we will take a look at the top 5 batsmen with the most runs in T20Is in a winning cause.
Rohit Sharma- 2152 runs

Rohit Sharma is one of the best batsmen to have ever played the game. He was a great  cricketer to begin with, but his stint with the Mumbai Indians made the entire world aware of his potential as an explosive batsman. Sharma has the fastest T20I century to his name. He reached the century in just 35  balls. He leads this list with 2152 runs in a winning cause.
Virat Kohli- 1948 runs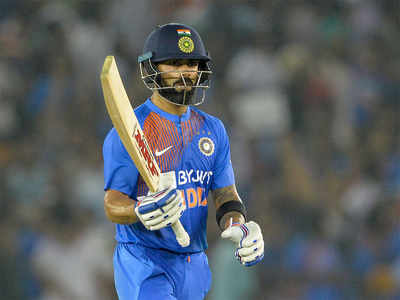 Virat Kohli is arguably the best batsman in the world. The Indian skipper has scored 5412 runs at a cracking strike rate of 131.61. Out of those 5412 runs, 1948 runs have come in a winning cause. Kohli is rightfully known as the 'Chase Master', and the numbers don't lie. He has been exceptional whenever the team has needed it, and shows no signs of slowing down.
Shoaib Malik- 1669 runs

Shoaib Malik is undoubtedly Pakistan's greatest players in the modern era. The stylish batsman has been a consistent performer for the Pakistani team. He has scored 2321 runs at a strike rate of 124.18. Malik has scored 1669 runs in a winning cause. The former Pakistan skipper is the first male cricketer to play 100 T20Is. He has retired from Tests and ODIs, and only plays T20 cricket at the international level.
Mohammad Shahzad- 1641 runs

Mohammad Shahzad made news when he scored 74 runs off just 16 balls in the T10 league held in Afghanistan. Shahzad is Afghanistan's most capped player, and is an extremely explosive batsman. He has scored 1936 runs from 65 matches. Shahzad has hit 72 sixes and 218 fours in his international T20 career. Shahzad recently made news for facing disciplinary action by the Afghanistan Cricket Board.
Martin Guptill- 1508 runs

Martin Guptill is one of the best New Zealand batsmen in the world. The 33-year old Kiwi has scored 2536 runs in T20 internationals at a cracking strike rate of 134.61. Guptill also has 2 T20I centuries to his name. In addition to being a great batsman, Guptill is also a dynamic fielder. His run out of Mahendra Singh Dhoni in the 2019 World Cup semifinals will forever be entrenched in the minds of cricket fans all over the world.