Cricket, as you know, is a funny game. But, do you know why it is so funny? Well, it's an answer we have all been looking for. Some say it's funny because of the rule. And some say, it is funny because of "we don't know why but it's funny". We, at The Cricket Lounge, …
---
Cricket, as you know, is a funny game. But, do you know why it is so funny? Well, it's an answer we have all been looking for. Some say it's funny because of the rule. And some say, it is funny because of "we don't know why but it's funny".
We, at The Cricket Lounge, like exploring funny moments of our beloved game. From Facebook to Youtube, there is no shortage of funny cricket related videos and GIFs. Along with news and analysis, we love bringing these entertaining moments to you.
Here are some of the most entraining cricket GIFs we found today on the internet.
1) England's opener Michael Carberry broke his bat into two pieces during an Ashes Test. We have seen many bats gets broken but the way Michael's bat broke, like a biscuit, it was a hilarious!
Image Courtesy – imgur
2) This is what happens when you play too much 'duck hunting' on your Play Station.
Image Courtesy – gifsoup
3) Ouch! That must have hurt. But, sorry, Mr. Cook, we couldn't stop our laughter.
4) British-American broadcaster Piers Morgan challenged former Australian fast bowler Brett Lee. And this is what happened:
5) One of the luckiest moments on a cricket field. A fast delivery hit the stumps hard but the bails didn't fall.
6) Andre Russell tried his best to stop the ball but the ballboy spoiled his effort. Poor lad!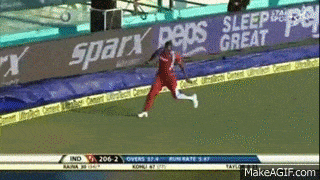 7) Stuart Broad tried to fool the dog but dogs are very intelligent. More than fast bowlers?
8) Sh** happens!