Virat Kohli is the anchor batsman, so KL Rahul has to be more aggressive.
---
On Monday, the BCCI announced India's 15-man squad plus 5 reserve players for the T20 World Cup in Australia next month. For the unversed, the selectors could still make changes to the squad until the day of their first match in the tournament, which is on 23rd October against Pakistan in Melbourne.
The squad was on expected lines with Bumrah and Harshal returning, replacing Avesh and Bishnoi from the Asia Cup squad.
India's squad looks strong - covering most of the ingredients of being a complete unit - and while the combination of the eleven is still not finalized, the major concern remains around the top-order - in particular one man: KL Rahul.
Many even believe that Rahul is not anymore an indispensable and first-choice player in India's starting XI, and that with India already trying out Pant and Suryakumar as openers in England and West Indies respectively, KL Rahul's place is not assured.
However, I disagree with that notion: KL Rahul is the certain starter under the management's eyes, and I believe that come October 23rd, KL Rahul will be striding out with Rohit Sharma as India's openers at the MCG.
The argument against KL Rahul says: he has played only 5 T20Is this year - all in the Asia Cup - having missed other matches due to rest before the IPL 2022 and injuries after that. In the Asia Cup, Rahul returned with scores of 0 and 28 (20) against Pakistan, 6 (7) against Sri Lanka, 36 (39) vs Hong Kong, and only in the last match, against a tired Afghanistan bowling attack, he got a boosting-confidence score of 62 (41).
This knock against Afghanistan - along with Kohli's century - were India's major positives. Hopefully, this knock helped KLR break his shackles and play with more freedom, which, I feel, he will need to, to convince the skipper Rohit Sharma and Rahul Dravid that he's truly bought into their aggressive brand of cricket.
Virat Kohli is the anchor batsman, so KL Rahul has to be more aggressive
Rahul playing attackingly and with greater intent is also not what the fans want to see - but he will have to out of necessity: given that Kohli, after his century vs Afghanistan, has already stated that he will look to settle in first, take the "10-15 balls" to get himself going before playing riskier shots - now KL Rahul cannot, and should not, look to play the anchor role, and instead, get on Rohit Sharma's ride and attack from the onset.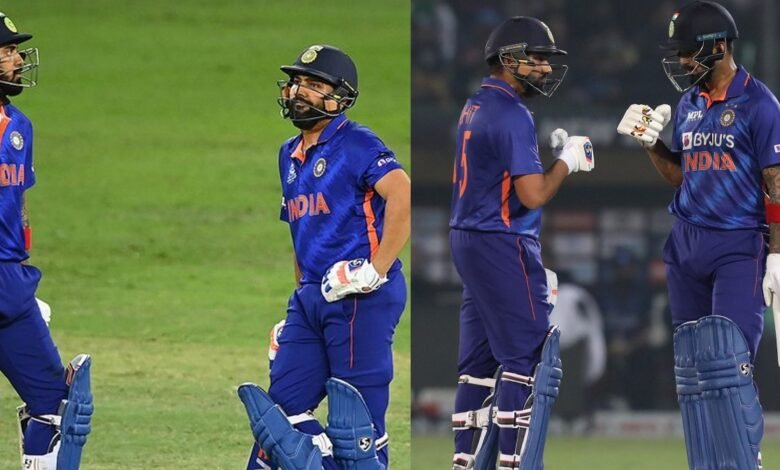 His overall strike rate of 140 does him and his abilities a disservice. For he is truly capable of batting aggressively - there is enough evidence in the past IPL seasons, and whenever there has been a big run-chase for India, KL Rahul has played with a larger degree of freedom, cast aside the conservative approach and took on the bowlers from get-go. Exhibit A, IPL 2018: he scored his 659 runs at a strike rate of 158; and after that, while he churned out similar amount of runs and average, his strike rate dropped below 140 every season.
KL Rahul as a T20 opener is amongst the best you will see in world cricket at the moment (avoiding the word destructive because it won't be fair to his class and elegance).
Watch out for KL Rahul, the dasher opener, in the upcoming home T20I series against South Africa and Australia. For there he is expected to answer all and any doubters.