Opinion
Sarah Taylor Savagely Trolled Quinton De Kock And It Is Breaking The Internet
Sarah Taylor, the female cricket from England is one of the prettiest women cricketers of the world. Sarah Taylor, the wicketkeeper-batter from England was once wrapped in the clutches of depression but she fought her way out and made a comeback to the national side.
Image Source: cricfit.com
Sarah's witty dig at South African Wicketkeeper Batsman, Quinton De Kock and called him a look-alike of her. Sarah Taylor took the Twitter and the Instagram to show how similar Sarah Taylor and Quinton De Cock look. This sassy troll by Sarah Taylor is making everyone burst into laughter. This is one funny troll coming from Sarah Taylor is actually hilarious and we're sure Quinton De Cock would have been left red-faced at this troll.
Sarah Taylor, who's a top order batsman from England took to Twitter to post a picture so as to draw similarities between the two faces. She through the post pointed out that there's a lot of similarities in face of her and Quinton De Cock.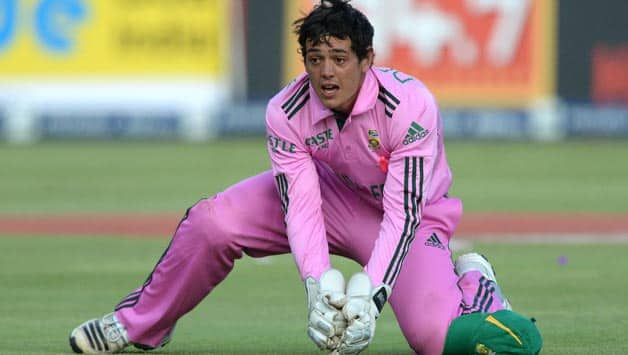 image Source: cricketcountry.com
The post was titled, 'Secrets Out' and this hilarious post is going bizarrely viral over the internet.
Sarah Taylor is a fine wicketkeeper who has claimed 120 catches and 94 stumping dismissals across various formats of the game. Sarah Taylor has played 113 One Day Internationals for England, 84 T20 Internationals and 9 Test matches for England. She made her debut in 2006 against India at Derby.
This is one very rare incident wherein a woman has trolled a guy for being her look alike. We're sure this would have been done by Sarah Taylor only to pull De Cock's leg and this seems like a funny friendly troll.
In this post, Sarah Taylor says that Quinton De Cock dresses as a woman and now plays for England. Funny isn't it? This is making everyone laugh hard and go ROFL
Here's the post
Secrets out…. pic.twitter.com/t05grlU3J5

— Sarah Taylor (@Sarah_Taylor30) January 20, 2018