Afghanistan superstar cricketer and canny leg-spinner Rashid Khan had delivered a motivational speech to his players ahead of their match against Sri Lanka on Monday in Pune. That fiery speech from Rashid Khan worked like a charm as Afghanistan recorded a convincing win over Sri Lanka by 7 wickets
Afghanistan had just one win – over Scotland – in the last two ODI World Cups. Now, they have recorded three wins – over three former world champions: England, Pakistan, and Sri Lanka – in the World Cup 2023 as they remain alive in the semi-final race.
Rashid Khan, who returned with impressive figures of 1/50 on a good batting surface in Pune, is an inspirational figure in his country and among his teammates. He was asked to give a speech before their match against Sri Lanka.
The 25-year-old who has played all around the world with some of the biggest names in T20 cricket, talked about fighting every single ball, and not giving up even when things go against them. The ICC uploaded the video of this speech.
"Remember these three things. Firstly, every ball we fight, if it's our batting, if it's our bowling or if it's our fielding. Our only focus should be to fight it out with the other team. Don't think about the outcome or whether we will win or not focus on the finer details instead and these finer details will paint the bigger picture. Fight for every ball," Rashid Khan said.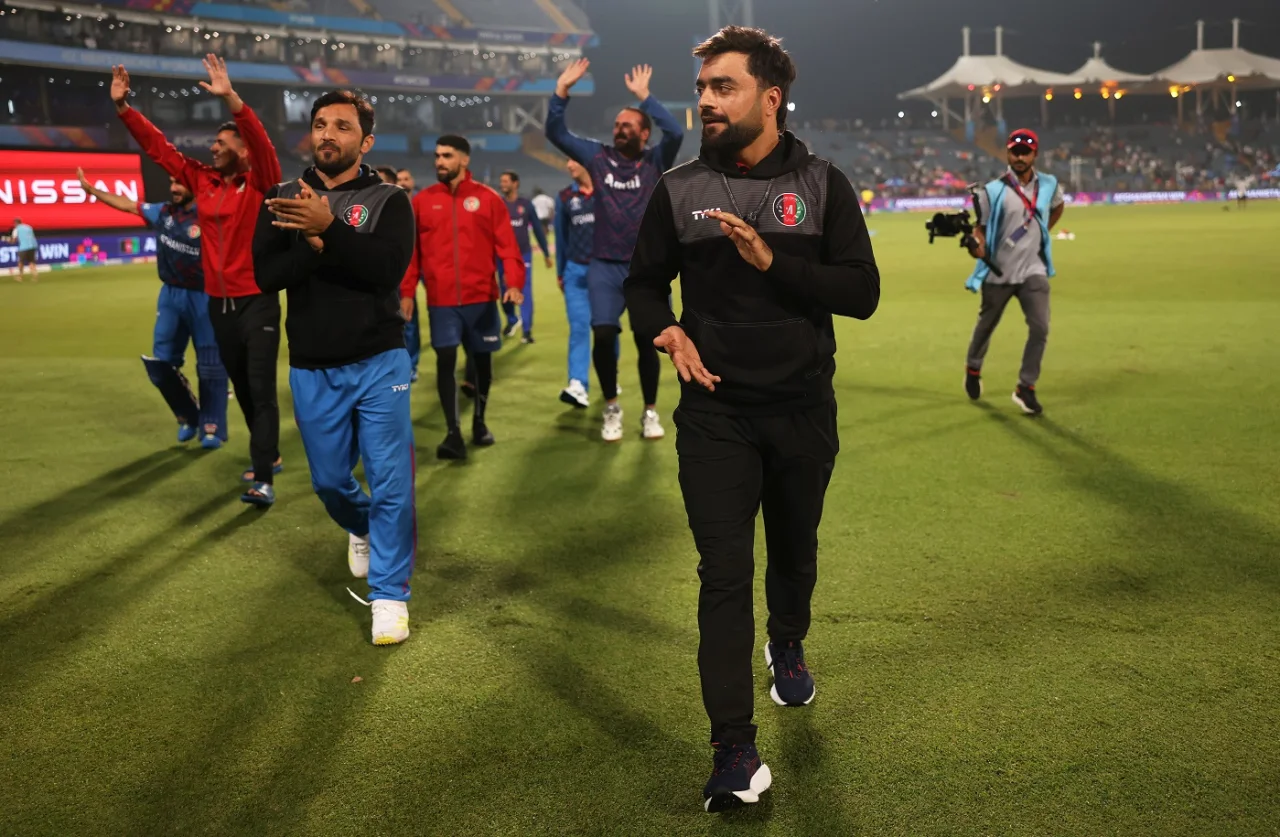 Our win is the only thing that brings joy and happiness in Afghanistan: Rashid Khan
Rashid also mentioned the strong support of the Afghanistanis back home who are dealing with tragedies of various kinds – man-made and natural – and their only source of happiness remains is their cricket team's victories.
"Even if I come out to bowl later on no matter how wet the ball is I will put in my 100% effort for the team because if I think that the ball is too wet. I won't be able to bowl well and automatically, I will concede runs because mentally, I would probably give up. So whether we ball first or second in every moment we will trust ourselves and will put in 100% effort. Thousands pray for us and watch our matches only to see Afghanistan win and triumph because cricket is the only thing that brings joy and happiness in Afghanistan" the leggie added.
"So as a team we shouldn't take the pressure, we only focus on the effort. Everyone wants to see that effort not just the result but a real honest effort. So as a team, we will get in and put in the effort and we also make sure of the biggest thing that we keep smiling Go on boys."
Watch the speech here:
Fazalhaq Farooqi was the Player of the Match for his sensational figures of 4/34 that restricted Sri Lanka to 241.