In the fast-paced world of international cricket, Virat Kohli stands as a towering figure, a cricketing legend whose feats on the field have left fans across the globe in awe. The ICC Cricket World Cup 2023 bore witness to yet another extraordinary chapter in his illustrious career, as Kohli led India to their eighth consecutive victory in the tournament. Not only did he secure a win for his team, but he also etched his name into the annals of cricket history by scoring his 49th One Day International (ODI) century, a remarkable achievement that saw him equal the legendary Sachin Tendulkar's record for the most centuries in ODI cricket history.
Kohli's performance in the ICC Cricket World Cup 2023 will be remembered as a historic triumph for Indian cricket. With his unwavering determination and unmatched skills, he not only secured victory for his team but also set several records along the way. The match in which he scored his 49th ODI century will be etched in the minds of Indian fans as a defining moment in the sport.
The 49th ODI century by Virat Kohli was more than just a numerical milestone. Kohli's century in the ICC Cricket World Cup 2023 showcased his ability to perform under immense pressure and solidified his status as the greatest ODI batsman of all time.
Ricky Ponting heaps praise on Virat Kohli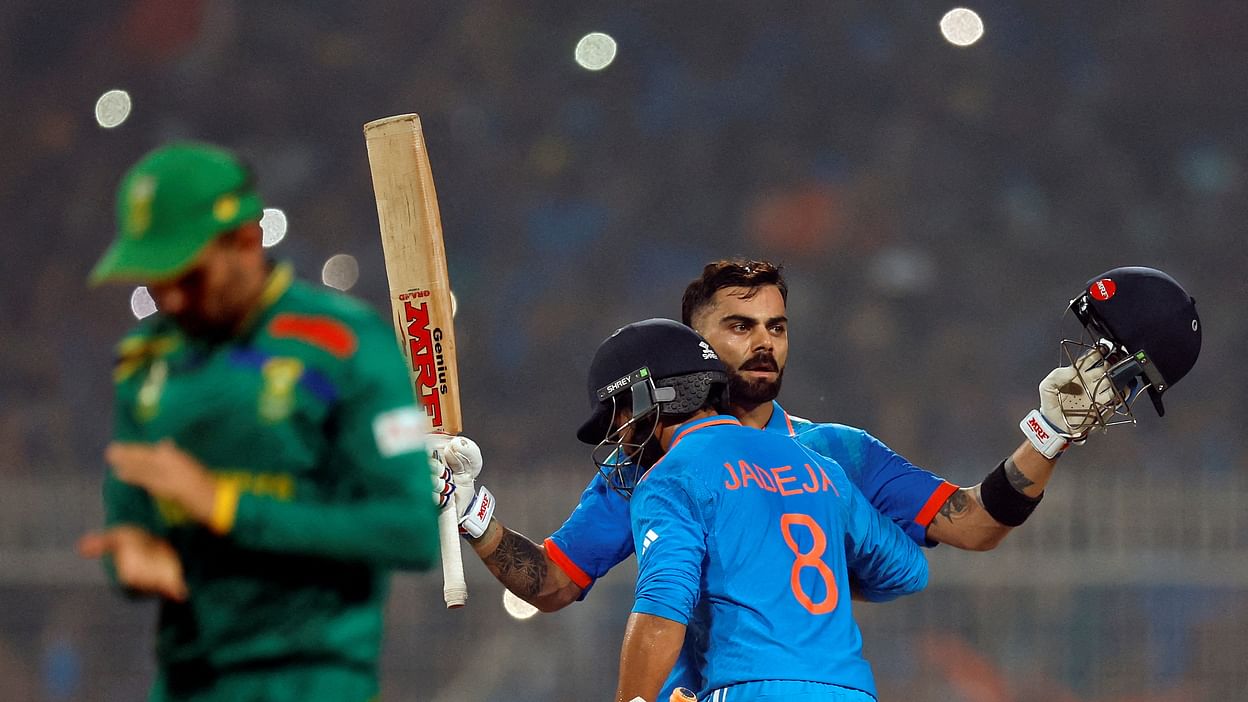 When Kohli scored his 49th ODI century, he equaled the record held by the cricketing legend Sachin Tendulkar. Tendulkar, often referred to as the "God of Cricket," had set a benchmark that many believed to be unattainable. Kohli's achievement in matching this record in 175 fewer innings is nothing short of extraordinary.
Virat Kohli, at the time of his historic achievement, was 35 years old. His age raises questions about his future in ODI cricket, especially when looking ahead to the next ODI World Cup in South Africa. By the time that event rolls around, Kohli will be 39, and this realisation has led many to speculate that this may indeed be his final ODI World Cup appearance.
Ricky Ponting, one of the cricketing greats himself, shared his thoughts on Kohli's remarkable feat. He said: "I meant the one that you were reading out those numbers of Kohli World Cup after World Cup, progressively getting better. Any other cricket fan other than an Indian fan will not want him to play in the next World Cup. If he gets to 2027, we're looking at 600-700 runs plus."
He added: "There is no doubt he is the absolute best and I have said that for a long time. To think that he (Kohli) got 49 ODI hundreds and equalled Sachin and in 175 less innings is unbelievable. That (49th ton) might be a bit of a monkey off his back. I think he has been working extra hard to equal Sachin's record."