In the world of cricket, Shahid Afridi is a name that resonates with power, resilience, and a fearless attitude. Known for his exceptional skills and tenacity on the field, Afridi has always been a force to be reckoned with. However, beyond the boundaries of the cricketing arena, there exists a side of him that recently touched the hearts of many. In an unexpected turn of events, Shahid Afridi revealed his emotional and tender side as he penned a heartfelt note for his daughter, Ansha Afridi, following her grand wedding to Pakistan seamer Shaheen Shah Afridi on September 19.
The wedding ceremony was nothing short of a star-studded affair. Held in the vibrant city of Karachi, it witnessed the presence of numerous prominent personalities, including Pakistan's national team captain, Babar Azam. The glitz and glamour of the event were complemented by the genuine emotions and the warmth of familial bonds.
Afridi's relationship with his daughter, Ansha, has been a source of admiration for fans and followers throughout the years. Ansha, a constant presence in the stands, cheered passionately for her father during his cricketing endeavors. Her unwavering support and her presence at the matches were a testament to the strong father-daughter bond they shared.
Shahid Afridi Has A Heartfelt Message For Her Daughter After Her Wedding
Following Ansha's wedding, Shahid Afridi took to social media to express his feelings. In a heartfelt post on his official social media handle, Afridi shared his sentiments about seeing his beloved daughter embark on a new journey. His words resonated with anyone who has witnessed the transformation of their child from a little one into a strong, independent individual ready to embrace married life.
In his poignant message, Afridi wrote, "The light that entered our home yesterday is now departing before our very eyes. Baba's heart is heavy, but the hope of a new dawn has come to comfort him. @anshaheen" These words beautifully encapsulated the bittersweet emotions of a father who has watched his little girl grow into a woman ready to create her own path in life.
As Afridi's emotional message and the news of Ansha and Shaheen's wedding spread across the digital landscape, his former friend and fellow cricketer, Umar Gul, also joined in to express his happiness and congratulate the newlyweds. Umar Gul's heartfelt wish was filled with hope and blessings as he wrote, "May Allah keep them happy and together forever Ameen." The warmth and sincerity of these wishes from a friend added a touch of authenticity to the celebration.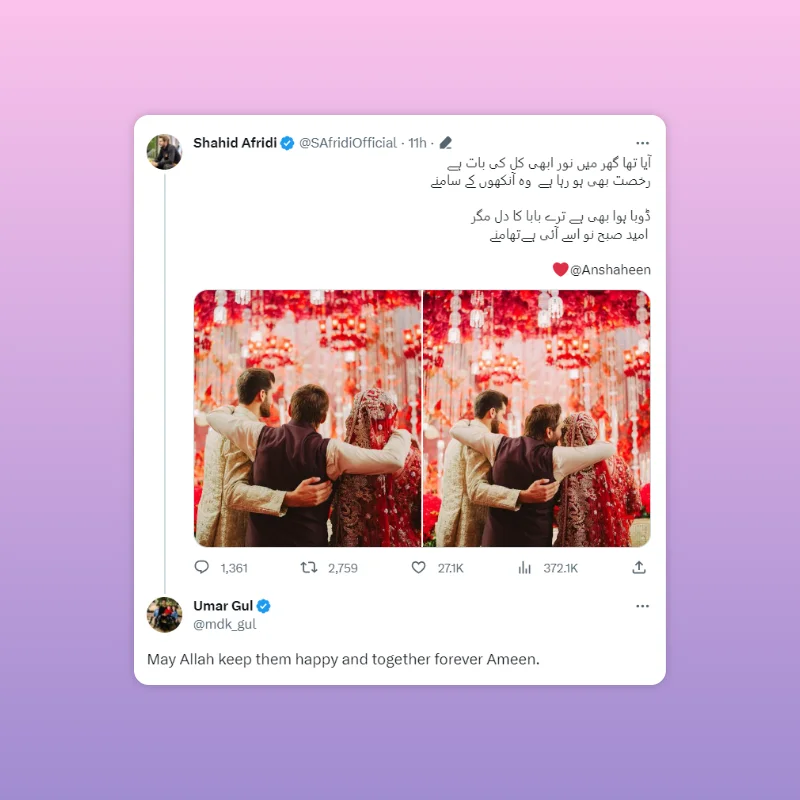 It's worth noting that this wasn't the first time Ansha and Shaheen exchanged marriage vows. The couple had previously tied the knot in February 2023 during a private ceremony. However, the recent wedding was a much grander affair, attended by family members from both sides, and it marked the beginning of a new chapter in their lives.
In the world of sports, Shahid Afridi will always be remembered for his fierce competitiveness and outstanding cricketing skills. But it's moments like these when we get a glimpse of his tender and emotional side, that remind us that behind the tough exterior lies a loving father who cherishes his daughter's happiness above all else.
As the world celebrates the union of Ansha and Shaheen, we can't help but be moved by Shahid Afridi's heartfelt note and the outpouring of love and blessings from friends and well-wishers. It's a testament to the power of love and family bonds that transcend the boundaries of fame and sports.
In the end, Shahid Afridi's emotions remind us that regardless of our achievements and successes, our deepest joys and sorrows are often rooted in the simple, yet profound, connections we share with our loved ones.