Bhawna Kohli Dhingra, the sister of Virat Kohli, penned an emotional post for her brother and the entire Indian cricket team following India's loss in the World Cup 2023 final on Sunday in Ahmedabad.
Pat Cummins' spirited Australian team put on a clinical performance in all three departments in front of over 100,000 fans at the Narendra Modi Stadium in Ahmedabad to win their 6th ODI World Cup trophy. Australia now have won 6 World Cups out of 13 editions. Travis Head was the Player of the Match for his sensational knock of 137 runs.
The over a billion fans in India and across the world were left shattered and heartbroken once again as India extended their decade-long ICC title drought for the senior men's team.
Aged 34 and 36, Virat Kohli and Rohit Sharma respectively are unlikely to play in the 2027 World Cup. Rohit might not even feature in the 2025 Champions Trophy.
For once, the entire country gelled together in giving their support to the team after another ICC knockout loss instead of bashing and abusing players, as has happened in the past years.
Virat Kohli you have made us so so proud: Bhawna
The sister of Virat Kohli, Bhawna Kohli Dhingra, took to Instagram to show her support to the team and her brother and praise them for their sensational efforts throughout the tournament which saw them win 10 games in a row.
Bhawna Kohli Dhingra posted: "I know we all expected a different result but we are with you Team India because you don't give up on your family when they fall Infact thats the time we support them"
For Kohli, Bhawna captioned: "Virat you have made us so so proud that there is nothing more that we could ask for love you # Proud forever"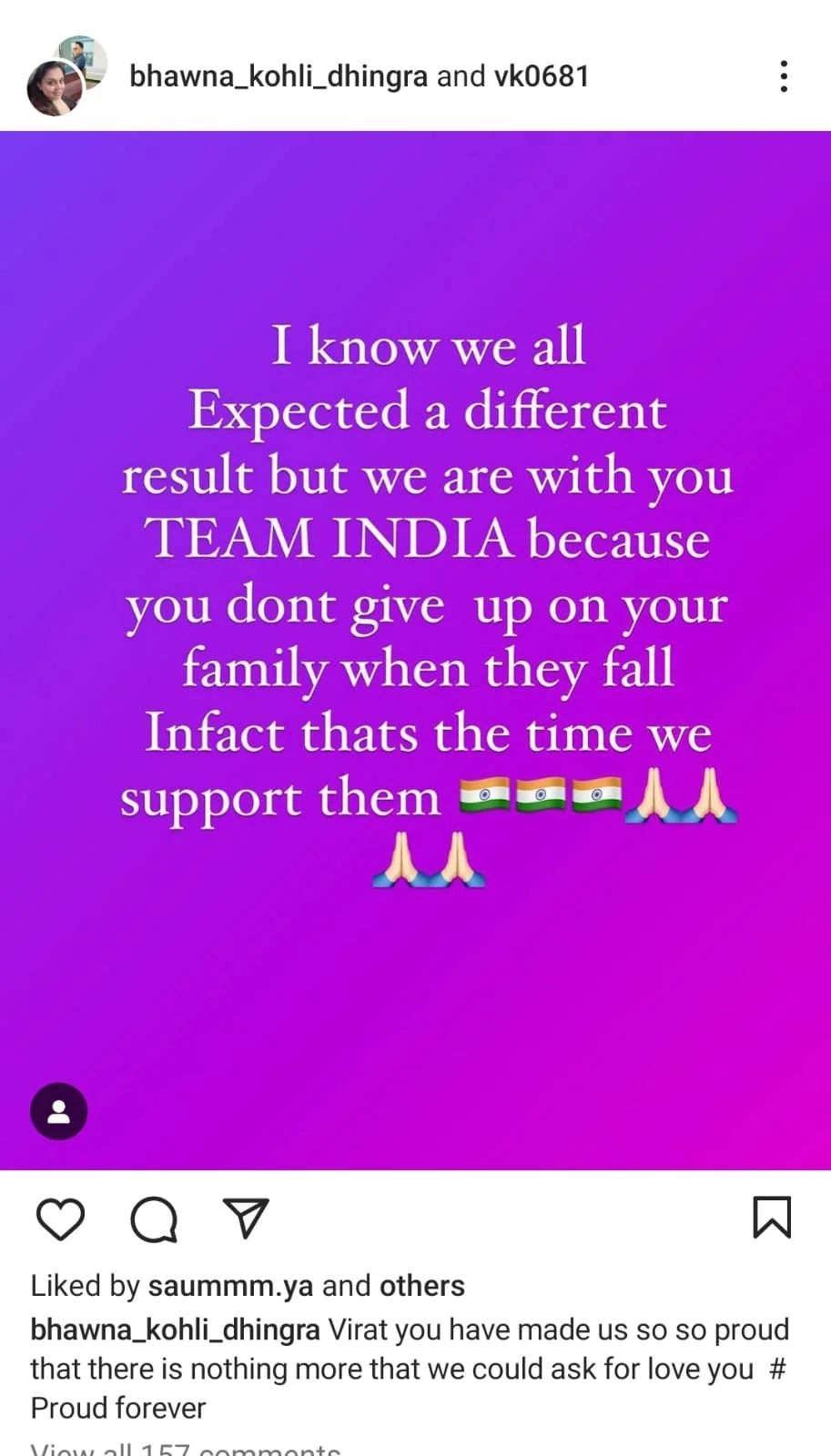 Virat Kohli finished as the leading run-scorer in the World Cup 2023. Breaking Sachin Tendulkar's record of 673 runs, Kohli amassed 765 runs at an average of 95. He notched up 3 centuries, including one in the semi-final, and 6 fifties.