In a semi-final clash against New Zealand, India emerged victorious with a commanding 70-run win, securing their place in the final scheduled for Sunday in Ahmedabad. The match was not only a showcase of exceptional team performance but also marked a historic moment for Virat Kohli, who notched up his 50th ODI hundred, surpassing the legendary Sachin Tendulkar's record.
Virat Kohli's century in the semi-final not only played a pivotal role in India's victory but also etched his name in cricket history. With his 50th ODI hundred, Kohli demonstrated unparalleled skill and determination, solidifying his status as the greatest batsman in the world. The significance of this achievement cannot be overstated, as he surpassed the iconic Sachin Tendulkar, a proof of Kohli's consistency and dominance in the cricketing world.
While Kohli's century took center stage, Shreyas Iyer's explosive century against New Zealand added another layer to India's formidable performance. Iyer's quickfire innings showcased his ability to accelerate the run rate and provided the team with the momentum needed to set a challenging target. His century, combined with Kohli's masterful innings, created a formidable partnership that proved too much for the New Zealand side to handle.
Throughout the World Cup, one name has consistently stood out as the driving force behind India's success—Rohit Sharma. As the captain, Sharma exhibited ultra-aggressive batting right from the start of the innings, consistently delivering quickfire 40s and 50s. His aggressive approach not only propelled the team to fast starts but also alleviated the pressure on the middle order, allowing players like Kohli and Iyer to settle in more comfortably.
Rohit Sharma's influence extended beyond his batting prowess; his captaincy has been nothing short of exemplary. Leading from the front, Sharma made strategic decisions that proved crucial in key moments of the tournament. His ability to read the game and make effective on-field decisions showcased his leadership skills, earning him praise from fans, cricket experts, and even Bollywood personalities.
Suniel Shetty heaps praise on Rohit Sharma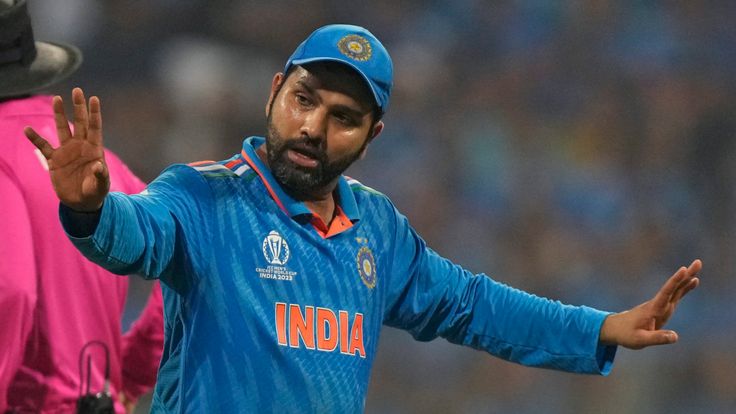 After India's qualification for the final, Bollywood actor Suniel Shetty, who is also KL Rahul's father-in-law, took to Twitter to express his admiration for the team. Shetty's tweet highlighted the selfless knocks played by Rohit Sharma, setting the stage for the entire team to shine. Shetty emphasized that while records may be shattered by players like Kohli and headlines grabbed by newcomers like Iyer, it is Rohit Sharma who truly deserves the title of "Captain Marvelous."
Shetty's tweet aptly captured the essence of Rohit Sharma's captaincy—no focus on personal milestones but an unwavering commitment to team glory. The mention of "10 wins on the trot" emphasizes India's dominant run in the tournament, showcasing their potential to become world champions.
.@imVkohli will continue to shatter records. @ShreyasIyer15 will grab the headlines. But my captain @ImRo45 Rohit Sharma is THE Man of the Moment.

He sets the match ablaze with his selfless knocks, setting up a stage for the entire team to shine. No milestones, just team… pic.twitter.com/DwJlCNNSve

— Suniel Shetty (@SunielVShetty) November 15, 2023