Camaraderie often crosses borders and teams in the world of cricket. Suryakumar Yadav and Ravichandran Ashwin, two very brilliant cricketers from India, recently exchanged uplifting social media messages. This charming exchange occurred as Team India prepared for the third One-Day International (ODI) against Australia, having already sealed the series with their outstanding performances in the previous two matches.
The setting was set for the last ODI on Wednesday, September 27th, at the Saurashtra Cricket Association Stadium in Rajkot. As the expectation grew, Ravichandran Ashwin wanted to give fans an insight into his off-field lifestyle. On Tuesday, September 26th, Ashwin posted a series of engaging photographs on his official Instagram account, and his caption provided a delightful twist to the story.
In his post, Ashwin wrote, "When you have composed a Kutti Story." The suggestion of a 'Kutti Story' grabbed cricket fans' interest, and the clever comment set the tone for an intriguing social media twist.
Suryakumar Yadav
, renowned for his bold hitting and enthusiastic on-field personality, couldn't help but comment on Ashwin's Instagram picture. Yadav's remark was brief but powerful, as he referred to Ashwin as a "Rockstar." The use of this charming moniker not only demonstrated the two players' closeness but also hinted at Yadav's regard and adoration for his older colleague.
In a world where sportsmen often engage in heated competitions on the pitch, these moments of friendship serve as a reminder of the sportsmanship and harmony that cricket as a sport continues to promote. Suryakumar Yadav's friendship with Ravichandran Ashwin exemplifies the ethos of Team India, where experience and young excitement coexist happily.
Suryakumar Yadav Posts A Cheeky Comment To Ravichandran Ashwin's Stylish Instagram Photo
View this post on Instagram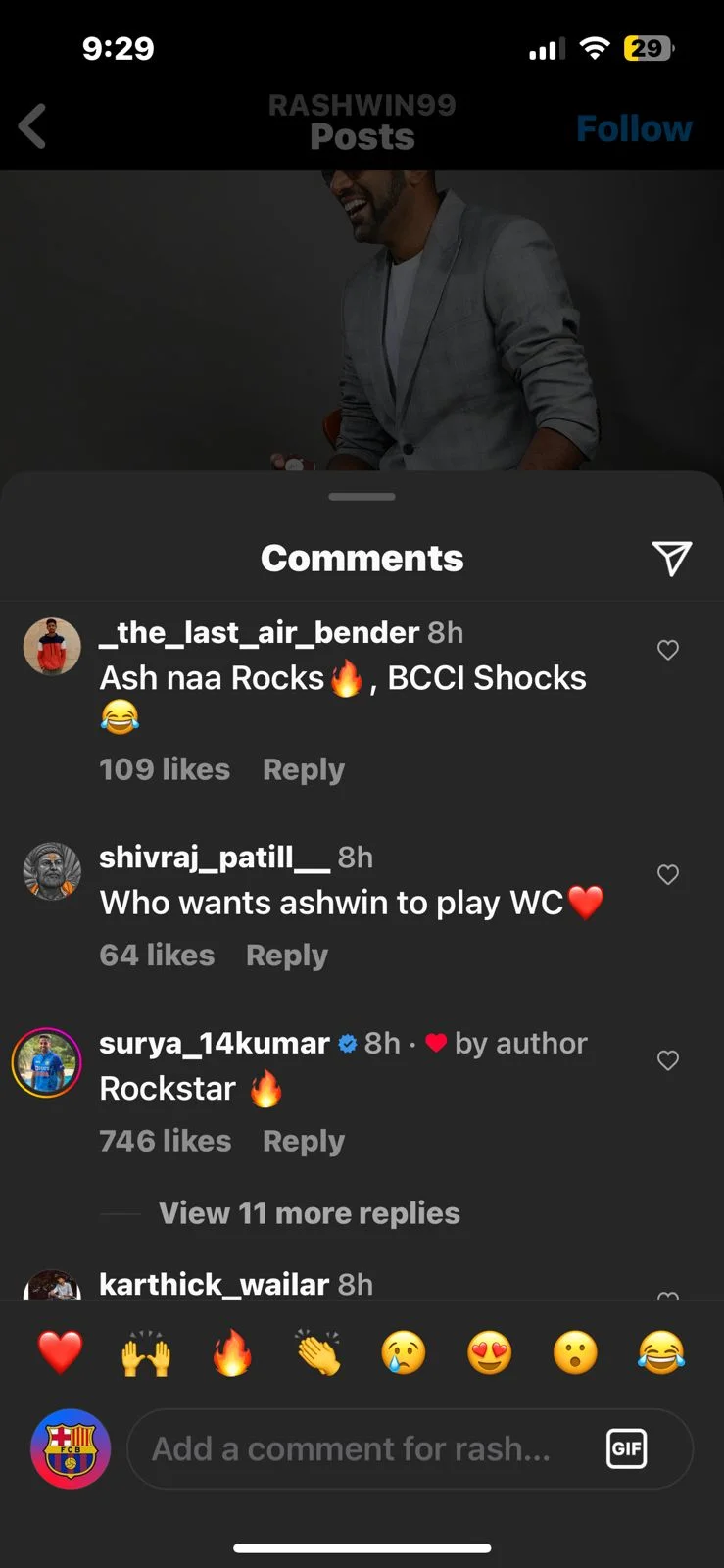 The touching discussion between these two cricket players exemplifies how social media platforms provide fans with a unique glimpse into the lives of their favourite sports. Such encounters provide a personal touch to the sporting experience in an age when digital communication plays a vital role in connecting players with their fans.
As we await the third ODI between India and Australia, this off-field friendship between Suryakumar Yadav and Ravichandran Ashwin serves as a welcome reminder that cricket transcends borders and rivalries. It is a sport that brings people from all walks of life together and promotes the spirit of collaboration, respect, and appreciation.