ENG vs PAK Final: Best Memes On Pakistan's Defeat In The Final vs England
---
England have become the first-ever men's cricket team to hold the ODI and T0 World Cups trophy simultaneously after their 5-wicket victory over Pakistan in the T20 World Cup 2022 final on Sunday at the MCG.
On the big final, the big man Ben Stokes stood up again with the bat, notching up his first T20I half-century - and what a time to do it. Defending 138, Shaheen Afridi gave Pakistan their first breakthrough by castling Alex Hales, the Man of the Match from the semi-final vs India, in the first over.
Phil Salt and Jos Buttler, who scored 26, too, got out inside the powerplay as Pakistan rocked back in the game.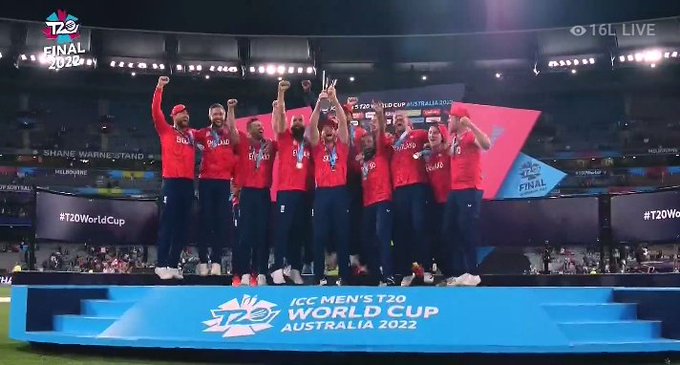 But, England knew they needed small and steady partnerships to reach the finishing line, and this is what they did with Harry Brook and Moeen Ali forging stands of 39 (42) and 47 (33) respectively with Ben Stokes, who remained unbeaten on 52 (49) and hit the winning runs.
England also had the luck going their way with Ben Stokes again playing and missing a number of deliveries but not one ball found his outside edge for a dismissal. Further, Shaheen Afridi got injured while taking the catch of Brook and could bowl only 2.1 overs.
After Afridi walked off the field with the injury, and England needed 41 off 29 balls, the game hung in balance. But Iftikar Ahmed was called up to bowl Afridi's remaining over, and Stokes hit him for a four and six, followed by Moeen Ali clattering three boundaries to Mohammad Wasim to effectively seal the game for England.
Earlier, England bowlers bowled superbly to restrict Pakistan to 137. Sam Curran received the Player of the Match award for figures of 3/12 while Adil Rashid returned with figures of 2/22.
Pakistan had had quite a sensational tournament: from losing their first two matches and being likely to be miss the semi-finals, to being handed a lifeline by the Netherlands with their win over South Africa and reaching the final after win over New Zealand in the semi-final.
Twitter erupted as Pakistan lost the final, despite their fans hyping up the 1992 analogy.
Netizens came up with hilarious memes after Pakistan's loss to England in the 2022 T20 World Cup final:
Taking a flying catch at boundary is not everyone's cup of tea Babar 😎

— Jahazi (@Oye_Jahazi) November 13, 2022
Not Qudrat, but it is Ben Stokes ka nizzaam today. #T20WorldCupFinal #PAKvENG

— Jatin Khandelwal (@jr_khandelwal) November 13, 2022
Finally the Randi Rona of 1992 & 2022 is over!

Babar Azam missed the chance of becoming PM of Pakistan!#EngvsPak
#PKMKBForever pic.twitter.com/r9XpTzU3cE

— Saurabh Singh (@100rabhsingh781) November 13, 2022
#EngvsPak pic.twitter.com/lRALyWto4F

— 💲🅰〽️ (@Samcasm7) November 13, 2022
Sorry brother

It's call karma 💔💔💔 https://t.co/DpaIliRYkd

— Mohammad Shami (@MdShami11) November 13, 2022
Imran, in this scene Thakur Bhanu Pratap watching his son Heera Thakur's speech if you have watched the movie. https://t.co/6KVyLIsoDD

— Sunil the Cricketer (@1sInto2s) November 13, 2022
Aur Shoaib Shahab 1992 mei ye hua tha kya? 🤣

— India Fantasy (@india_fantasy) November 13, 2022
Pakistan fans, you guys have nothing to feel shame abouts. You should be proud….of the Netherlands team.

— Tanmay Bhat (@thetanmay) November 13, 2022
Ben Stokes be like. #EngvsPak #T20WorldCupFinal pic.twitter.com/4DqANQPWVo

— Rajabets India🇮🇳👑 (@smileandraja) November 13, 2022
Pakistan team going to the airport#PAKvsEng pic.twitter.com/m575arYCsC

— Michael Scott (@the_sashiks) November 13, 2022
#T20WorldCupFinal
Currently every Indian ✨😅...#PKMKBForever #PAKvENG pic.twitter.com/rAS3CqwEIg

— Aman Sah🇮🇳 (@sahaman01) November 13, 2022
For the folks who are still in 1992.#PKMKBForever#PAKvENG #EngvsPak pic.twitter.com/jhwMzKI6jG

— बिहारी मानुष (@aditya_0115) November 13, 2022
Congratulations England for winning World Cup 🎉🥳
Meanwhile Scenes from ENG right now 🤣#PKMKBForever | #PAKvENG | #EngvsPak pic.twitter.com/Oo68q5kaw1

— SUPRVIRAT (@ishantraj51) November 13, 2022
Begging from China and rest of the world to run the country. Begging Netherlands to enter the Semifinal. #InternationalBhikhariPakistan #PKMKBForever #PKMKB #PAKvENG #T20WorldCupFinal pic.twitter.com/p2cBqBk49f

— MozartofMehsana (@MozartofM) November 13, 2022
Indians watching Pakistan lose the World Cup. pic.twitter.com/Fp1IwATuq0

— Pakchikpak Raja Babu (@HaramiParindey) November 13, 2022
Summary of this match. pic.twitter.com/W5gGc4swDc

— Pakchikpak Raja Babu (@HaramiParindey) November 13, 2022
Indians in the DM of that viral Pakistani girl pic.twitter.com/7XsbITIBol

— Pakchikpak Raja Babu (@HaramiParindey) November 13, 2022
Babar: Shaheen tu hi match bacha sakta hai ab

Shaheen Afridi: pic.twitter.com/sEwC5krrcu

— Pakchikpak Raja Babu (@HaramiParindey) November 13, 2022
proper match! only kumar dharmasena can decide now which team will lift this worldcup

— Neeche Se Topper (@NeecheSeTopper) November 13, 2022