IND vs ENG Semi-Final: 3 Batsmen vs Bowlers Battles To Watch Out For
---
India and England will collide in the second semi-final on Thursday for a place in the final of the T20 World Cup 2022. The match will be played at the Adelaide Oval.
Both the teams are filled with power-hitters and in-form batters and also possess some outstanding bowlers both of the new ball and in the death. It is going to be an exciting battle between the batters and bowlers of India and England. They will also have to keep in mind the short-side boundaries in Adelaide which the batters would aim to target for sixes.
Here are the 3 key batsmen vs bowlers battles to watch out for in the India-England semi-final:
Jos Buttler vs Bhuvneshwar Kumar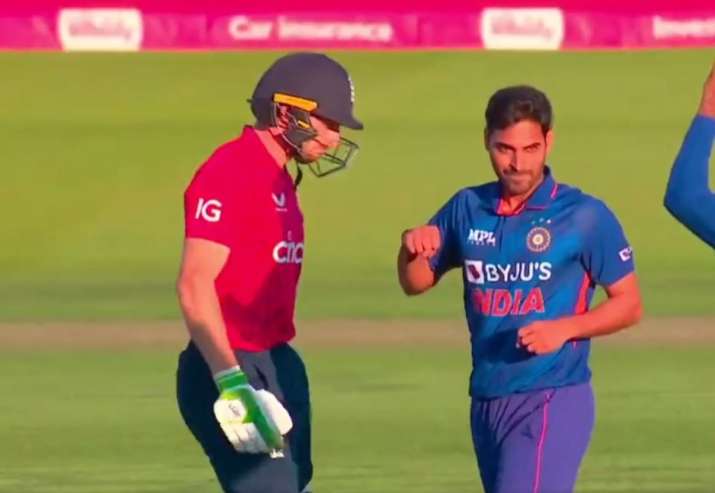 Buttler would know it. Bhuvneshwar Kumar would know it. Everyone would know it. Bhuvneshwar Kumar does have a terrific lopsided match-up over Buttler: in the 30 balls he's bowled to Buttler in T20Is, Bhuvneshwar has dismissed the England captain five times while conceding only 32 runs. Kumar's swing up front has troubled Buttler very much as all of those dismissals have come inside the first three overs.
Buttler is England's lynchpin and getting his wicket early would be a big upside for India in the semi-final.
Virat Kohli vs Adil Rashid
Virat Kohli is in superb form in the T20 World Cup 2022. After the group stage, he is the leading run-scorer in the tournament with 246 runs with 3 half-centuries in 5 innings.
However, if there is one type of bowler that has tied down Kohli, it is spinners. Kohli has a strike rate of 113 when facing spinners, much lower than 151 when he's facing pacers.
England has one of the best and most experienced T20 spinner in the world, Adil Rashid who has troubled Kohli in the past. Out of 59 balls Rashid has bowled to Kohli in T20s, he's conceded 63 runs while dismissing Kohli twice.
Hardik Pandya and Rishabh Pant vs Mark Wood and Sam Curran in death overs
Sam Curran and Mark Wood have taken 19 wickets in total in the group stages. Curran has snapped 7 wickets in the death overs alone while maintaining a stunning economy of less than 5 in that phase, while Wood has been the fastest bowler in the tournament and has hurried the batters for pace and bounce.
They are likely to come up against the Indian middle-order pair of Pandya and Pant, who is expected to be played over Dinesh Karthik. Pandya has struggled to hit the short and hard lengths, not just in this tournament but it has been his achilles heel even before.
This battle of Wood and Curran vs Pandya and Pant could perhaps largely dictate the outcome of the semi-final.