T20 World Cup 2022: Emotional Fans Are Missing MS Dhoni After India's Semi-Final Exit
---
The number 1 ranked ICC T20I team, India, suffered an embarrassing, humbling shellacking loss by the England team on Thursday at the Adelaide Oval to suffer another semi-final exit. England now moves into the final of the T20 World Cup 2022 against Pakistan, to be played on Sunday at the MCG.
While the Indian top three scratched and scrapped for their runs and boundaries - Rohit Sharma, KL Rahul, and Virat Kohli combined to score 82 runs in 73 balls - Buttler and Hales blasted 170 unbeaten runs in 16 overs to seal the game. Man of the Match Hales scored 86* off 47 balls and Buttler scored 80* off 49 balls.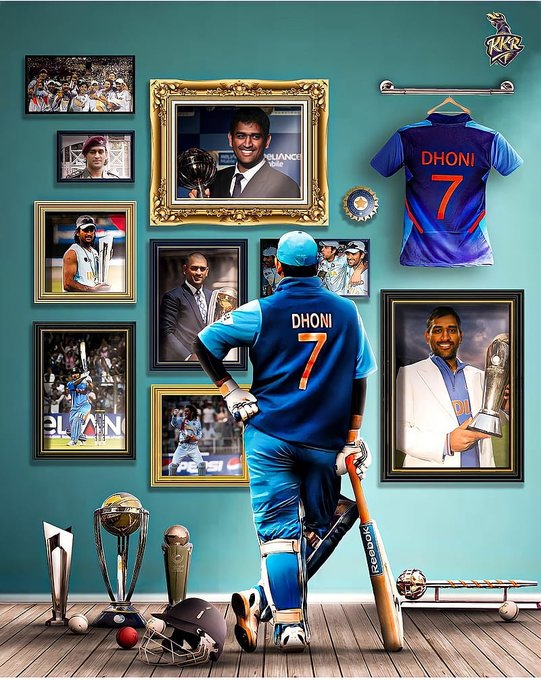 Here is why MS Dhoni was trending on Twitter:
Amid this carnage by the two England openers, it was becoming slowly clear that Rohit Sharma had now answers to the two opposition batters. During this, Indian fans on Twitter started to trend MS Dhoni, reminiscing the glory days of Indian cricket under the Ranchi-born skipper.
Dhoni delivered India the inaugural T20 World Cup title back in 2007 and then won the 2011 ODI World Cup at home before completing the troika with the 2013 Champions Trophy triumph.
Indian fans had gotten emotional after another heartbreak in another ICC tournament; the senior men's side haven't won a single ICC trophy since 2013, despite having the deepest talent pool and having all the services money could buy.
Here are some of the tweets of fans remembering the golden period of Indian cricket under MS Dhoni:
Winning ICC trophy isn't as easy as Mahendra Singh Dhoni made it look like. pic.twitter.com/Pne7G49vuv

— ' (@Ashwin_tweetz) November 10, 2022
Those were the days under legend #dhoni . Best captain, leader ever. pic.twitter.com/K2WNTRwJak

— Ashutosh Tripathi (@Ashutos67092045) November 10, 2022
High time for people to stop comparing Rohit with Dhoni just because he won 5 IPL trophies. Mahendra Singh Dhoni will remain the greatest captain of all time.

— ' (@Ashwin_tweetz) November 10, 2022
Only Indian captain to win a T20 World Cup, Mahendra Singh Dhoni 🙇‍♂ pic.twitter.com/22uDnE2f1C

— Dhoni Army TN™ (@DhoniArmyTN) November 10, 2022
No disrespect to any cricketer but I miss Dhoni and his art of winning cups! ❤️😭

— Madan Gowri (@madan3) November 10, 2022
No one can match the legacy of MS Dhoni the captain! pic.twitter.com/49y6zrJq5k

— Amee ♥ (@kohlifanAmee) November 10, 2022
Dhoni on call with Indian team

pic.twitter.com/VJHx7B4QWv

— Dr Gill (@ikpsgill1) November 10, 2022
We defend 129 runs under Dhoni's captaincy against england that too in the final of ICC tournament.

Really Miss u Mahi bhai 🥺🙏#T20Iworldcup2022 #INDvENG pic.twitter.com/hVRRQeY1q1

— Ragaa (@Ragaa_07) November 10, 2022
#ICC trophies are not everyone's cup... One man knows better... #Thala #Dhoni #MSDhoni𓃵 pic.twitter.com/jEalpAEpsl

— Venkat Parthasarathy (@Venkrek) November 10, 2022
Insane that captain Dhoni won 3 ICC trophies for indians to cherish in span of 7 years. BCCI should build him a temple and ICT fans should worship him for lifetime imo.

— ' (@Ashwin_tweetz) November 10, 2022
Unfortunately while doing advertisement of #Oreo biscuit, @msdhoni forgot he is not there in current team.

Missing captaincy of Dhoni#Dhoni #INDvENG #T20Iworldcup2022 pic.twitter.com/focxMEVHzr

— Deep Prakash Pant (@deeppant2) November 10, 2022
#INDvsENG
Today every Indian feel this.. 🥺🥺#dhoni #captaincy #T20Iworldcup2022 pic.twitter.com/vc8WQ4FQbK

— Anuj Saharan (@saharan_anuj_) November 10, 2022
Rohit Sharma, for whom this was the first time captaining in an ICC tournament, said this after the loss: "Pretty disappointed how it turned up today. We batted well at the backend to get that score. We were not upto the mark with the ball, we couldn't turn up today. It's all about handling the pressure in knockout games. All these guys have played enough to understand that. These guys have played under pressure in IPL games, it's all about keeping calm. We were nervy to start with, but you got to give credit to their openers, they played really well."