T20 World Cup 2022 ENG vs PAK Final: 3 Mistakes By Pakistan Which Cost Them In The Final
---
England became the first team ever to simultaneously hold both ODI and T20 World Cups following their 5-wicket win over Pakistan in the T20 World Cup 2022 final on Sunday at the MCG.
Chasing a modest target of 138, England found Ben Stokes as their hero once again after three wickets in the powerplay as the left-hander guided the side home with his maiden T20I half-century.
Before that, the bowlers were superb in restricting Pakistan to 137, courtesy of a 3/12 from Sam Curran after Adil Rashid's 2/22.
Pakistan had had a terrific run from losing their first two matches to reaching the final. But it all came to an end as Qudrat ka Nizaam was with England today.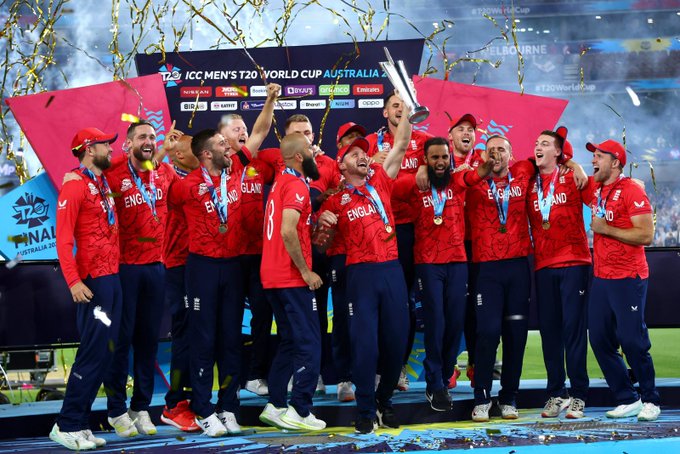 Here are the 3 key mistakes which Pakistan made in their loss to England in the T20 World Cup 2022 final:
Slow start from Babar-Rizwan
Babar and Rizwan had been superb in the semi-final against New Zealand, scoring 105 in 12 overs on a good Sydney pitch with the knowledge of the target. However, when they came up on a spicy, pacy, and bouncy MCG surface against England, both the batters once again went into their shell.
There was barely a boundary shot attempted - one by Rizwan which he failed to connect on a free-hit - as Pakistan were only 16/0 in 3 overs, in which there were 3 extras. Rizwan broke his shackles with a 6 off Woakes but in the next over was bowled by Curran.
Babar was 16 (16) when the powerplay ended and Pakistan's score was 39/1. Compared with England, even though they lost three wickets, England finished the powerplay at 49/3, the sort of difference clearly helping them later when Stokes and Brook could afford to play some dot balls.
Babar carried on his own tempo and eventually got out for 32(28). It has been his and Rizwan's story for the past couple of years, one which they can only afford because of their strong bowling attack, but in the night of the final, it wasn't enough. A similar batting approach had cost them last year's semi-final against Australia and the Asia Cup final against Sri Lanka.
Not being flexible with batting line-up
Pakistan were surprisingly poor in being flexible with their batting order. When Babar got out to Adil Rashid in the 12th over, they sent in Iftikhar Ahmed who was slotted to bat at that point.
However, with the ball turning big for Rashid who was bowling beautifully, Pakistan had two better players of spin in Nawaz and Shadab on the bench, but they chose to send Iftikhar. The result: 5 dot balls from Rashid to Iftikhar.
After Iftikhar got out, Shadab came to bat and straightaway hit Rashid for a boundary, showing what Pakistan could have done better. Nawaz, too, with his left-handedness was a better bet against leg-spinner Rashid than Iftikhar, who is a better hitter of pace than spin and Pakistan could have used more of him in the death overs. Pakistan have decisions to rue.
Failing to take wickets in a bunch
Had a little bit of luck gone Pakistan's way, things might have been different as Stokes played and missed and inside-edged a number of deliveries from the pacers. However, he had luck on his side, while Pakistan failed to break Stokes' partnerships with Harry Brook and Moeen Ali - those two partnerships of 39 (42) and 47 (33) respectively of Stokes with Brook and Ali saw England over the finishing line.
Pakistan, on the other hand, had fallen from 84/2 to 131/8.