T20 World Cup 2022: Indians Troll Shahid Afridi After He Accuses ICC Of Biasing Toward India
---
Former Pakistan captain and a controversial figure, Shahid Afridi has commented that the ICC has a bias toward the Indian cricket team and that the governing council "want to ensure" the Men In Blue reached the semi-finals of the ongoing T20 World Cup 2022 "at any cost".
This remark from the former all-rounder came after the India-Bangladesh game which was intervened by rain and had a controversial decision being made by the umpire to resume the match despite Shakib Al Hasan, the Bangladeshi captain, animatedly expressing that he was unhappy with the umpire's decision. Afridi also accused the umpires in the India-Bangladesh encounter of making decisions in favor of India.
Chasing 185 against India, Litton Das fired Bangladesh to 66/0 in 7 overs with his 21-ball half-century before rain paused the game. At that point, Bangladesh was 17 runs ahead of DLS India.
After a rain break of almost an hour, the play resumed, but Shakib was clearly unhappy when the umpires told him that the match is going to be resumed because of wet conditions.
This is something that the Bangladeshi fans - and the Pakistani fans too - have been talking since because Pakistan's qualification for the semi-finals also would have gotten stronger with a Bangladesh victory over India.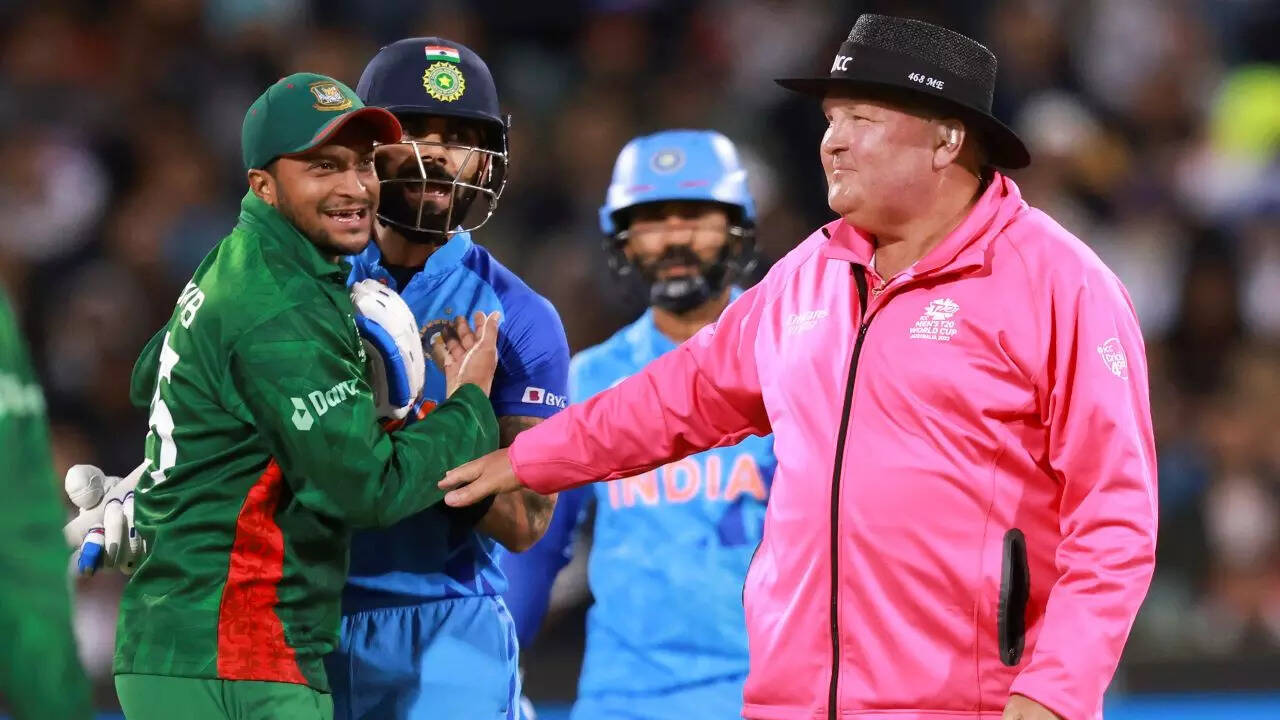 Shahid Afridi alleged ICC and umpires of biasing with India
"You saw the ground how wet it was. But ICC is inclined toward India. They want to ensure India reaches the semi-finals at any cost. The umpires were also the same who officiated India vs Pakistan & will get the best umpire awards," said Shahid Afridi to SAMAA TV.
Being a former Pakistani captain, Shahid Afridi's comments saying that ICC and the umpires favored with Team India are despicable and in poor taste.
Afridi was unsurprisingly trolled by Indian fans for his comments:
Kal toh sookhi barish ho rahi thi 😅

— Mudit Jain, IRS (@MuditJainIRS) November 4, 2022
Same condition during.. pakistan vs south africa match...pitch was wet.. match officials want to enjoy the heart break of pakistan at very last moment..so they allow them to play

— ADV.Subhra Ranjan Nayak (@nayaksubhra1995) November 4, 2022
oh my god , there we go again. If ground is wet , fielding side is at risk . Umpires shall ask them whether they want 2 risk . He should appreciate courage of Indian team to be fielding on such ground. Even gripping ball is hard , it comes easily on bat. As Shakib 2 said.

— Sharad Goswami (@sharadgoswamis) November 4, 2022
Bhai Kitna roote hai bhai Pakistani. Agar India haar gya hota to yehi Pakistani kush ni bolte. Jab South Africa ke Sath India ka match tha tab to kayi Pakistani keh Rahe the Ashwin ko ke aaj mankad kar de fer bhi koi tension ni.

— Aman Bajwa 🌹 (@DoabeWalaaJatt) November 3, 2022
Yes, Shahid Afridi knows very well even in the 2011 semis ICC told Afridi to drop 5 catches of Sachin so India can win the world cup.

— Gourav (@SweetKmina) November 4, 2022
Lala eating cricket ball to save sportsmanship in cricket. True Lejhand 👍 pic.twitter.com/TzO5XGEjad

— Santosh (@santosh_kompal) November 4, 2022
Expected this from the likes of afridi, who today is more of politician than a cricketer! Also, these allegations wouldn't have been highlighted had Pakistan not been knocked out

— Paresh 🇮🇳 (@pareshsancheti) November 4, 2022
This is the sign of 'Maturity' of Shahid Afridi. This is the reason why all Indians are remembering your name in every Ind-Pak game.

— Pravin Ambure Jain (@Pravin_Live) November 4, 2022
Yea! Entire world conspires against Pakistan! Zimbabwe will also be accused of deliberately losing to India coming Sunday by Shahid Afridi.

— Rishabh Upadhyay (@rishadhyay) November 3, 2022
Pakistani crickters have a habit of blaming others for their own failure. Rain stated in the 18th over but it went on during pak innings yesterday. South africans werent able to catch the wet ball.Match resumed within 10 min after the rain stopped during SA innings.

— Gaurav Chaudhary (@Decipher_me) November 4, 2022

Even Shakib later admitted that the wet conditions helped the batting team, but well, Shahid Afridi is free to think and assume what he wants. Unfortunately, the millions of Pakistani cricket fans are also being influenced by his comments.