T20 World Cup Semi-Final: Who Will Win The Match Between New Zealand And Pakistan?
---
In the first semi-final of the T20 World Cup 2022, Pakistan will take on New Zealand in Sydney, and India will meet England in the second semi-final in Adelaide.
Pakistan made a miraculous entry in the semis after South Africa shockingly lost to the Netherlands. After losing to India and Pakistan, Pakistan thrashed the Netherlands, South Africa, and Bangladesh to reach the semis.
New Zealand, on the other hand, has been very much dominant, starting off with big wins over Australia and Sri Lanka. They slipped up vs England but sealed their semis seat with another emphatic win over Ireland.
We will make our conclusion after looking at the 3 factors that will determine the outcome of the Pakistan-New Zealand semi-final in the T20 World Cup 2022:
Sydney ground factor favors Pakistan
It is hard to find a sport in any part of the world which is as much dependent on conditions as cricket is - the nature of the pitch and ground dimensions vary from venue to venue.
Out of New Zealand and Pakistan, one could presume that the Men In Green would be the happier team to play in Sydney: the SCG surface is the most Asian (read: spin-friendly) pitch in all of Australia, and its ground dimension - long straight boundaries and short square boundaries - would embolden the likes of Shaheen, Naseem, and Shadab to pitch it fully, inviting the likes of Finn Allen, Glenn Phillips to hit to the long straight boundaries. Mohammad Nawaz will also come into play with NZ having 4 right-handers in the top 5.
Not that New Zealand goes in as any lesser favorites, but if there's one venue in Australia where Asian teams would love to play a knockout game, it is the SCG.
New Zealand's underperforming finishers vs Pakistani pacers in the death
With Daryl Mitchell (56 runs), James Neesham (37 runs), and Mitchell Santner (27 runs), New Zealand seem to have a bit of a problem in the finishing area, while Pakistan's Haris Rauf is bowling at his best and Shaheen Afridi has gradually attained proper fitness and was also bowling superbly in the last game; Mohammad Wasim has been hitting his yorkers brilliantly too.
Not to forget Kane Williamson is mostly playing an anchor role, despite his good return vs Ireland where he was nudging around run-a-ball for the first half of his innings, and it's a high-risk approach, something only the likes of Virat Kohli are capable of making it worth it. Just to point out: Glenn Phillips was dropped twice in his century vs Sri Lanka and once in his fifty vs England #justsaying.
It feels like the Kiwi trio of finishers will have to come up with their best if they are to plunder crucial runs in the death against the Pakistani pacers.
Babar-Rizwan vs New Zealand bowlers in the powerplay
Problems are heavy for heavy in Pakistan's batting department too. And, something which not even Pakistani fans would have thought a month ago: Babar and Rizwan are the biggest problem for them now.
In 5 innings each, Babar has scored 39 runs in total at a strike rate of 61, and Rizwan has scored 103 runs at a strike rate of 100.
Not that they need to be dropped - maybe work around shifting one of them to number 3, but that's something which they have made clear that it won't happen now - but somebody should talk with them about their strike rate prior to the semi-final.
However, don't really expect them to change their mode and bat aggressively in the semis against the likes of Trent Boult and Tim Southee. This would be, though, counterproductive because the best time to score runs at the SCG is in the powerplay only after which the pitch wears and tears and the ball started turning.
This isn't all. The issues for both Babar and Rizwan will be compounded in the semi-final because even if they survive Boult and Southee, they are two of the slowest and struggling top-order batters against spinners turning the ball away, and New Zealand have to high-quality ones in Santner and Sodhi.
Further, apart from Iftikhar Ahmed's good form, and if you include Shadab's latest fifty, Pakistani batters have been largely disappointing in the tournament so far, failing to adjust to the extra pace and bounce in Australia.
Conclusion: Who will win the semi-final between Pakistan and New Zealand?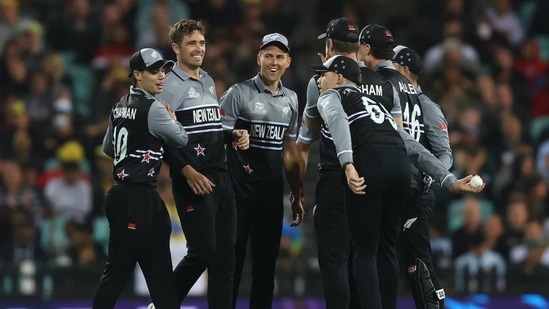 Both teams have their bowling as their strength and batting as their weaker suit. But the Pakistani batting - barring Iftikhar Ahmed's form - just seems too prone to implosion.
We are predicting New Zealand to remain clinical with both bat and ball and defeat Pakistan in the semi-final and march into the final of the T20 World Cup 2022.