---
Fans had been waiting for a long time for Jasprit Bumrah's return in the India colours. And, on Friday, at the VCA Stadium in Nagpur, he returned with a bang: castling Aaron Finch with his trademark, point-point yorker!
Before the Australia series, Bumrah's last game was on the England tour, in July. Then he was rested for the West Indies tour, but a back injury ruled him out of the Asia Cup. After recovering, he was named in the squad for the Australia series, but was rested from the first T20I in Mohali.
Away from the game for more than two months, there was an air of excitement around his return. In Dubai in the Asia Cup and in Mohali, Bumrah was dearly missed, especially in the death overs where India let the games - vs Pakistan, Sri Lanka and Australia - slip away.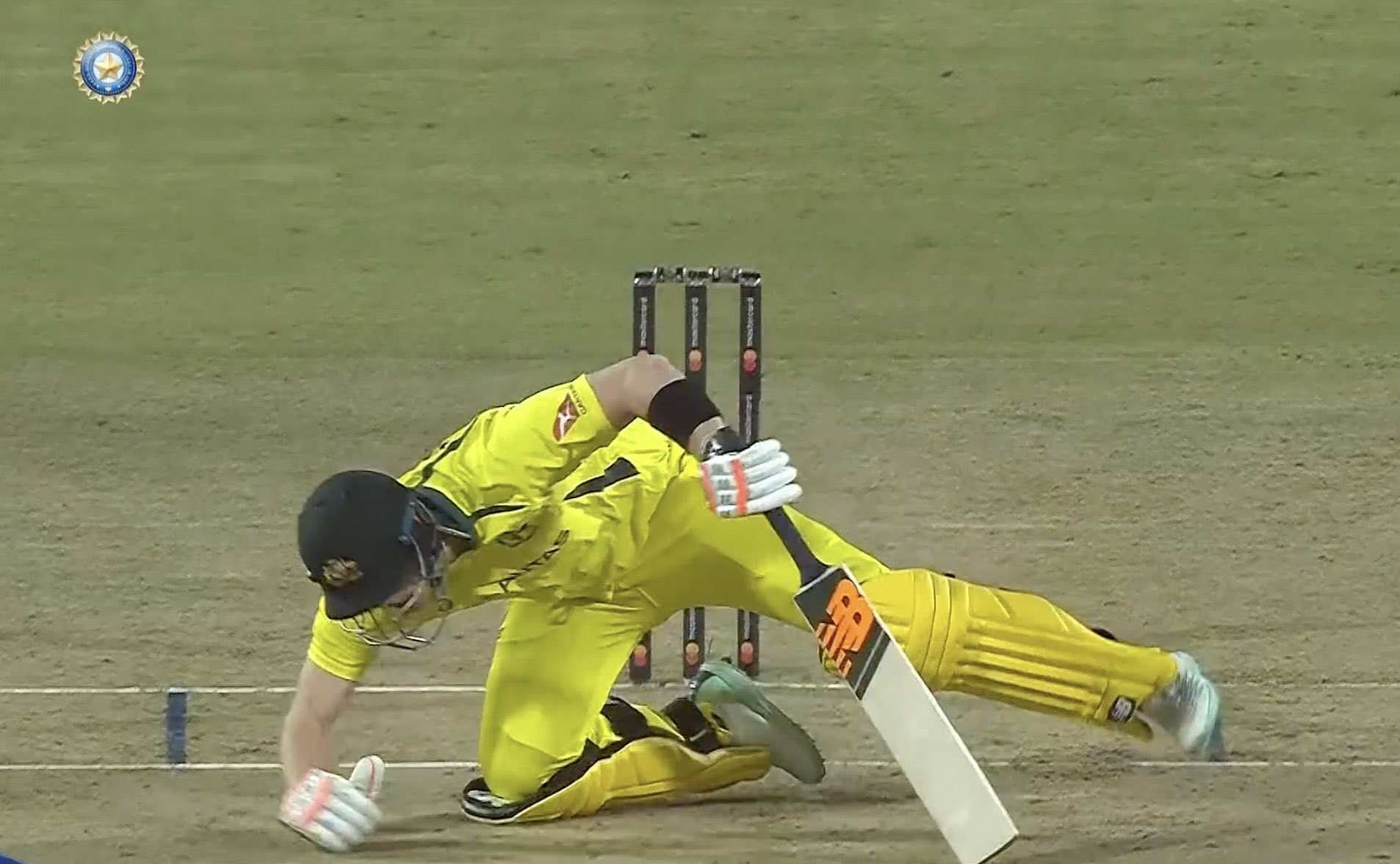 Jasprit Bumrah marked his return with Aaron Finch's wicket
On Friday, the second T20I against Australia was curtailed down to only an 8-over per side affair as the match was delayed by two hours due to wet outfield!
Since one bowler was allowed a maximum of 2 overs, Rohit Sharma, the Indian skipper, kept Bumrah's both overs for the second half of Australia's innings. Axar Patel, with his twin strikes, and the run out of the Player of the Match from the first T20I, Cameron Green, had given India an upper hand when Australia were at 35/3 after 4 overs.
Aussie skipper Aaron Finch, though, was going full blasters on having smashed 24 runs off 11 balls. Called upon for the 5th over, Bumrah started off with a wide and then was cut by Finch for a boundary. Not a good comeback first ball for Bumrah.
But then he turned on the screws and conceded singles and doubles in the next four balls. On the last ball of the over, Bumrah went for the killer blow - the yorker. The deadly Bumrah special yorker. Finch had no answers to it as the Aussie captain was beaten for pace and by the time he'd brought his bat down, his stumps were in a mess.
The jam-packed VCA stadium erupted. So did netizens on Twitter.
Here are some of the best reactions to Jasprit Bumrah's thunderous yorker to Aaron Finch:
Jasprit Bumrah is too good! pic.twitter.com/uawZDGSuCe

— Mufaddal Vohra (@mufaddal_vohra) September 23, 2022
The class of Jasprit Bumrah's delivery - even Aaron Finch appreciated after getting bowled. pic.twitter.com/pM5SP8xpd5

— Mufaddal Vohra (@mufaddal_vohra) September 23, 2022
🤯#Bumrah#INDvsAUS2ndT20 pic.twitter.com/aJuNfAaG8n

— Srevathsan M R (@Srevathsan23) September 23, 2022
Just Jasprit Bumrah things. pic.twitter.com/7hD5SUbxRV

— Mufaddal Vohra (@mufaddal_vohra) September 23, 2022
Can't believe that a bowler just coming back after an injury layoff can have the confidence to bowl Yorkers like those. Jasprit Bumrah never ceases to amaze us!#INDvAUS

— Prasenjit Dey (@CricPrasen) September 23, 2022
What a bowler. You throw in a cricket ball into Jasprit Bumrah and he chews it up and spits out a yorker. The rest of the cricketing world feels as if it is composed of farmers.

— Harigovind S (@HolyCricket_513) September 23, 2022
Bumrah is unique ! #INDvsAUST20I

— Indu Jalali 🇮🇳 (@indujalali) September 23, 2022
We've missed that Bumrah yorker 💥 #INDvAUS pic.twitter.com/D0yn3MNR60

— ESPNcricinfo (@ESPNcricinfo) September 23, 2022
Everything thing is temporary, Bumrah's Bowling And Wickets Are Flying Is Permanent. 🔊#INDvsAUST20I pic.twitter.com/2pGiPKAN7z

— Prof. Boies Pilled Bell 🪄 (@Lil_Boies45) September 23, 2022
Finch applauded bumrah for that Yorker. A batsmen applauding a deliver of the bower after getting out. What else is a higher appreciation any bowlers needs.

— SnEhA KuMaR ReDdY (@snehakumarreddy) September 23, 2022
Bumrah is India's best ever limited over bowler. Accept the fact and live happily.#INDvAUS

— Souvik Roy (@souvikroy_SRT) September 23, 2022
Jasprit Bumrah hates the base of the stumps with a burning passion.

— Heisenberg ☢ (@internetumpire) September 23, 2022
The universe is back in balance everytime Bumrah takes a wicket

— Varun (@wizardrincewind) September 23, 2022
Perfect summary of Bumrah's comeback from @vinayakkm sir 🤣 pic.twitter.com/efiKUDMfEK

— ∆nkit🏏 (@CaughtAtGully) September 23, 2022
Aaron Finch applauding Bumrah after that insane yorker was actually a special cricket moment. It will hit different when Bumrah retires many years later.

— Kaustubh Pandey (@Kaus_Pandey17) September 23, 2022