---
Steve Smith suffered the wrath of the a section of fans again for not showing proper "Spirit of the game" by not walking even though he knew he was out - caught behind by Jos Buttler - during the 3rd ODI against England on Tuesday at the MCG.
It was quite a bizarre and amusing bit of incident at the MCG as even Jos Buttler was left miffed with umpire Paul Wilson for not giving out Smith, but he eventually did and Smith had to walk back.
In the 46th over of Australia's innings, Smith attempted a ramp shot to pacer Olly Stone, who realized that Smith had shuffled across the off-stump early and shortened his length. Smith still went with the shot and got a glove on the ball on its way to wicket-keeper Jos Buttler.
Buttler, however, didn't make any loud appeal, probably having seen Australian openers Travis Head and David Warner pile up a 269-run opening stand had frustrated him and there was no real appeal from Olly Stone either.
Buttler showed his finger to the umpire - not so much an appeal as a declaration that Smith is out - and with no judgment from Wilson, Buttler signaled for the review, after which Wilson raised his finger, leaving Buttler confused and appeal loudly alone.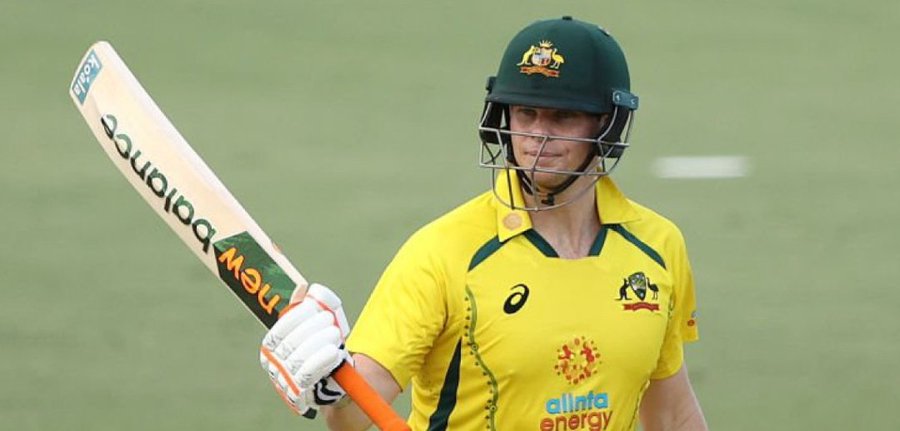 Seeing no reaction from Wilson early on, even Steve Smith initially seemed to suggest that he'd not hit the ball and the ball had just passed him without any touch. Smith then had to walk after the umpire raised his finger.
You can watch this interesting video here:
What you waiting, what you waiting for?

'Blocker' Wilson wants to hear 'howzat?' before triggering Steve Smith! 😂☝️ #AUSvENG pic.twitter.com/jumvhOTiZy

— cricket.com.au (@cricketcomau) November 22, 2022

Twitterati was unhappy with Steve Smith for standing his ground and not walking when he knew he'd gloved the ball.
Here are reactions of the fans who lambasted Steve Smith for his (non) action:
Steve Smith had another brain fade moment today. After middling the scoop in hands of the wicketkeeper he was insisting that DRS be taken by fielding team. 🙄 once a cheater always a cheater. #AUSvENG #ODI

— Sadaf Sayeed 🇮🇳 (@Sadafsayeed) November 22, 2022
Shameless Steve Smith

— PIYUSH PAWAR (@im_piyushpawar) November 22, 2022
Steve Smith is a shit bloke…

— Tim Johnson (@Partyreptile) November 22, 2022
Steve Smith not reviewing is essentially a tactical retirement. #AUSvENG

— Dan Liebke (@LiebCricket) November 22, 2022
Sometimes it's difficult to like Steve smith

— INPLAY (@InplayCricc) November 22, 2022
Did Steve Smith not review because he knows it's better for the team?

— Sacramento Beam (@matt__nicholls) November 22, 2022
Ye Steve Smith kab Sudhrega 😂

— SuryaVirat (@Sudhir44612324) November 22, 2022
What about Steven Smith's Sportsman spirit then?#SteveSmith #AUSvENG

— Just JK (@iam_justjk) November 22, 2022

Australia completed a 3-0 whitewash over the world champions with a massive 221-run win in the 3rd ODI. Travis Head was named the Player of the Match and David Warner the Player of the Series.