Kagiso Rabada was steaming in and hurling down thunderbolts on Day 3 of the Johannesburg Test when he single-handedly forced an Indian middle-order collapse during India's second innings. With his searing pace, Rabada dismissed two set batters, Cheteshwar Pujara and Ajinkya Rahane, and sent back Rishabh Pant, who could've hurt the hosts with his quick …
---
Kagiso Rabada was steaming in and hurling down thunderbolts on Day 3 of the Johannesburg Test when he single-handedly forced an Indian middle-order collapse during India's second innings.
With his searing pace, Rabada dismissed two set batters, Cheteshwar Pujara and Ajinkya Rahane, and sent back Rishabh Pant, who could've hurt the hosts with his quick scoring ability.
Those three strikes clearly dented India's ultimate total. South Africa chased down the target of 240 runs with 7 wickets in hand, skipper Dean Elgar leading from the front with 96 unbeaten runs to level the series.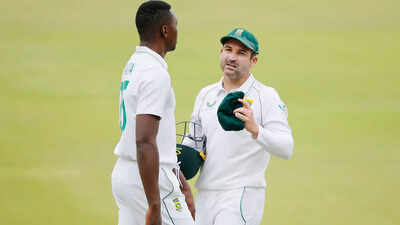 It was the South African skipper, Elgar, who had lit up the spark in Rabada after the first Test. Rabada had gone wicket-less on Day 1 of the Centurion Test, and although he finished with 7 scalps, Elgar wasn't happy with the way his senior pacer had conducted himself, on and off the field.
Speaking after the win in the second Test, Elgar revealed, "I went up to KG and I said to him, 'You are an immensely respected cricketer within our group and at the moment I don't think you are conducting yourself extremely well.
"I know what KG is capable of. When he's got his tail up there's no better bowler, and I have experienced quite a few guys who have been part of this team. It was a good chat. I can have those chats with KG and he responds extremely well. He takes it away, he lets it process and thinks about it overnight and then he comes back the next day with a scenario for me."
Later on, the paceman went to his captain and acknowledged his words. "He was the one who came to me and said what we spoke about: I hit the nail on the head," Elgar said.
The key problem that Elgar had had with Rabada during the first Test was the fast bowler "can sometimes be a little bit too relaxed and he needs to understand that his performance on the field and his performance in the change-room is huge."
However, Kagiso Rabada fed onto that criticism and turned it into a scintillating performance on the field in the second Test as he changed the momentum of the game in one spell. With the series level, both teams travel to Cape Town for the third and final Test of the series.