Team India's all-rounder Deepak Chahar's batting cameo of fifty runs, in the third and final ODI match against South Africa, went in vain as his side suffered a four-run loss. Deepak Chahar registered his second ODI half-century and he had almost sealed an unlikely win for team India. Deepak Chahar showed his batting prowess after …
---
Team India's all-rounder Deepak Chahar's batting cameo of fifty runs, in the third and final ODI match against South Africa, went in vain as his side suffered a four-run loss. Deepak Chahar registered his second ODI half-century and he had almost sealed an unlikely win for team India.
Deepak Chahar showed his batting prowess after the middle-order collapsed. He played a crucial knock and contributed 54 runs off 34 balls in the chase to the target of 288 runs. All thanks to his batting heroics, team India looked assured of a win. However, he couldn't get the team across the line.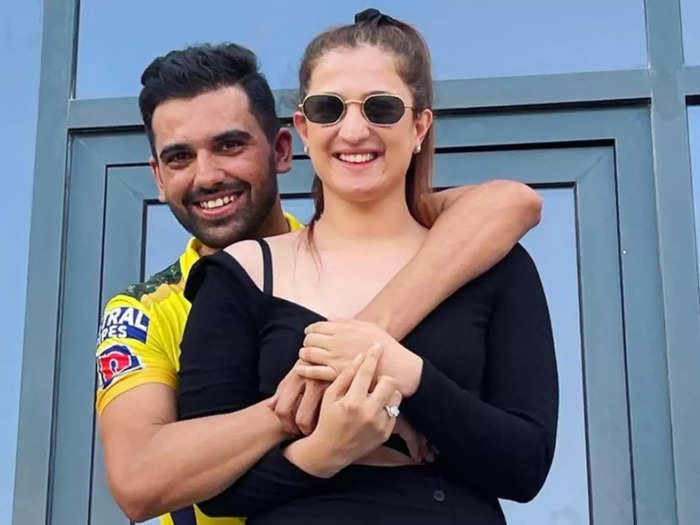 Following his dismissal, the Indian side couldn't recover, and eventually, KL Rahul-led team India lost the game by 4 runs and series by 3-0.
Meanwhile, Deepak Chahar has been receiving praises from all corners for his terrific performance with the bat. His fiancé Jaya Bharadwaj also shared a heartfelt message for the star cricketer on social media.
In her post, Jaya poured out her emotions as she appreciated Deepak for his hard work and dedication. She wrote:
"I have seen you wake up every morning for practice and go for every single game with the same hunger to perform and give your best for your country as I saw yesterday in the game.
Days are hard when you are playing and harder when you are not but the hard-work, dedication, passion and enthusiasm you show on and off field for this game is what truly makes you a champion."
"A sport as competitive as cricket, sometimes you win the game and sometimes not but your effort has made the whole country proud. You have shown that you are ready to win the toughest of battles for your country and your team… proud of you… Jai Hind,"
Here, check out the post:
View this post on Instagram