---
Virat Kohli now has 74 international centuries, the second-highest in the history of the game, only behind Sachin Tendulkar.
As everyone knows, the wait for Kohli's 71st century, though, was a really long one. There was a massive gap of 1020 days between Kohli's 70th and 71st international century, which he ended with a blockbuster knock in last year's Asia Cup.
After that, though, Kohli has been returning to hist best. And recently, he's cracked 3 ODI centuries in his last 4 ODI innings, giving great signs for Team India and its fans in the year India host the ODI World Cup.
One special Virat Kohli fan, Aman Agarwal, has gone viral recently. While all of Kohli's fans had wished for the batting maestro to end his 71st century drought, Aman Agarwal vowed that he won't get married until Kohli would reach his 71st hundred milestone!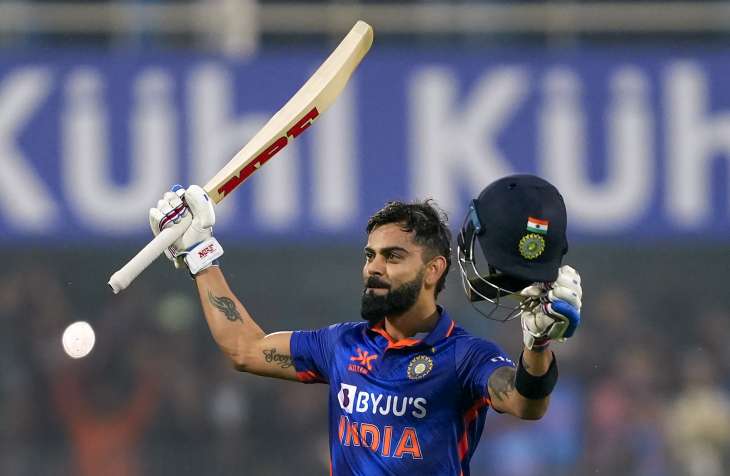 Virat Kohli's fan gets his wish fulfilled and marries only after Kohli scores his 71st
In one of the match, Aman Agarwal went to the stadium with a banner that read: "I WILL NOT GET MARRIED UNTIL VIRAT SCORES HIS 71ST"
Aman's wish was granted last year, and the fan got married recently. Interestingly, Aman's marriage date coincided with India's 3rd ODI against Sri Lanka in Thiruvananthapuram where Kohli played one of his most fluent and chanceless ODI knocks, smashing 166* off 110 balls. Kohli bagged the Man of the Match award and Man of the series, for scoring 283 runs in 3 ODIs with the help of two hundreds at a strike rate of 137.
Aman Agarwal posted his pic of Kohli celebrating his 74st century, and captioned the post: "I asked for the 71st century but he scored 74th on my special day."
Aman's Twitter post has got great amount of attention and love and wishes from fans.
After his surreal knock, Kohli said: "Ever since I came back from that long break, I have been feeling very good about my game," he said after his knock on Sunday. "I don't have that desperation anymore to get to a milestone. For me, it's just about enjoying my batting and helping the team as much as I can. And I am just happy that I am able to do that and able to continue being in the space where I am relaxed. I am content with how I am playing, and that, for me, is the most important thing.