Another Test match and another century from Joe Root. And this time it's in the all-important fifth Test of the Pataudi Trophy against India that has helped England win the Edgbaston Test and level the series, avoiding his team the ignominy of losing a home series. Rarely has any English batsman – or for that …
---
Another Test match and another century from Joe Root. And this time it's in the all-important fifth Test of the Pataudi Trophy against India that has helped England win the Edgbaston Test and level the series, avoiding his team the ignominy of losing a home series.
Rarely has any English batsman – or for that matter, any other batsman ever – had had a more surreal purple patch than the one Root is currently in.
Joe Root Smashed His 28th Test Ton
On Tuesday, Root notched up his 28th Test century – and 11th since the start of 2021 – to help England over the line, quite comfortably, in a big run chase of 378. England had been given an electric with a century-opening stand between Alex Lees and Zak Crawley inside 20 overs but they lost three quick wickets bringing their two most in-form batsmen, Root and Bairstow, at the crease.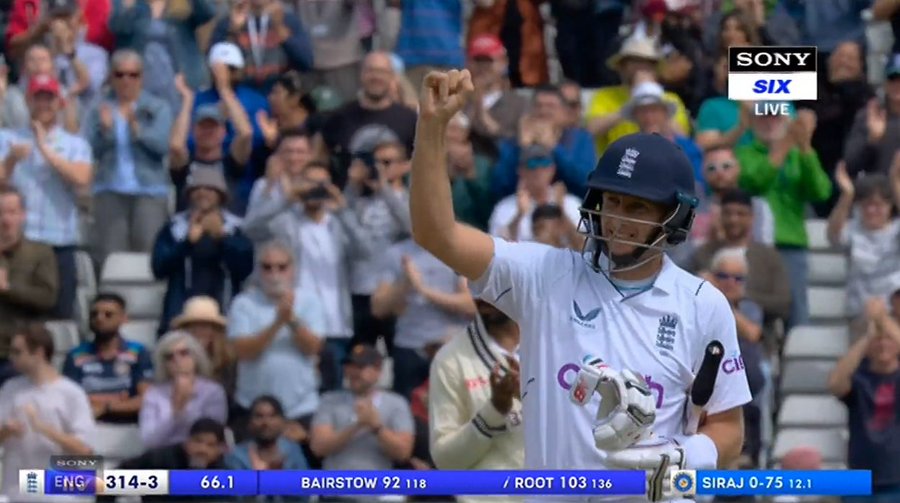 The game seem hung in balance at that point. But both the batters were quick to slowly tilt the pendulum England's way. This was not a slam and bang from the pair – but everything was calm and calculated. Indians kept fielders in the deep in fear of the boundaries and gave away the singles too easily.
Root, in particular, once again showcased his proactive game: at the time of bringing up his century, more than half of his runs had come behind square on both sides, having played his trademark late dab shots and paddles and sweeps to perfection.
It was so fitting as he brought up his ton with a delicate, late dab into the pitch and it bounced over the fist slip and raced away for a boundary.
A batting God!

Scorecard/Clips: https://t.co/jKoipF4U01

#ENGvIND | @IGcom pic.twitter.com/eQJeCygG6r

— England Cricket (@englandcricket) July 5, 2022
"A batting God!" said the England Cricket Twitter handle on Joe Root bringing up his 28th Test ton – going past Virat Kohli and Steve Smith; well the competition between the Fab 4 seems to be currently on Root's side: since the start of 2021, Root has raised 11 centuries, and has scored at an average of 60; Kohli, Williamson, Smith have combined managed just two hundreds in this period and none of them is close to Root's tally of runs and average.
Twitter was ablaze as Root continued on his dream form with another century:
Joe Root has turned into a century freak. 11 Test hundreds in 24 matches. pic.twitter.com/22MdoEfOXV

— Omkar Mankame (@Oam_16) July 5, 2022
Jeezz.. This Joe Root guy. Can bat well.
What a shot, his trademark tab behind square, to get to century. #ENGvIND

— Jatin Khandelwal (@jr_khandelwal) July 5, 2022
In November 2019, Virat Kohli had 27 Test hundreds and Joe Root had 16.

In July 2022, Virat Kohli has 27 Test hundreds and Joe Root has 28.#ENGvIND

— Yas Rana (@Yas_Wisden) July 5, 2022
Joe Root has scored more Test hundreds since the start of 2021 (11) than Mike Gatting and Paul Collingwood did in their careers (10)

— Matt Roller (@mroller98) July 5, 2022
Joe Root has more than 10k Test runs – 25% of them have come since the start of last year.

A great of Test batting at the very very top of his game

— Ben Jones (@benjonescricket) July 5, 2022
4th Test hundred of the series for this amazing Run machine, Joe Root. The best test batsman in the world right now #INDvENG pic.twitter.com/aypOmWLFTW

— Virender Sehwag (@virendersehwag) July 5, 2022
can't wait to tell my grandchildren about Joe Root

— Abi Slade (@abi_slade) July 5, 2022
Root shows it is possible to move from 27 test tons to 28, and he is the now the most prolific test batter still playing in terms of tons. He is now just 5 behind Alastair Cook.
Conversion rate of 11-5 since 2021 now.

— James McCaghrey (@McLovinstatto) July 5, 2022
Root has overtaken Alastair Cook to become the 2nd highest run scorer in test cricket v India. He currently has 2448 runs at 61.

Only Ponting, with 2555 runs at 54, is ahead of him.

— Adam Sutherland (@ADSutherland_) July 4, 2022
Joe Root the first England player since Denis Compton in 1947 to hit four centuries in a single Test series

— Chris Stocks (@StocksC_cricket) July 5, 2022
Root has also just gone past 700 runs – at an average above 100 – for the series. He's made 4 centuries in it and has over 300 more runs than anyone else. Bairstow is second.

— George Dobell (@GeorgeDobell1) July 5, 2022
Fitting that Root's dominant 18 month stretch is culminating in this masterpiece, as he leads England to their highest ever run chase.

Unquestionably the best Test batsman on the planet right now.

— Tom O'Neil (@thomasjameoneil) July 5, 2022
Hadn't clocked it because of the interruption, but no England batter has ever made more hundreds in a Test series than Joe Root's four v India in '2021'

— Ben Jones (@benjonescricket) July 5, 2022
Remember when people were chatting all that breeze about Root not being in the Big 4 anymore – you were right, he's so far clear of them #ENGvIND

— Ben Henley-Washford (@BuenoHW) July 5, 2022
Remember when people were chatting all that breeze about Root not being in the Big 4 anymore – you were right, he's so far clear of them #ENGvIND

— Ben Henley-Washford (@BuenoHW) July 5, 2022