The war of words between superstar Indian cricketer Rishabh Pant and renowned Bollywood actress Urvashi Rautela has taken a big storm, and it is fans on social media who have been having a lot of fun and poking at this as they have come up with some hilarious memes in the past couple of days. …
---
The war of words between superstar Indian cricketer Rishabh Pant and renowned Bollywood actress Urvashi Rautela has taken a big storm, and it is fans on social media who have been having a lot of fun and poking at this as they have come up with some hilarious memes in the past couple of days.
It had previously been rumoured that there had been some history between Urvashi and Pant, but nothing concrete was available. Now – the saga has been in full flow ever since a few days ago Rautela mentioned that "Mr RP" had come to meet her during her shoot in but she couldn't.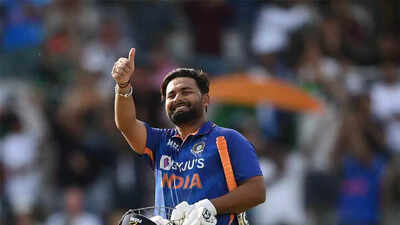 "I was shooting in Varanasi, wahan se I had a show in New Delhi, toh meri wahaan se delhi ki flight thi. In New Delhi, I was shooting full day and after about 10 hours of shooting when I went back, I had to get ready and you know that girls take a lot of time to get ready. Mr. RP came, he sat in the lobby and waited for me, and he wanted to meet. Main itni tired thi, main so gayi and I didn't realize that I had received so many calls," the actress said in a recent interview.
She further narrated, "So, when I woke up, I saw 16-17 missed calls and then I felt so bad. That someone was waiting for me and I didn't go. Out of respect, because a lot of girls don't care about making someone wait, out of that show of respect, I told him that let's meet when you'll come to Mumbai."
She revealed, "Mumbai aaye and mile, and bahar aate hi paps and all were there. It's very important to give respect to the other person but I feel like media kisi bhi cheez ko, joh develop hone waali ho, pura kharab kar deti hai."
Here's the video:
Urvashi speaking about Rishabh Pant #UrvashiRautela pic.twitter.com/SXPlY85KPl

— Nisha Kashyap (@nishakashyapp) August 9, 2022
Rishabh Pant was clearly unimpressed by Rautela allegedly speaking about him in such way. Pant took to his Instagram story and, without mentioning Rautela explicitly called her a liar.
"It's funny how people lie in interviews just for some meagre popularity and for hitting the headlines. Sad how some people are so thirsty for fame and name. May God bless them "merapichachorhoBehen #Jhutkibhilimithotihai."
However, Pant soon after deleted his story, but by then the fans had taken a screenshot of this and it went viral.
https://t.co/9SKX5Y4s30 pic.twitter.com/eGWvvoivwq

— ︎ ︎ (@reaadubey) August 10, 2022
The controversial tale continues: Next, Urvashi took to her Instagram to send a strong reply to Pant, trolling as "Chotu bhaiyaa" and a "Cougarhunter".
"Chotu bhaiyaa should play bat ball. Main koyi munni nahi hoon badnam hone with young kiddo darling tere liyee #Rakshabandhan Mubarak ho #RPChotuBhaiyya #Cougarhunter #donttakeadvantageofasilentgirl," Rautela wrote in her recent Instagram post.
She also pinned some of the comments from her fans and followers who mocked Pant.
There hasen't been any more hit-back from Pant, and it is also unlikely that he will speak anything about this controversy at the moment.
But, netizens came up with funny memes most of which trolled the Bollywood actress for her insensitive post.
Urvashi Rautela you have made a mistake
Get ready for the punishment from Rishab pant#UrvashiRautela #RishabhPant pic.twitter.com/LZFCkdBW6v

— Rohit Kumar (@skipper_kohlii) August 12, 2022
Meanwhile urvashi did legend movie with this comedian just for money whereas Rishabh pant is already competing with real legends of cricket…..Range matters#RishabhPant #urvashirautela pic.twitter.com/MI3cXpOXiS

— jathini mingudam (@abijeet_fan) August 11, 2022
Ishan Kishan, S Gill, Iyer helping Pant to plan his next reply to Urvashi pic.twitter.com/qwc3j88Ly4

— sudhanshu' (@whoshud) August 11, 2022
Me waiting for Rishabh pant's reply on urvashi rautela's post:#UrvashiRautela #RishabhPant pic.twitter.com/PYZJtBhN3X

— SurbhiCasm (@surbhi_1312) August 12, 2022
Rishabh pant taking phone to reply Urvashi Rautela

Rahul Dravid-#RishabhPant #UrvashiRautela #cougarhunter pic.twitter.com/sBGZcxvb2F

— Vibs (@Vaibhav_m85) August 12, 2022
When Urvashi says – Mr. Rishabh Pant waited for 12 hours to meet me.
Meanwhile..
Mr. RP – I don't even wait for 3 balls to settle and smash the bowlers in the test.#RishabhPant #UrvashiRautela pic.twitter.com/rDXe28DwYm

— Kareena (@ILovMyIndia12) August 12, 2022
Urvashi Rautela after receiving 17 missed calls… pic.twitter.com/T6RUxhVRw1

— رومانا (@RomanaRaza) August 12, 2022
It is not Urvashi Rautela's fault, most of the IITians are attention hungry by default.

— Pakchikpak Raja Babu (@HaramiParindey) August 12, 2022
What's common between Ranveer Singh and Urvashi Rautela?

Both are trying to get attention by taking down Pant

— Sagar (@sagarcasm) August 12, 2022
urvashi rautela in a recent interview pic.twitter.com/xUM0HXSFXw

— vipin (@djfrankkie) August 12, 2022
Clownery and Urvashi go hand in hand

— not dr (@paininmyjigar) August 12, 2022
When will Rishabh Pant return?
Meanwhile, Pant recently starred for India in their white-ball series win in England followed by T20I series win in West Indies. The southpaw has been rested from the Zimbabwe tour and will play next in the Asia Cup, in the UAE starting August 27.