Fans Slam Mohammad Azharuddin For His Wild Tweet On India's CWG 2022 Final Defeat: Indian women's cricket team suffered a heartbreaking defeat in the final match at the Commonwealth Games in Birmingham on Sunday. The Harmanpreet Kaur-led Indian side looked in complete control for the major part of the game however they fell short by …
---
Fans Slam Mohammad Azharuddin For His Wild Tweet On India's CWG 2022 Final Defeat: Indian women's cricket team suffered a heartbreaking defeat in the final match at the Commonwealth Games in Birmingham on Sunday. The Harmanpreet Kaur-led Indian side looked in complete control for the major part of the game however they fell short by 9 runs.
India Suffered A Heartbreaking Defeat In The Gold Match
Captain Harmanpreet Kaur played a stunning knock of 65 runs however it wasn't enough to power her team to get to the winning line. The Indian side lost five wickets for just 31 runs while chasing 162 runs. India was eventually bowled out for 152 runs while chasing 162 runs for the gold medal.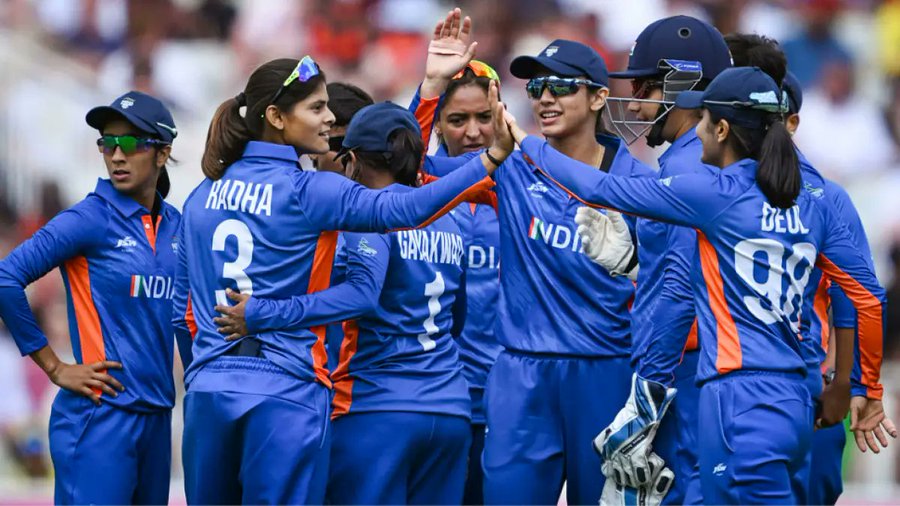 In the last over thriller at Edgbaston, team India needed 11 runs but the innings ended when Yastika Bhatia was sent back to the dugout by Jess Jonassen. Australian side held their nerves to win by 9 runs and add another title to their name, after having won the 50-over and 20-over World Cups as well.
Mohammad Azharuddin Slammed Indian Women's Team
Even though the side suffered a heartbreaking gold defeat, the fans came out in support of the Indian side for winning the silver medal. However, former India skipper Mohammad Azharuddin slammed India women for a 'rubbish' batting display in the summit clash.
Yes, you read that right. Mohammad Azharuddin used some bold words while criticizing the Indian women's team. He wrote:
"Rubbish batting by the Indian team. No common sense. Gave away a winning game on a platter."
Check out the Tweet:
Rubbish batting by the Indian team. No common sense. Gave away a winning game on a platter. #INDvsAUS #WomensCricket #CWG22

— Mohammed Azharuddin (@azharflicks) August 7, 2022
The tweet went viral in no time and was flooded with reactions from the fans to it. The Tweet didn't go down well with the fans, who are slamming the former Indian captain left, right, and center.
Check out the reactions of Twitterati to this:
I guess its your emotions speaking but a rubbish tweet nevertheless. https://t.co/G57keaGoNA

— Shallow Marshmallow (@5upine5olitude) August 8, 2022
You're the one to talk? Pipe down you clown! https://t.co/enD3Pu5vCk

— Ashwin (@AshwinR94) August 7, 2022
Ex cricketers being distasteful with their remarks, absolutely normal day in Indian cricket. https://t.co/RSwlNa7Sc2

— Megha (@kyayaarmegha) August 7, 2022
Rubbish tweet by the ex Indian captain. No common sense. Gave away his respect on a platter. #INDvsAUS #WomensCricket #CWG22 https://t.co/jJfSXLV3ZL

— Kumar Pushkar (@thekumarpushkar) August 8, 2022
Better ask this questions to BCCI sir: Why not conducting women's IPL? https://t.co/Zv6iTr0JHM

— Sathish (@Sathish_007_) August 8, 2022
Last line likhte hue haath nahi kaanpe ?

— Prithvi (@Puneite_) August 7, 2022
Excuse me sir, but how many world cup finals, okay semifinals, okay ANY knockout games did your team win against the Aussies in your day? And for your information, this team has WON a silver medal at the CWG! Show them some freaking respect, if you're capable of that, of course!

— Siddharth Dixit (@sid_dixit_25) August 7, 2022
Support ke naam pe zero aur criticism ke naam pe hero, ye hai duniya ka dastur

Btw gave away a winning game, wasn't this a theme in the 90s .. just wondering

— Adi (@aaditea__) August 7, 2022
i think ur the head of one of the state association. use better language next time. cant be talking abt the players like that being in a position

— naq5 (@ntweet_55) August 7, 2022