Fans are trolling Shan Masood: The first match of the ongoing three-Test series between Pakistan and Australia was played in Rawalpindi and it has seen one of the flattest batting pitches ever. Batters dominated the game and made some big runs in the boring and monotonous match. The game was declared a draw on the …
---
Fans are trolling Shan Masood: The first match of the ongoing three-Test series between Pakistan and Australia was played in Rawalpindi and it has seen one of the flattest batting pitches ever. Batters dominated the game and made some big runs in the boring and monotonous match. The game was declared a draw on the fifth day of the match.
During the game, a hilarious incident took place involving Pakistani cricketer Shan Masood, that has left everyone in splits. Well, the incident took place on day 4 of the test match, when Australia's Alex Carey and Steve Smith were trying to build a lead.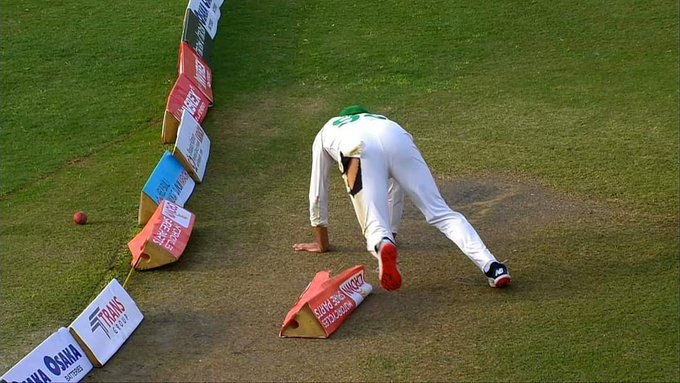 In the 123rd over, Carey smashed the ball towards the boundary, hoping for a four. Shan Masood ran to save the ball going to the boundary and slid. Not just he failed to save the boundary but also his rousers also got torn from the side when he attempted to slide and save the boundary. Yes, you read that right.
Shan Masood's trousers were completely ruined from the sides but he got lucky as in the very next over the drinks were called. He ran towards the dressing room and got a new one on. The video of the incident has been going viral on the internet.
Here, watch the video:
#PAKvAUS #PakistanBachanaHai
Trousers of Shan Masood gets torn down as he slips in a bid to stop boundary. pic.twitter.com/BC3ff8VhAO

— Baseer Ahmed (@journoBaseer) March 7, 2022
Meanwhile, fans on social media were left in splits after the hilarious incident that took place between the game. From hilarious memes to jokes, fans came up with amazing reactions while reacting to the incident.
Here, check out some of the hilarious reactions:
"Hum ne dhoya Shan Masood ka trouser aam powder se" #PAKvAUS pic.twitter.com/a2uqf6UTqJ

— ??????? ?? (@itsmeSehrish) March 7, 2022
Shan Masood Ke Tez Riftar Fielding Ka Natija Dekho ?#PAKvAUS pic.twitter.com/SeQZ6sG7dG

— Green Cap 360 (@Greencap360) March 7, 2022
Good on Shan Masood for highlighting the importance of underwear. pic.twitter.com/I0vgvYLNhc

— Malik. (@WaeedAwan) March 7, 2022
Itna seriously bhi nhi fielding krna hota hain,
Done & Dusted test match main ???

— Abhi. (@abcdefghishek__) March 7, 2022
Shukr hy neechy kuch pehna tha ?

— khan (@goodmen761) March 7, 2022
Chalo acha h kaheen or se ni phatti https://t.co/ihWN9fJ1Ej

— Faraz ♞ (@FARAZSSHAIKH) March 7, 2022