---
India's stand-in skipper Hardik Pandya expressed his disappointment with Arshdeep Singh after the 2nd T20I match against Sri Lanka. Hardik went on to say that bowling a no-ball is a crime.
During the 2nd T20I match against Sri Lanka, Arshdeep bowled as many as 5 no-balls. He only bowled 2 overs and leaked 37 runs. Arshdeep, who returned back to the playing XI after missing the 1st T20I match, only bowled 1 over in the first 18 overs. The left-armer Arshdeep Singh conceded a hat-trick of no balls to finish the over. He made an unwanted record of being the first Indian bowler to bowl a hat-trick of no balls in T20Is.
Arshdeep eventually gave away 19 runs off his first over, where he conceded a six and a four off two of the three free hits. With this, Arshdeep's no-ball count went up to 12 in T20Is as he overstepped the mark on three occasions during the 2nd T20I.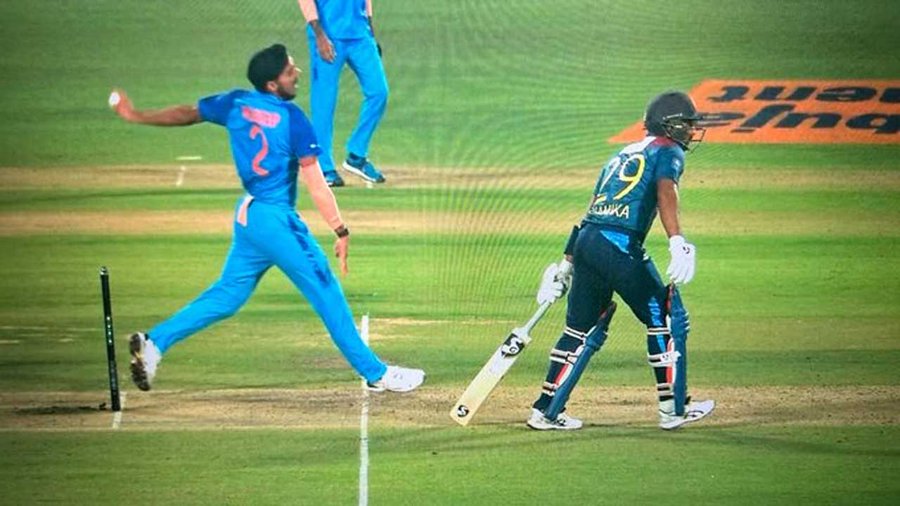 Meanwhile, after the match, speaking to Murali Karthik in the presentation ceremony, Hardik Pandya suggested Arshdeep Singh to go back and "make sure that these basic errors don't happen." He said:
"Both bowling and batting - powerplay hurt us. We made basic errors which we shouldn't do at this level. Learning should be the basics we can control. You can have a bad day but shouldn't be going away from basics. In this situation, it's very difficult. In past as well he's bowled no-balls. As a captain, I believe you can't give away freebies. Going for runs is fine but no balls aren't. Not blaming but he (Arshdeep) needs to go back and make sure these basic errors don't happen at this level. It's not about blaming but no ball is a crime. Surya had a fantastic run at four. Anyone who comes into the team - you want to give them a role they are comfortable in (on Rahul Tripathi)."
Talking about the game, after a sluggish start by the Indian bowlers, the Indian batters put up a thrilling performance but Sri Lanka made a solid comeback and leveled the series by winning the second game by 16 runs at the Maharashtra Cricket Association Stadium (MCA) in Pune. Both the teams will now lock horns in the 3rd T20I match on Saturday, 7th January.