Harsha Bhogle Gave A Perfect Reply To A Fan Who Criticised India's Bowling vs WI: Team India have started their West Indies tour on a successful note – by winning the first two ODIs, both played at the Queen's Park Oval, Port of Spain, Trinidad, and taking an unassailable 2-0 lead in the 3-match ODI …
---
Harsha Bhogle Gave A Perfect Reply To A Fan Who Criticised India's Bowling vs WI: Team India have started their West Indies tour on a successful note – by winning the first two ODIs, both played at the Queen's Park Oval, Port of Spain, Trinidad, and taking an unassailable 2-0 lead in the 3-match ODI series. However, both victories came in the last overs, and both could have gone the opposition's way as well.
Also, a concerning factor was that the Indian bowlers conceded over 300 in both matches. In the first match, Mohammed Siraj was barely able to defend 15 runs in the last over, which reduced to 5 runs on the last ball after he'd bowled a poor wide that wicket-keeper Sanju Samson saved spectacularly. West Indies ended up only 3 runs short of India's total of 308.
In the second match, the game looked beyond India's reach when they were 256/6 in the 45th over while chasing 312. But Axar Patel turned on the head with his batting heroics and smashed 64 unbeaten runs off 35 balls to take India over the line, launching a six when 6 runs were needed off the last 3 balls.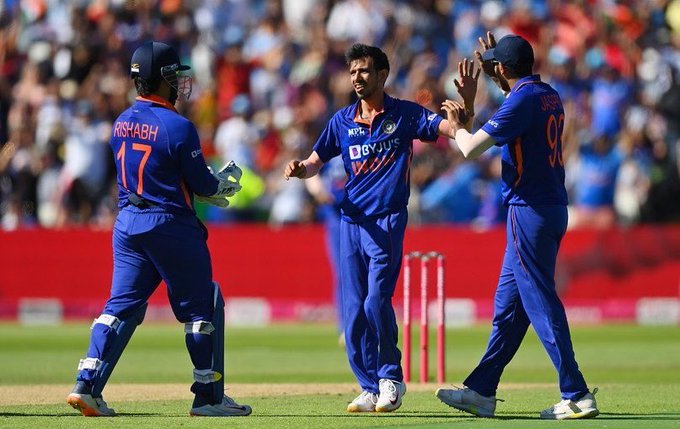 Harsha Bhogle gives a perfect reply to a fan criticizing India's bowling
Renowned commentator Harsha Bhogle took to Twitter to hail India and head coach Rahul Dravid for twin ODI wins, but a fan raised doubts over India's bowling.
This fan, with Twitter handle @venkatmysprasad, criticised India's bowling for conceding more than 300 runs in both matches while pointing out that the earlier in the month, West Indies were barely able to cross the 150-run mark in their 3-0 ODI thrashing by Bangladesh.
"Beating the same west indian team which was trashed 3-0 by Bangladesh a few days back. Team which struggled to score 150 went to score 300+ against India. What does it reflect," a fan argued lamenting Indian bowlers leaking over 300 runs in both the ODIs so far.
Taking in the query and defending Indian bowlers, Bhogle calmly explained the fan that those matches against Bangladesh were played on slow, low and spin-friendly pitches at the Providence Stadium, Guyana while the ones in Port Of Spain against India have been on batting-friendly surfaces.
Bhogle admitted that these haven't been the "perfect performances" from India's bowlers but there is plenty of positives to take from the series victory.
"Slow, low pitches are where the West Indies are most vulnerable. These surfaces give them the best chance. These weren't perfect performances but there was a lot to feel encouraged by. The support cast played key roles," replied Bhogle in his detailed, polite and factually correct manner.
Here, check out Harsha Bhogle's gem of a reply:
Slow, low pitches are where the West Indies are most vulnerable. These surfaces give them the best chance. These weren't perfect performances but there was a lot to feel encouraged by. The support cast played key roles https://t.co/0Uhhzkufca

— Harsha Bhogle (@bhogleharsha) July 25, 2022