Harsha Bhogle SKY: Suryakumar Yadav waged a lone battle against the England bowlers on Sunday evening in Nottingham while chasing a big target of 216. But alas- he was always likely to fall short of taking India home as other around him faltered and couldn't support him for longer and for better. Although he couldn't …
---
Harsha Bhogle SKY: Suryakumar Yadav waged a lone battle against the England bowlers on Sunday evening in Nottingham while chasing a big target of 216. But alas- he was always likely to fall short of taking India home as other around him faltered and couldn't support him for longer and for better.
Although he couldn't win the game for India who fell 17 runs short of England's 215, Suryakumar Yadav, with his maiden T20I century, has sealed his spot for the T20 World Cup later in the year in Australia.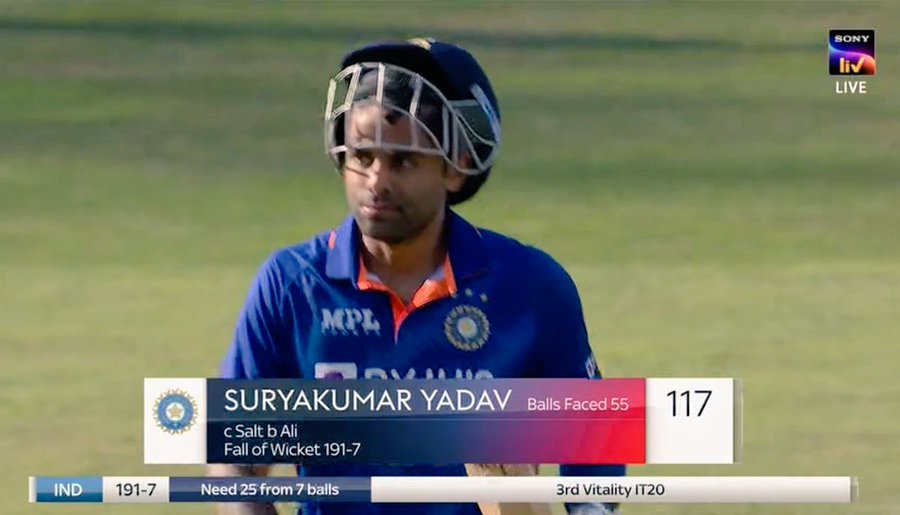 It was a typical Suryakumar Yadav knock: started off briskly without wasting any time, regular boundaries through the gaps in the outfield and over the in-field players, flexing his muscles with some stylish shots while asserting his strengths with some disdainful ones; Yadav provided the aesthetics with his brilliant timing and placement while also showed his incredible range playing all-around the Trent Bridge.
Suryakumar Yadav's maiden T20I century goes in vain
It was so fitting that he brought up his maiden T20I century with a boundary behind square – where plundered about half of his runs – with a cheeky, smart shot that perfectly bisected short third-man and backward point. All in all, he stroked 14 fours and 6 sixes ending up with 117 runs off 55 balls; the next highest score in the Indian innings was that of Shreyas Iyer, who scored 28 off 23 balls.
This, by SKY was in fact the second-highest individual T20I score by an Indian men's batsman – after Rohit Sharma's 118 vs Sri Lanka in 2017.
Harsha Bhogle writes a great complimenting tweet for SKY:
Renowned commentator Harsha Bhogle, who has followed and covered the T20 format from its inception, hailed Suryakumar's today's knock as one of the best he's ever seen, adding a sweet phrase in praise of the 31-year-old.
"The Sky is a lovely shade of blue today. Wow @surya_14kumar. One of the best I have seen," Bhogle tweeted.
Here, check out Harsha Bhogle's beautiful tweet in praise of Suryakumar Yadav:
The Sky is a lovely shade of blue today. Wow @surya_14kumar. One of the best I have seen

— Harsha Bhogle (@bhogleharsha) July 10, 2022