According to former India head coach Ravi Shastri, Umran Malik shouldn't be part of India's T20 World Cup squad, for the tournament in Australia later in the year. Malik, the 22-year-old pace sensation from Jammu & Kashmir, is coming off a standout IPL 2022 season and received his maiden India call-up for the T20 series …
---
According to former India head coach Ravi Shastri, Umran Malik shouldn't be part of India's T20 World Cup squad, for the tournament in Australia later in the year.
Malik, the 22-year-old pace sensation from Jammu & Kashmir, is coming off a standout IPL 2022 season and received his maiden India call-up for the T20 series versus South Africa.
The Sunrisers Hyderabad speedster snapped up 22 wickets in 14 matches of the IPL 2022, including a memorable five-wicket haul, albeit in a losing cause, versus eventual champions Gujarat Titans.
And even though Malik was slightly on the expensive side – leaking at 9.03 runs per over in the season – the upside of his extreme pace – he broke the 157 KPH barrier – and that he will learn with time and experience saw the national selectors and management call him up for the national side.
Should Umran Malik be in India's T20 World Cup squad?
Ravi Shastri, though, feels that Malik needs plenty of grooming to be done before he could break into the T20 World Cup squad. Instead, Shastri suggested the management let him play 50 overs cricket, and even red-ball cricket to see how he steps up to the bigger challenges.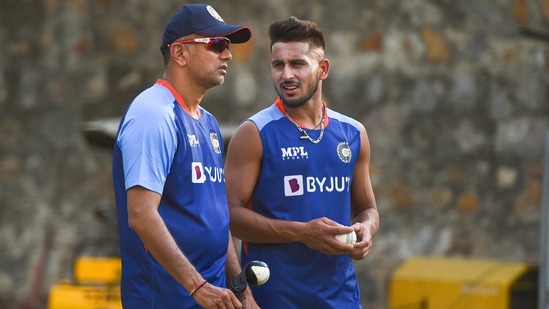 Shastri was clear in expressing his opinion that Malik shouldn't be part of the World Cup squad based on his experience yet.
"No, not T20 [World Cup] as yet. Groom him. Take him with your team. If anything, let him start playing white-ball cricket, that is 50-over cricket, maybe even red-ball cricket. Groom him there with the in the red ball team and then see how it goes," Shastri told EspnCricinfo.
Umran Malik's time will come: Daniel Vettori
Former New Zealand skipper Daniel Vettori concurred with Shastri's thoughts, adding that the Malik should travel with the national side and learn from the senior bowlers before it will be his time to rock international cricket.
"I think he should be around the Indian team all the while, even if he is not in the squad. I think they need to manage him…His time will come," Vettori said.