Here's Why Shahrukh Khan's Base Price At IPL 2022 Mega Auction Is INR 20 Lakh: On Saturday, the IPL released the announcement for the upcoming IPL 2022 mega auction, which is set to take place next month. A total of 1,214 players have been registered for the mega-auction; of these, 896 are Indians and 318 …
---
Here's Why Shahrukh Khan's Base Price At IPL 2022 Mega Auction Is INR 20 Lakh: On Saturday, the IPL released the announcement for the upcoming IPL 2022 mega auction, which is set to take place next month. A total of 1,214 players have been registered for the mega-auction; of these, 896 are Indians and 318 are overseas players.
There are a huge number of uncapped players as well. One of those is swashbuckling Tamil Nadu batsman Shahrukh Khan, who has made a name for himself as a lower-order hard-hitting finisher.
Shahrukh Khan was with Punjab Kings last season, bought at a hefty price of INR 5.25 crore. He featured in 11 matches, in which he scored 153 runs at a strike rate of 134 with a best of 47. His stunning last-ball six in the Syed Mushtaq Ali Trophy final versus Karnataka a couple of months ago is still fresh in the minds of the fans.
Despite being a known talent and a proven batsman, this time Shahrukh Khan is placed in the bracket with a base price of INR 20 lakh. This means that multiple franchises can go in a bidding war for the right-hander and he would fetch multi-folds of his base price.
The actual reason behind Shahrukh Khan being listed at INR 20 Lakh and not higher is because he is uncapped at the international level yet. He hasn't played for India yet, and unless and until he does it, the BCCI policy regarding the auction doesn't allow him to be listed in a higher category than 20 Lakh INR.
The same is the case of Avesh Khan, the Delhi Capitals fast bowler who was largely impressive last season. Avesh Khan, an uncapped player, is also put in the 20 Lakh.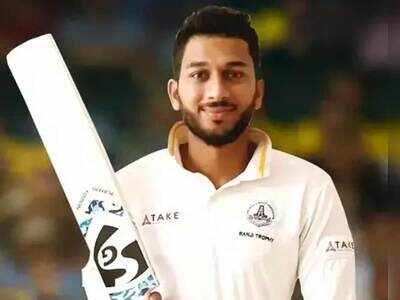 Avesh has, though, already earned a national call up when he was a part of India's T20 squad for the 3-match T20I series against New Zealand last year, but he wasn't given an opportunity to make his debut in that series and still remains uncapped.
Both Shahrukh Khan and Avesh Khan are expected to get handsome IPL contracts in the mega auction.
Also Read: Imran Tahir Calls Team India "Overconfident" After Series Defeat Against SA