Ishan Kishan has clearly been marked by the management as the backup T20I opener of Rohit Sharma and KL Rahul. A left-handed attacking batsman who can also keep wickets is a luxury these days. Ishan Kishan Failed Again However, Kishan will need to perform consistently to cement his spot in the squad for the T20 …
---
Ishan Kishan has clearly been marked by the management as the backup T20I opener of Rohit Sharma and KL Rahul. A left-handed attacking batsman who can also keep wickets is a luxury these days.
Ishan Kishan Failed Again
However, Kishan will need to perform consistently to cement his spot in the squad for the T20 World Cup, later in the year in Australia.
His innings in the first T20I versus England on Thursday, in Southampton, further sparked the question of his consistency as he managed only 8 runs facing 10 balls and got out to off-spinner Moeen Ali, falling into the trap of favourable match-up introduced by England skipper Jos Buttler to dismiss the left-handed opener.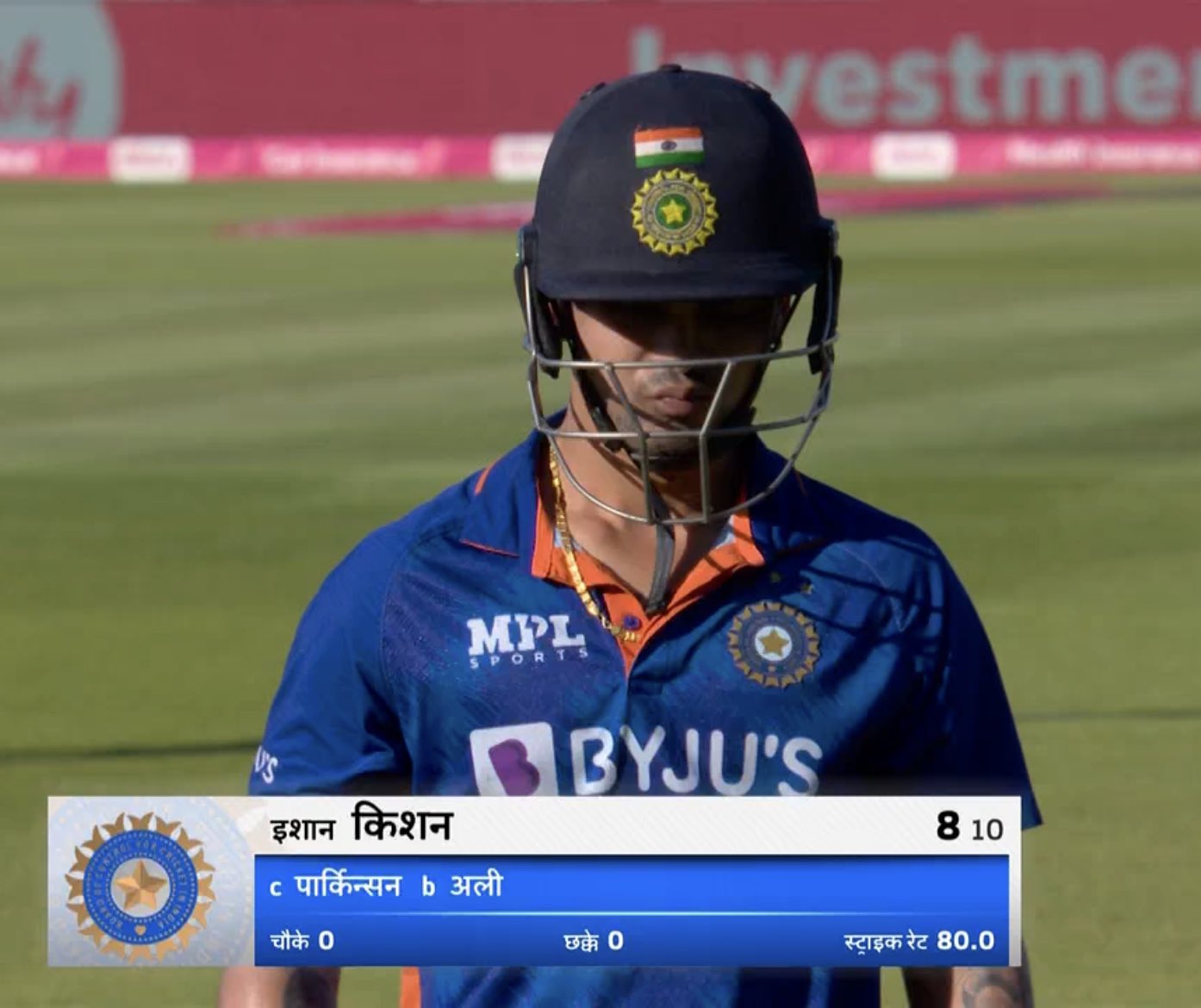 Kishan went low on his knee and brought up the slog-sweep but failed to connect it properly, the ball turning and bouncing a little bit and he top-edged it to Matt Parkinson at fine leg.
With the competition for a place in the eleven, and the final 15-man T20 World Cup squad, growing with each game, Kishan really needs to be more consistent to nail down his spot.
He was brilliant against South Africa at home, finishing as the leading run-scorer on either side with 206 runs in 5 innings at a blistering strike rate of 150. However, away from home, in conditions where the ball is moving sideways and there's help for the pacers, the 23-year-old needs to buckle up.
Against Ireland last month, he started off briskly in the first match, smashing 26 runs off 11 balls but failed to convert it and in the second match, he scored only 3 runs, followed by this failure in Southampton.
With KL Rahul injured and out for at least another month, Kishan will further open in India's upcoming T20I matches alongside his Mumbai Indians skipper, Rohit Sharma.
Ishan Is Getting Trolled
The management will give the youngster a longer rope than some of the other middle-order batters. But it is up to Kishan to make the opportunities count.
As for today, Kishan was being trolled for his low score and his strike rate of only 80 after a knock of 10 balls hurt India while other batters batted aggressively and scored quickly.
Here are some of the tweets trolling, criticising, and questioning Ishan Kishan:
As good as Hooda was seizing the opportunity of facing Moeen in the PP, that was poor from Kishan. He's the only LHB in the top 6 and there was no pressure to attack the negative matchup.

— Karthikeya (@KarthikeyaCric) July 7, 2022
Maybe someone can share this with commentators too.

An area to work for both Rohit and Kishan, sure they will get better with more awareness of this. https://t.co/axbULb4mnP

— Nikhil (@CricCrazyNIKS) July 7, 2022
When fraudsters playing with strike rate above 170 then young gun Kishan did TukTuk
Call it tribute Inning on Thala's birthday or something else but remember-
Rule 1: Never doubt on Kishan.
Rule 2: Never forget Rule 1. pic.twitter.com/UkgtqY0807

— TukTuk Academy (@TukTuk_Academy) July 7, 2022
Moeen Ali gets Rohit Sharma and Ishan Kishan in the space of 7 balls.

— Johns. (@CricCrazyJohns) July 7, 2022
Believe me or not
Ishan kishan is most overrated Indian batsman

— ಮಾದೇಶ್ ಗೌಡ (@Madeshgowda1994) July 7, 2022
Kishan is literally the only replaceable batter in this line up.

— Arindam Saha (@arindam_dr89) July 7, 2022
Kishan is in team because of favouritism…

— JSK (@imjsk27) July 7, 2022
Kishan safely playing himself out of contention. Losing two wickets to Moeen Ali in a T20I. Mixed feeling lol

— Nikhil (@CricCrazyNIKS) July 7, 2022
Accept it or not but Sanju deserves more chances than Ishan Kishan.

— Vaibhav (@vaibhavdugar02) July 7, 2022
Best opener Ishan kishan gone

— ~Goransh(Hydra)࿗ (@Besttroller49) July 7, 2022
Kishan was idiot enough to take the bait, should have simply rotated.

Hooda had already done his job by taking on the matchup.

— Akash Kumar Jha (@Akashkumarjha14) July 7, 2022
Ishan Kishan after his last t20I fifty

27(26) vs RSA
15(7) vs RSA
26(11) vs IRE
3(5) vs IRE
8(10) vs ENG

79 runs from 59 balls with sr 133.89 and avg 15.8

Imagine if it was Sanju Samson cricket twitter will have gone crazy!#ishankishan #SanjuSamson #sky #hooda #rohitsharma

— Niranjan (@imniranjan016) July 7, 2022
#SanjuSamson
BCCI please give chance to Sanju Samson other than frauds like kishan ,Iyer pic.twitter.com/Lcrd8Vc6Vx

— AV! 09 (@Avidhakad029) July 7, 2022
Feels really sad for #SanjuSamson . Ishan kishan is getting ample chances so that he can play tension free. sanju is getting only limited chances here and there. I am sure one day #SanjuSamson will fly beyond all this restrictions

— ADARSH J S (@adarshjs151997) July 7, 2022
Till when team India would continue with the mediocrity of Ishan kishan

Where Samson was in form and batting well.

Kishan is at sixes and seven against quality bowling. #IndianCricketTeam#INDvENG #SanjuSamson

— Pranjal Parihar (@pranjalparihar) July 7, 2022
Till when team India would continue with the mediocrity of Ishan kishan

Where Samson was in form and batting well.

Kishan is at sixes and seven against quality bowling. #IndianCricketTeam#INDvENG #SanjuSamson

— Pranjal Parihar (@pranjalparihar) July 7, 2022