---
India and Sri Lanka gave another thriller T20I to their fans with the visitors this time, after losing by only 2 runs in the first T20I in Mumbai, emerged as the winners in Pune to level the series.
Though the margin of 16 runs won't show it, but when the last over of the match started, with 21 runs needed to chase down 207, India were as much in the game courtesy of a set and a rampaging Axar Patel and an out-of-nowhere cameo from Shivam Mavi. But the Sri Lankan captain Dasun Shanaka kept his cool and dismissed both the batters to take home the game.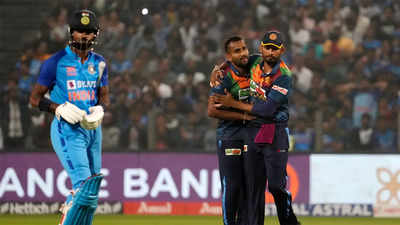 Here are the 3 mistakes by Indian skipper Hardik Pandya that we feel cost India the 2nd T20I:
Removing Chahal from the attack when he was bowling in good rhythm
Yuzvendra Chahal has been bowling well today - a much better performance from the first T20I - until he didn't. Chahal gave India their first breakthrough, in the 9th over, breaking the 80-run opening stand between Mendis and Nissanka.
He bowled a terrific 3-over spell which yielded one wicket and gave away only 14 runs. The pressure built up and at the other end, Umran and Axar benefitted with three wickets between them. However, skipper Pandya surprisingly removed Chahal from the attack even though he was bowling in good rhythm and kept him for later.
Pandya was made to rue his move, as replacing Chahal was Mavi, who got cracked for a six straightaway. Further, to make matters worse, Chahal was smoked for two sixes by Asalanka when he returned to bowl his last over.
Hardik Pandya not bowling himself instead of Mavi and Arshdeep in the last two overs
Although he wants to give more chances to his players to groom themselves to perform in difficult situations, Hardik Pandya should have bowled his quote of 4 overs or at least bowled one of the last two overs.
Pandya has been superb with the ball in this series: 0/12 in 3 overs in Mumbai, and 0/12 in 2 overs in Pune. All of his 5 overs have come in the powerplay. While it worked out well in Mumbai, today, India needed Pandya to bowl in the death overs.
India conceded 77 runs in the last 5 overs, and the last two overs - of Arshdeep and Mavi- went for 38. Arsheep had already gone for 19 in his first over, which included 3 no balls and Mavi had leaked 33 in his first 3 overs. Pandya should have got himself bowling in the death today.
Pandya could have come later in the batting
Suryakumar and Hardik are India's two important batters in the middle order, at 4 and 5. While SKY is accustomed to batting in the powerplay, after regular top-order malfunctions, today, though, Pandya could have held himself back, and instead sent up the likes of Hooda - who is better equipped to face the new, moving ball then Pandya is - or even Axar to preserve Pandya from the new ball.
India lost 3 wickets inside the first 3 overs with the ball moving and doing plenty from the seamers. Pandya still came in, scored 12 runs in 12 balls, and, apart from one six, he barely played a shot in confidence from the middle. Somebody like Hooda could have been a better choice to send up in the powerplay, preserving Pandya for after the field restrictions are lifted and the ball stops moving laterally. For, we all know, what havoc Pandya can cause - and could have caused on this flat pitch - had he been batting after the powerplay.