England's white-ball captain Jos Buttler paid a heartfelt tribute to "once-in-a-generation" cricketer Ben Stokes following the latter's last ODI match for England. Stokes, England's Test skipper, had announced on Monday that Tuesday's ODI match against South Africa, at his home ground in Chester-le-Street, will be last in the 50-over format, citing that it had become …
---
England's white-ball captain Jos Buttler paid a heartfelt tribute to "once-in-a-generation" cricketer Ben Stokes following the latter's last ODI match for England.
Stokes, England's Test skipper, had announced on Monday that Tuesday's ODI match against South Africa, at his home ground in Chester-le-Street, will be last in the 50-over format, citing that it had become "unsustainable" for him to be at the top of this game in all three formats.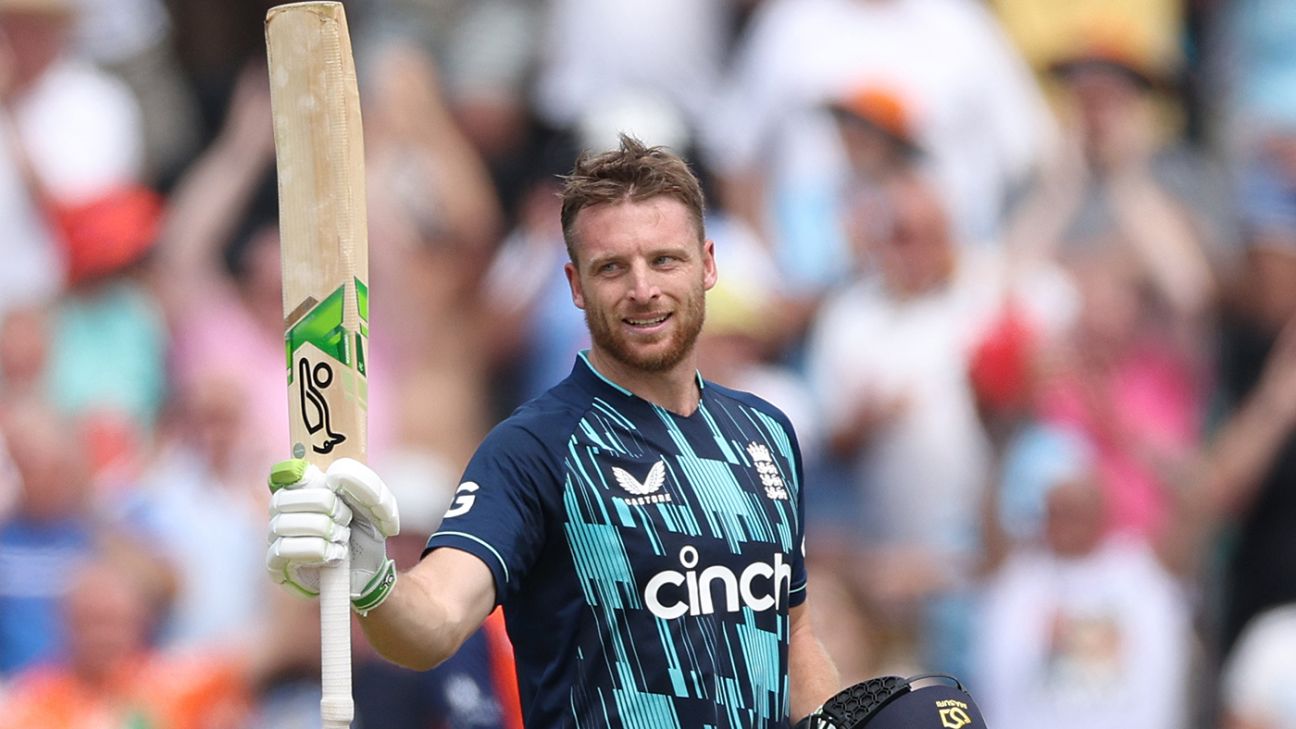 Ben Stokes won England their first-ever ODI World Cup
Although he couldn't do much in his last ODI – 5 runs with the bat and bowling 5 wicketless overs where he leaked 44 runs – Stokes received a standing ovation from the crowd as he concluded a glittering ODI career.
"People who play like Ben are once-in-a-generation players, so it's a good challenge for us (as an ODI side) to work out our best way forward as a team without him," Buttler said after the match.
"From myself and all England fans, we want to say thank you for everything he has done in this format of the game."
In his 11-year ODI career, the all-rounder played 105 matches, scoring 2924 runs at an average of 38 and strike rate of 95 in addition to picking up 74 wickets.
Unequivocally, his most memorable performance came at the grandest stage of all: the 2019 World Cup final vs New Zealand at Lord's, where he struck 84 runs off 98 balls helping his tie the game and then hit 8 runs in 3 balls in the super over which helped England win the final – on boundary count – and claim their maiden ODI World Cup trophy.
To that, Buttler said, "Three years ago (the 2019 World Cup final) will live long in the memory, but every day he turns up, whether that be for training or in a match, he puts in 100 per cent. He has been a fantastic ambassador for us in ODI cricket."
Jos Buttler also acknowledged Stokes' decision to give Test cricket the priority.
"We will miss him and it's bittersweet as an England fan. There's a bit of sadness that Ben is no longer available in this form of the game, but our loss in ODI cricket is certainly going to be England's gain in Test cricket.
"That's (Tests) his favoured format and his priority, especially now he's captain, and I'm sure it will give him much more longevity in the purest form of the game," the limited-overs skipper concluded.