---
Indian bowler Mohammed Siraj has been making a lot of news these days and for all the amazing reasons. He has established himself well in the absence of the Jasprit Bumrah and has made his case stronger for the upcoming ODI World Cup 2023 by giving back-to-back amazing performances for team India.
On Wednesday, it was a special day for Siraj as it was the first time that the Indian bowler was playing for Indian cricket team in his home ground. Before coming into the series, Siraj produced a match-winning spell as he bagged 9 wickets at an average of 10.22, an economy of 4.05, and a strike rate of 15.1 as he finished as the leading wicket-taker in the recently-concluded 3-match ODI series against Sri Lanka. He was sensational throughout the series against Sri Lanka.
While in the first ODI match, he picked up two wickets with the new ball, he took one, and in the third, he picked up four wickets and played a big role crucial role in helping the Indian cricket team registered a 3-0 whitewash over the visitors. The star bowler was excited to return to his hometown. He had said:
"It will be my first international match in home ground. I have played only IPL there. I will gain a lot of confidence, because my family and friends will be there to watch in action,"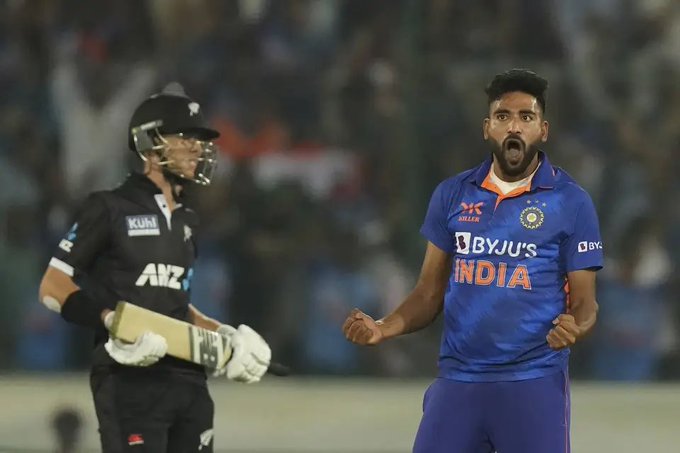 Siraj entertained his fans thoroughly as he produced a match-defining four-wicket bowling performance in the 1st ODI. His magical spell helped the Indian cricket team defeat New Zealand in a high-score thriller on Wednesday. He produced a magnificent effort in front of his family members and fans.
It was a great day for Siraj and his family and friends. His mother, who was in attendance to watch India take on New Zealand, was proud to see her son perform live before her and said that she is hoping the pacer will make India proud at the upcoming World Cup. She also said that her son will make it to the squad to play the ODI World Cup in India later this year. She said:
"I hope my son will make India proud. I hope my son's performances will be good and he will go ahead in the game. And I hope he will play the World Cup," said Siraj's mother.