Tennis legend Novak Djokovic showed that not only he is interested in cricket but also has been following the game and its superstars when he reacted to Kevin Pietersen's Instagram post for Indian star Virat Kohli. Kevin Pietersen Shared A Special Tweet For Virat Kohli On Saturday, Kevin Pietersen sent out a message for his …
---
Tennis legend Novak Djokovic showed that not only he is interested in cricket but also has been following the game and its superstars when he reacted to Kevin Pietersen's Instagram post for Indian star Virat Kohli.
Kevin Pietersen Shared A Special Tweet For Virat Kohli
On Saturday, Kevin Pietersen sent out a message for his former Royal Challengers Bangalore teammate Virat Kohli who has been struggling for form and big runs recently.
Pietersen wrote a heartfelt message on his Instagram for the Indian batting legend who is currently having a rotten tour of England; Kohli hasn't gone past 20 on this tour yet: he managed scores of 11 and 20 in the Edgbaston Test; 1 and 11 in two T20I matches; and then a score of 16 in the second ODI.
In his Insta post, Pietersen hailed Kohli's incredible achievements so far in his career, saying that even some of the most successful cricketers could only dream of what Kohli has achieved. Pietersen strongly stated that Kohli will be back soon. In his Instagram story as well, the former England skipper has predicted for Kohli to score a century!
"Buddy, your career has had some of the best that have played the game only wish they could have done what you have(so far). Be proud, walk tall & enjoy life. There's way more than just the bubble of cricket out there. You'll be back," Pietersen wrote on his Instagram post and tagged Virat Kohli.
Novak Djokovic React To KP's Post
This post from Pietersen went viral and has garnered over 3 lakh likes. One special like on this came from Wimbledon champion Novak Djokovic.
Here, Djokovic liked the Instagram post: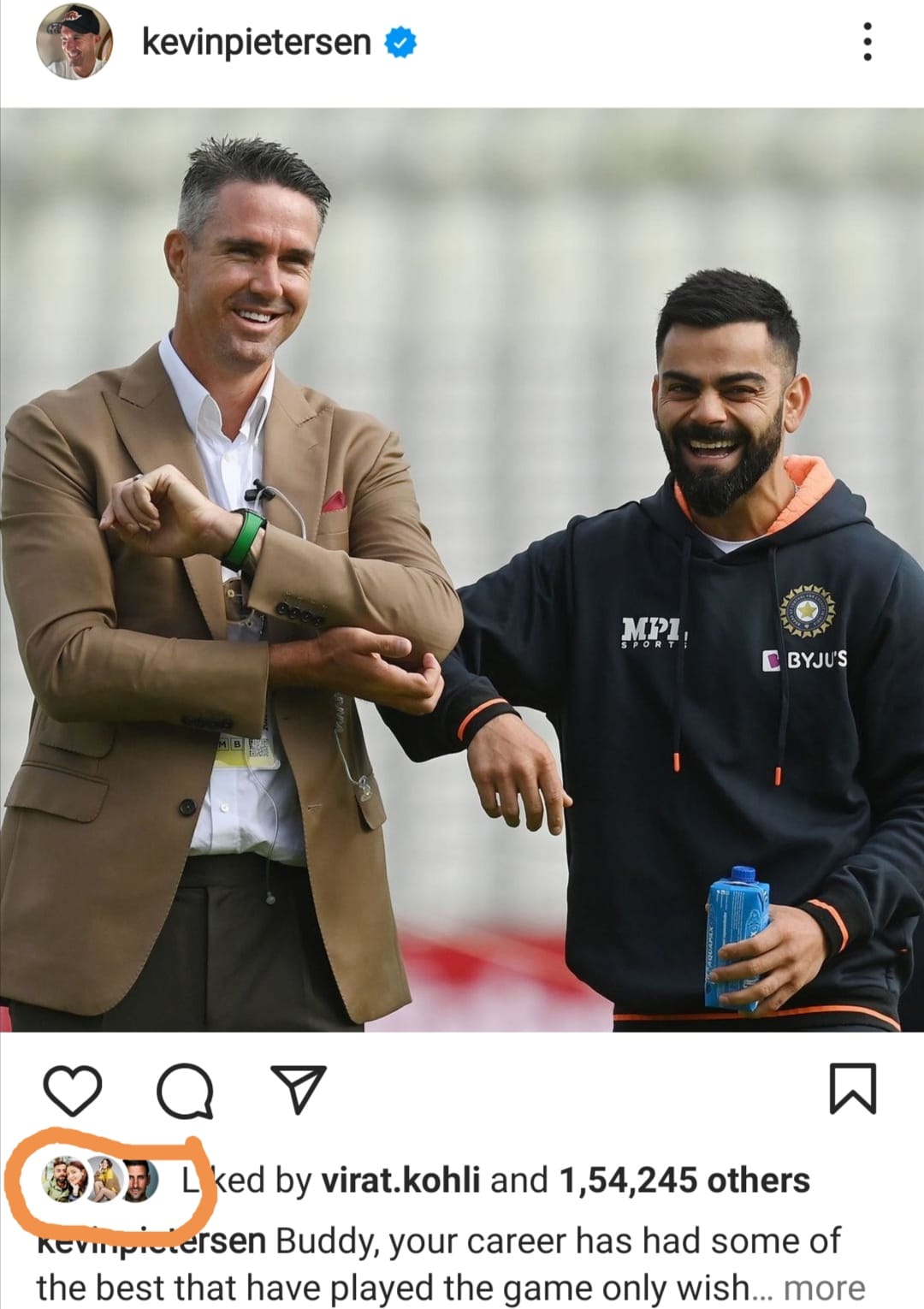 Djokovic successfully defended his Wimbledon crown for the third successive time after beating Australian Nick Kyrgios in the final at the All England Club earlier this month, and the tennis great is currently on a holiday.
It was Djokovic's seventh Wimbledon title and is just one behind Roger Federer's tally of 8. This was also his 21st Grand Slam title which takes him to the second spot on the all-time list, one ahead of Federer and one behind Rafael Nadal.
Kohli, meanwhile, has taken a rest from the West Indies tour later this month and so the third ODI in Manchester on Sunday gives him an opportunity to get back his form before he goes on a month-long break.