Two thoughts immediately emerged after Rishabh Pant's first-ball duck on Sunday: "Why did he need to play that shot?" followed by "Well, that's Rishabh Pant." Just two days after Pant scored a brilliant 85 in the second ODI, earning praise from one and all, the left-hander played one of his absolutely madcap crazy shots in …
---
Two thoughts immediately emerged after Rishabh Pant's first-ball duck on Sunday: "Why did he need to play that shot?" followed by "Well, that's Rishabh Pant."
Just two days after Pant scored a brilliant 85 in the second ODI, earning praise from one and all, the left-hander played one of his absolutely madcap crazy shots in the third ODI, not least when the team needed someone to stay at the crease and build a partnership.
Pant came into bat at the score of 116/2 during India's chase of 288. Pant, being Pant, on his first ball, charged down making room for himself against Andile Phehlukwayo, and mistimed his shot, slicing a straight catch to sweeper cover.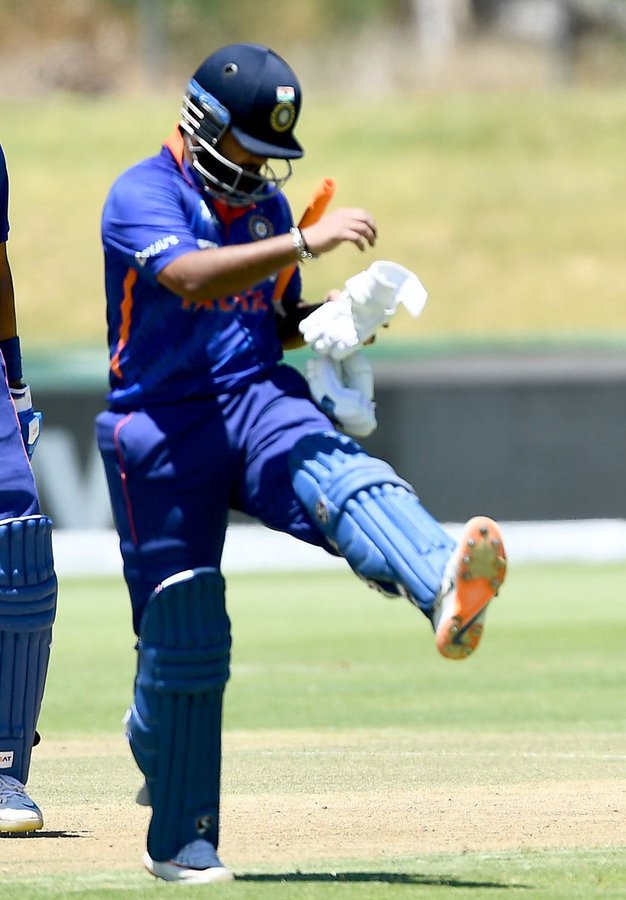 As he began his regretful trudge back, Virat Kohli, the non-striker and senior batter, gave Pant a hard long stare without saying a word! Well, that summarised most of the fans' reactions. Pant himself seemed livied about his dismissal today.
Rishabh Pant is perhaps the cricketer who induces most of the frustration from fans. An immensely talented and gifted cricket who has time and again shown his incredible potential. But by getting out in this way so frequently – only in the second Test, he was dismissed by trying to hit out Kagiso Rabada without scoring any run – he attracts all the wrong views.
Coach Rahul Dravid had had a chat with the 24-year-old about his shot selection after the Johannesburg Test. That learning reflected in his century in the third Test. Dravid needs to have another such char with the youngster, but a sterner one, for he should understand to put a higher price on his wicket.
India, well, lost by just 4 runs. The weight of this loss will be much heavier on Pant's mind.
Netizens expressed their anger and distress over Rishabh Pant's hara-kiri with the bat today:
— Sehwag (@Sehwag54587220) January 23, 2022
That guy ???

— Dale Steyn (@DaleSteyn62) January 23, 2022
Pant comes, slogs first ball, holes out, returns to the dressing room. Well…

— Cricketwallah (@cricketwallah) January 23, 2022
Next person who says "Thats how Pant plays" deserves a few ????????.

Yuvraj was also an agressive player, as was Sehwag. Both scored at a rate significantly higher than #RishabhPant (comparative to the era). But they played with common sense. #INDvsSAF

— Arnab (@simplyarnab) January 23, 2022
#RishabhPant is two edged sword #SAvIND

— PrabhaTorres (@PrabhaElnino) January 23, 2022
Abhi mai rishabh pant ka bohat hi bada fan ban gaya hu??#INDvSA

— Shreyas more (@Shreyas33215581) January 23, 2022
Not again Rishabh @RishabhPant17 !????#INDvSA #RishabhPant #rp17

— Pritam Kundu (@PritamK16125112) January 23, 2022
Season of lost chances for Rishabh Pant.He came close, but was always short of delivering a shot at the title. #SAvIND pic.twitter.com/mnq4t7KRtC

— Karamdeep (@oyeekd) January 23, 2022
Pant fans rn: #SAvIND #RishabhPant pic.twitter.com/ebk9CHdLo7

— Nisha Kashyap (@nishakashyapp) January 23, 2022
You are looking at Rishabh Pant's contribution in this match pic.twitter.com/Tg9liY5LKL

— the_Vishvajit_7 (@the_Vishvajit_7) January 23, 2022