After two good knocks in the first couple of T20I vs England, India captain Rohit Sharma had a forgettable time in the third T20I with the bat, as he managed only 11 runs while taking up 12 balls. It was indeed negatively impacting on India's total as they were chasing a mammoth target of 216. …
---
After two good knocks in the first couple of T20I vs England, India captain Rohit Sharma had a forgettable time in the third T20I with the bat, as he managed only 11 runs while taking up 12 balls. It was indeed negatively impacting on India's total as they were chasing a mammoth target of 216.
While Rohit's innings in the previous two matches – 24 off 14 and 31 off 20 – were not long, they had a positive impact because of the brisk nature (strike rate) of those. Today, though, he took 12 balls for scoring 11 runs in a big run chase.
In fact, Rohit was slow to get off the blocks today; unlike in the last two matches, where he showed his intent while attempting some risky, aggressive shots, today he was a bit more sedate. Perhaps it also had to with the fact that his opening partner, Rishabh Pant, got out on the first ball of the second over.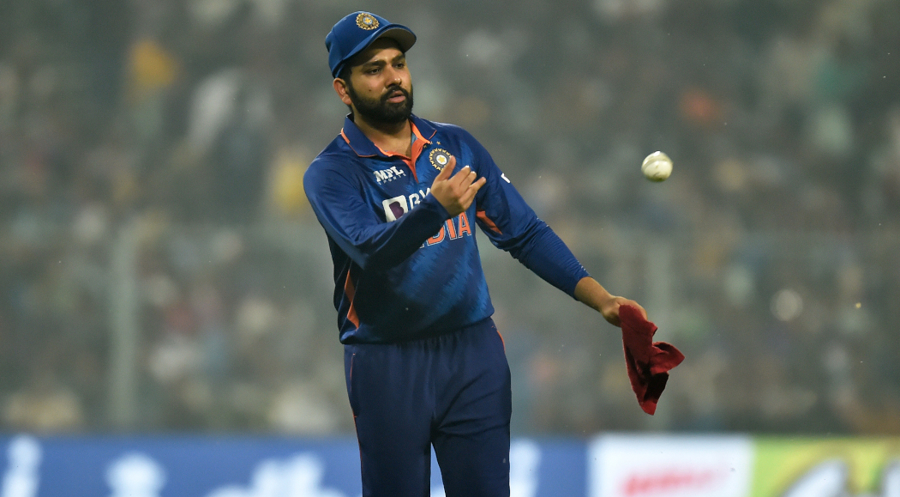 Rohit Sharma's batting woes continues
By the end of the 4th over, India were 20/2, having lost Rishabh Pant and Virat Kohli, and Sharma was only 2 off 7 balls.
At that point, one could sense that both India and Rohit needed a move on; something had to give. And it did. Sharma sliced Reece Topley for a boundary over covers. He then swiped the bowler for another boundary, this time over fine leg with just one hand as his front hand came off the handle.
It had started to look a good knock until Topley stormed back with the dismissal of the Indian captain. A slower and shorter delivery from the left-arm seamer had Rohit pulling into his shot a bit early. That mistake was enough for Topley to get the wicket as with no power and timing on Rohit's pull, the ball only flew as far as to the deep mid-wicket fielder, Phil Salt, who gobbled the catch easily to give India another blow.
Netizens were quick to pounce of Rohit Sharma's failure as the big knock awaits – he didn't hit a single fifty in the IPL 2022 as well.
Along with Kohli, Rohit's batting and form is also concerning with the T20 World Cup not too far away.
Here are some of the tweeted trolling Rohit Sharma for his low score today:
Horrible batting and irresponsible shot selection by in form @ImRo45 considering his first two match innings, every time gets out for a predictable shot and only thing saves him is his captaincy! #INDvsENG #RohitSharma

— Sharanu (@shHarranu) July 10, 2022
Rohit Sharma should retire and Pant should be kicked out. They both cost us a game

— A l V Y (@9seventy3) July 10, 2022
So true , his time is over now ,maybe this is his last year in int cricket.
More interestingly he's not even worried about his batting .
He is getting out on short ball regularly now, so disappointed with him .
Will stop watching cricket now , don't wanna destroy my mental health

— kunwar (@KunwarP45) July 10, 2022
Rohit Sharma should retire and Pant should be kicked out. They both cost us a game

— A l V Y (@9seventy3) July 10, 2022
Lmaooo Out of From Virat Kohli Better Than Inform Rohit Sharma

Standard Level of the https://t.co/s4tTLxOZqY

— Prince SK (@JustinOffcl) July 10, 2022
that you can get out anytime even after getting set, this is not the Rohit Sharma which made me his biggest fan. (5/n)

— Utkarsh Shrivastava (@Utkarsh_xD_) July 10, 2022
Can anyone explain what was the shot Rohit was playing today…half hearted too…yesterday got caught by wicketkeeper trying to pull … now will wait for Him to hit form in ODI's bcs he has to lead India in the t20WC… and also 50over world cup

— Samip Rajguru (@samiprajguru) July 10, 2022