Called back to the Indian ODI team after a full one year, Sanju Samson did himself and his stocks and his reputation of being an inconsistent batter no favor as he managed only 12 runs in the first ODI against the West Indies on Friday at the Queen's Park Oval, Port Of Spain. Samson, who …
---
Called back to the Indian ODI team after a full one year, Sanju Samson did himself and his stocks and his reputation of being an inconsistent batter no favor as he managed only 12 runs in the first ODI against the West Indies on Friday at the Queen's Park Oval, Port Of Spain.
Samson, who is dropped from the following T20I squad, came into this game with a lot of expectations, especially after his brilliant innings in his last international outing – 77 off 42 balls against Ireland last month.
He was selected in the eleven ahead of the likes of Ishan Kishan and Ruturaj Gaikwad, but both of them aren't really options for the number 5 position which was given to Samson today.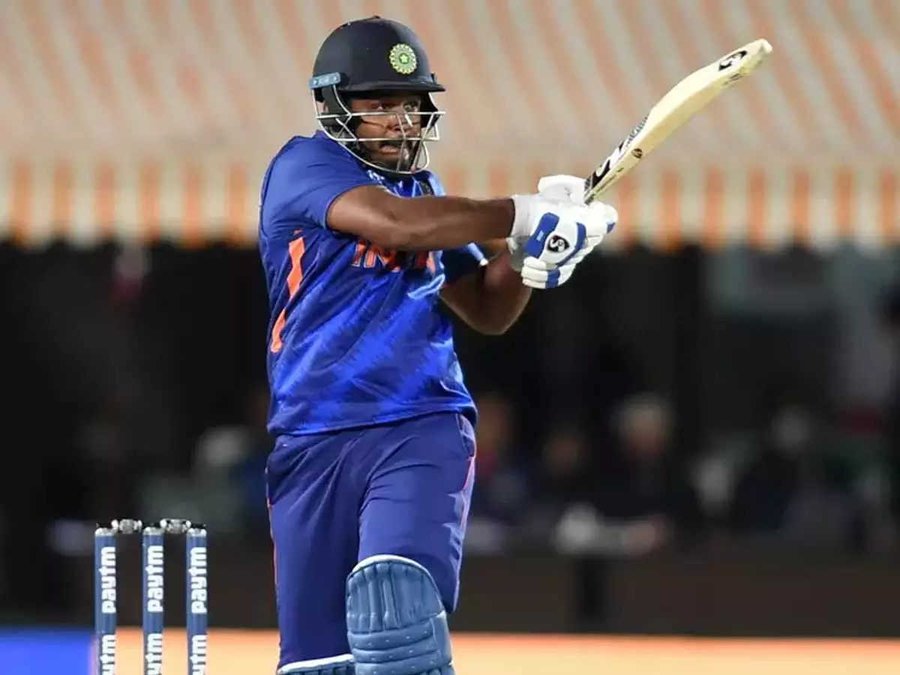 Sanju Samson continues his inconsistent show
Moreover, Samson falling for a cheap score today hurt India as the Kerala batsman failed to capitalize on the platform India's top three had given them.
Samson came in to bat at the score of 230/3 in the 36th over. A total of around 350 looked imminent at that time but India eventually finished with 308/7 as the batters only meandered in the last 10 overs and nobody from numbers 4 to 7 could really put up a big score.
After being 4 off 8 balls, Samson launched Akeal Hosein for a flat six over deep mid-wicket to make his initial statement. However, that energy soon fizzled away as after knocking around for a couple of overs then, Samson was trapped lbw by seamer Romario Shepherd, failing in his attempt to flick it on the legside.
Given out on the field, Samson challenged the umpire's decision with a review. But it was to no avail as the ball was shown "umpire's call" by HawkEye and was Kerala batsman had to make his way back to the dressing room with his head down, and his legions of fans on social media were disappointed and frustrated as Samson wasted another opportunity.
Sanju Samson was trolled for his inconsistency in the national colours following his cheap score of only 12 runs today.
Here are some of the tweets:
This guy just keeps wasting opportunities and his fans keep crying for more chances for him. Sanju Samson never fails to disappoint in Blue.

— Unnati Madan (@unnati_madan) July 22, 2022
Sanju Samson and saga of wasted opportunities. After a point no one can justify the chances #INDvWI

— Kushan Sarkar (@kushansarkar) July 22, 2022
Don't know how many of u noticed the Samson stance, he changed a bit. Now he holds bat loosely keeping his body relax. I think his old stance give him more timing. Stance 2 is perfect for powerhitting short balls but makes trouble in lbw calls. #SanjuSamson

— Pratham (@CalllMeJP) July 22, 2022
The Samson LBW was too doubtful with the angle and the impact for the onfield umpire to give it out.

2 stumps were visible and the ball hit the outer half of Samson's pad.

— Gurkirat Singh Gill (@gurkiratsgill) July 22, 2022
Live reaction of Johns during Sanju Samson's wicket pic.twitter.com/7t0mZo1n35

— ° (@anubhav__tweets) July 22, 2022
Well played Samson. You deserved every bit of it

— Cricket Tamizhan (@CricketTamizhan) July 22, 2022
What's the excuse today?? Samson fans…
Oh: the bowler was bowling. I guess that's fair: it's difficult to be consistent when bowlers keep bowling..#INDvWI

— Jatin Khandelwal (@jr_khandelwal) July 22, 2022
To Sanju Samson fans #INDvsWIonFanCode pic.twitter.com/7vceC2cisK

— Jenish Savaliya (@JenishS45) July 22, 2022
Poor Samson

— Raihan Biswas (@RaihanB16626096) July 22, 2022
Samson fans attitude 90 % His performance 10%

— Cricket Crazy (@CricketCrazy00) July 22, 2022
Sanju Samson is playing just 2nd odi game and he failed. Fans says, give him longer rope. He has to make every opportunity count like after this he won't get any. Otherwise his career will become bits and pieces like last decade.#SanjuSamson #INDvsWIonFanCode

— Abhishek Singh (@imabhi811) July 22, 2022
Sanu Samson to his clueless toxic fans. #SanjuSamson #INDvsWI #WIvIND #CricketTwitter pic.twitter.com/6s6v24iV50

— Cricket Crazy (@CricketCrazy00) July 22, 2022
Sanju Samson in IPL vs Sanju Samson in International Cricket. pic.twitter.com/GuUbIAXGul

— Nitesh Chauhan (@Nitesh_Chauhan7) July 22, 2022
Sanju Samson got out for 12 again. Clearly he doesn't deserve to be in a team. #WIvIND @IamSanjuSamson

— Naman Jain (@naman09jain) July 22, 2022
Sanju Samson didn't deserve to be in the ODI squad at the first place & he didn't fail to disappoint us all again, such a waste of talent this man is.#WIvIND #WIvsIND

— Vipul Ghatol (@Vipul_Espeaks) July 22, 2022