---
928 runs from 9 innings at 154.66 with 3 hundreds; 982 runs from 9 innings at 122.75 with 4 hundreds; 556 runs (and counting) from 9 innings at 92 with 3 hundreds.
These are the numbers of Mumbai batsman Sarfaraz Khan from the three consecutive Ranji Trophy seasons.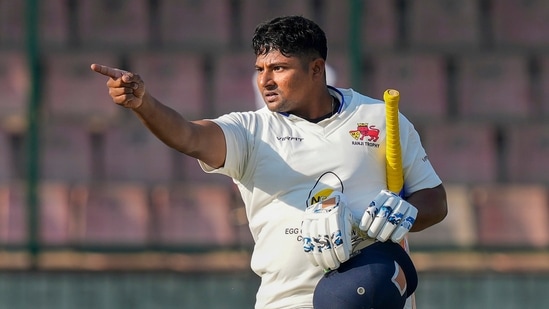 Sarfaraz Khan's average of 80 sits right behind Bradman, among batters with a minimum of 50 first-class knocks.
Yet, an India team call-up has harshly, agonizingly evaded the 25-year-old batsman. Huge noises from the fans, and even some ex-India cricketers were made following his omission from the squad for the first two Tests against Australia.
His father Naushad Khan has just one piece of advice for his son: "to keep scoring runs, for whichever team, all the time." There is nothing much more Sarfaraz can do other than that.
It hasn't been the smoothest of the lives for Sarfaraz and Naushad, who had to do odd jobs to put food on the plate twice a day for his family. But he did everything in his capacity to support Sarfaraz's dream of playing cricket.
When things aren't rosy in your own life, you can at times look at others. Speaking to the Indian Express, Naushad recalls how an innocent, little Sarfaraz would even compare his own life with that of Arjun Tendulkar, the son of the legendary Indian batter Sachin Tendulkar.
"Abbu, Arjun kitna naseebwala hai na? (Arjun is so lucky). He is Sachin sir's son, and has cars, iPads, everything," a young Sarfaraz would say, as recalled by his father.
Looking at the brighter side and showing signs of maturity, Sarfaraz would also say, "I'm more fortunate than him. You can devote the entire day to me. His father is not able to give him any time."
We will have to wait and see, when will Indian domestic Bradman get his chance to shine in the whites of the Test team.