---
The news of Rishabh Pant's tragic accident in the early hours of Friday has shocked and stunned everyone to their cores.
The 25-year-old Indian wicket-keeper had been traveling to his hometown Roorkee but met with a grave accident on the National Highway 58 after he "dozed off" a bit while driving and crashed his Mercedes into a divider.
The crash happened between Manglaur and Narsan in the Haridwar district. After being rammed into the barricade and divider, the car caught fire. Pant was taken out of it by a passing bus driver, and called the ambulance. He was given primary treatment at Saksham Hospital in Roorkee before being transferred to the Max Hospital in Dehradun.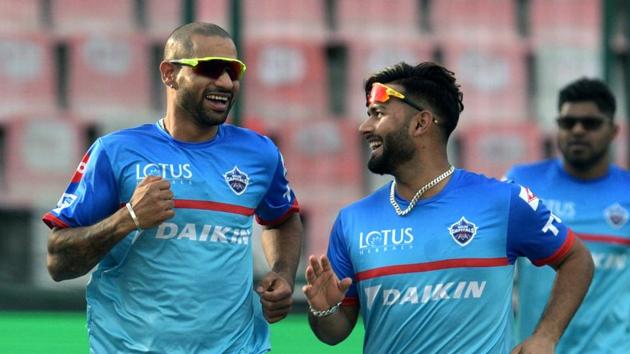 The BCCI revealed the extent of Rishabh Pant's injuries.
"Rishabh has two cuts on his forehead, a ligament tear in his right knee and has also hurt his right wrist, ankle, toe and has suffered abrasion injuries on his back. Rishabh's condition remains stable, and he has now been shifted to Max Hospital, Dehradun, where he will undergo MRI scans to ascertain the extent of his injuries and formulate his further course of treatment," the statement read.
As all fans and celebrities expressed wishes and sought prayers for Pant, a video from the past IPL season has emerged wherein senior batsman Shikhar Dhawan can be seen advising Rishabh Pant to drive slowly!
Dhawan had been with the Delhi Capitals between 2019 and 2021. In this video, the pair are having fun doing a video for the franchise's social media channels.
In the video, Pant, the Delhi Capitals skipper, asked Dhawan to give him an advice of anything; the senior pro suggested Pant drive a bit slowly. This reflected that Pant perhaps has the habit of driving his vehicles at high speed; in the CCTV that has emerged today, Pant's car can be seen racing at a high speed.
Check out the video here that has gone viral:
If only pant had listened to @SDhawan25 #RishabhPant pic.twitter.com/pZQvibt3qV

— Robin Singh Rajput🇮🇳 (@biharihuBC) December 30, 2022

Dr. Ashish Yagnik of Max Hospital too stated that Pant's condition was stable. "Cricketer Rishabh Pant is under the observation of Orthopedics & plastic surgeons. His condition is stable. His detailed medical bulletin will be released once he's examined. Thereafter, we'll take the next steps."