---
India's keeper-batter Rishabh Pant has found himself at the receiving end of criticism as he continues to struggle in the shortest format of the game. He was India's main stumper in the lead up to Asia Cup 2022, however, he was asked to warm the bench throughout a big tournament like the T20 World Cup. He was then given a chance in the last leg of the tournament in a game against Zimbabwe and then in the big semi-final against England where his performance was disappointing to say the least.
Following the marquee event, Rishabh Pant was selected in the just-concluded T20I series against New Zealand, where he opened the series for India with Ishan Kishan. Rishabh once again failed to leave an impact with the bat. All thanks to his back-to-back flop shows, Pant has been receiving criticism from all corners.
Meanwhile, former Indian cricketer Reetinder Singh Sodhi has come out against the 25-year old. In a bold statement, Sodhi has asked for his immediate ouster from the white-ball format, saying there is a limit to everything.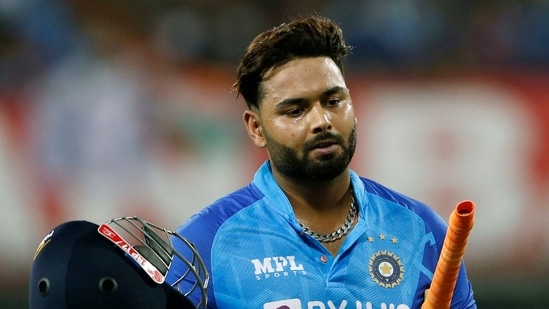 Yes, while reviewing India's performance in the ICC tournament, former Indian cricketer Reetinder Sodhi slammed Rishabh Pant for his mediocre run in the shortest format of the game.
For the unversed, Rishabh Pant, who has been struggling to score runs in the shortest format of the game, had a forgetful campaign in Australia as he struggle to get regular appearances for the Indian side. He scored just 6 runs off 4 balls in the semi-final match between India and England at the Adelaide Oval.
Speaking about the same to India News ahead of the ODI opener against New Zealand, Sodhi slammed Rishabh Pant, while backing the talented Sanju Samson. He backed Sanju Samson to replace Rishabh Pant in the white-ball lineup. He said:
"He is becoming a liability for Team India. If it's like this, then bring in Sanju Samson. End of the day, you got to take that chance because you cannot afford to lose and exit in World Cup or ICC tournaments. When you give too many chances, problems arise. The time has come to provide opportunities to new guys,"
He added: "Only time will tell how many opportunities and how long he gets. Time is passing and he really has to tighten his shoes. Everything has a limit. You cannot depend on one player for so long. If he is not performing, you got to show him the exit door,"
Notably, Rishabh Pant has only amassed 346 runs at a strike rate of 135.6 in the 22 T20I games played in 2022. Sanju Samson has scored 179 runs in six Twenty20 Internationals matches in 2022 despite having limited opportunities.